DEVELOPING CREATIVE AND CRITICAL THINKING IN THE ELT CLASSROOM

Thursday, July 11, 2019 from 2:00 PM to 3:30 PM (EEST)
Event Details
Summertime Webinar with two presentations!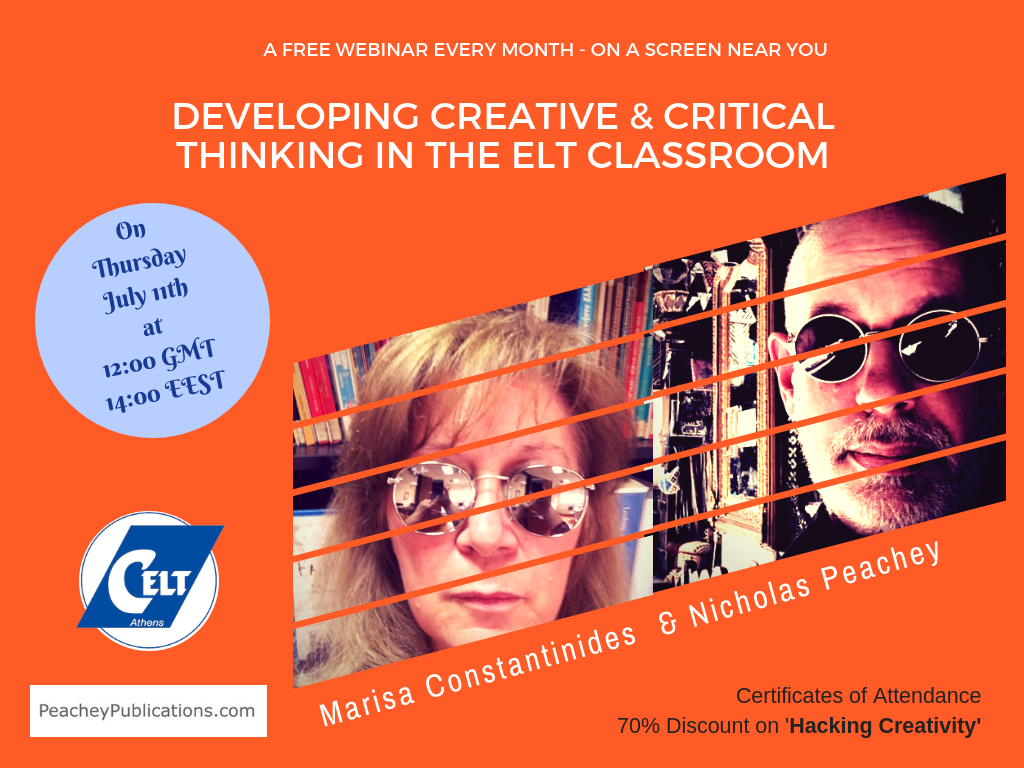 Summertime is a great time to recoup and reorganise your thoughts, your plans, your ideas for coming year. 
We hope you are doing it on a fabulous beach with a drink with an umbrella in your hand!!! 
Developing Creative and Critical thinking in the ELT Classroom
Our next webinar is on a theme dear to both presenters. Nik Peachey is one of the editors behind some important recent publications on the same topic and Marisa Constantinides, one of the writers. Both have presented on the theme of creativity at various events and conferences, discussing aspects related to learners, to teachers and creativity with or without technology. 
Nik's presentation will be focusing on the creative aspects of our teaching and will share many of his great ideas on how to spice up our lessons, be more creative and motivating teachers as well as develop our learners' creative thinking skills. 
Marisa's presentation will focus more on how we can promote critical and reflective thinking, so very necessary nowadays when we are flooded with information on the internet which we must learn to sift through and evaluate. 
Register now 
Participants present in our online classroom on the day of the presentations will receive a certificate of attendance signed by both Nik Peachey and Marisa Constantinides

All registered members will receive a code which entitles them to a 70% discount on Nik Peachey's latest book 'Hacking Creativity' & one more suprise publication! 
Time and Place
At 12 p.m GMT  or 14.00 EEST  at our usual onlice classroom - link below 
 https://celtathens.adobeconnect.com/teacherdevelopment/
See you all there!!! 
When & Where

Athens
Online
Athens
Greece


Thursday, July 11, 2019 from 2:00 PM to 3:30 PM (EEST)
Add to my calendar
Organizer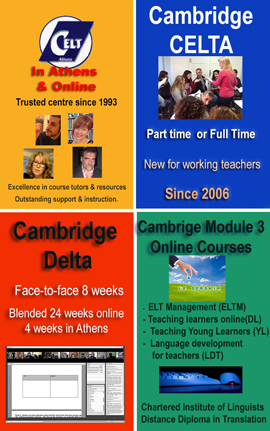 CELT Athens was founded in 1993 and is an established International Teacher Development Centre widely known for its role and contribution to the improvement of Foreign Language Education locally and internationally. To date, more than 2,500 Foreign Language teachers, directors of studies and administrators have trained on CELT courses. CELT trainees come from around the globe (the United States, the United Kingdom, Australia, Egypt, France, S.Africa and, of course, Greece!)  to start or revitialise their teaching career. Many now hold posts of responsibility in various countires.
CELT Athens offers a variety of face-to-face and online courses leading to prestigious inernational qualifications.
These courses include the Cambridge CELTA Certificate course  for new teachers which is offered both part time and full time.
For experienced teachers, the Cambridge DELTA Diploma is offered both face-to-face as an intensive course in Athens as well as by distance, via online webinars in our virtual classroom. 
Centre for English Language & Training, 3 G.Gennadiou Street, 106 78 Athens, Greece
Tel +30 210 3302406 | +30 210 3301455 | Fax +30 210 3301202|  E-mail:  info@celt.edu.gr