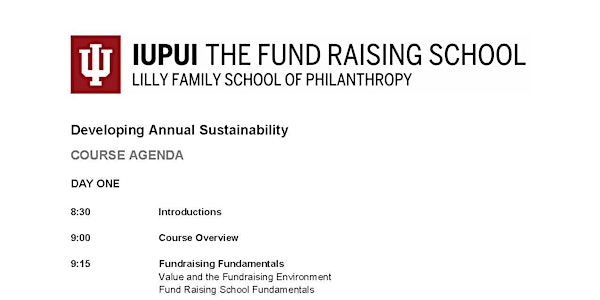 Developing Annual "Funding" Sustainability An Indiana University Course
Location
The Sabeel Center
8800 Ballard Rd
Des Plaines, IL 60016
Sales Have Ended
Ticket sales have ended
Thank you for your registration. We look forward to a 2-Day amazing learning experience where learn from each other and as a group. Plean on making friends with other fellow classmates as they can be a good resource for the continuous learning experience and networking for your professional opportunities.
Description
This training is sponsored by The Sabeel Center and United Muslim Relief to lower the cost from $1,295 to $500.
Due to a new grant from a Chicago Family Foundation, we are able to reduce the cost further from $500 to $250 per registration, limited to two registrations per nonprofit for the next 20 registrations, first come first serve.
------------------------

Developing Annual Sustainability, a The Fund Raising School Course of Indiana Unversity Course

Create an annual fund that sustains your organization
Learn how to develop a broad, enduring base of supporters and meet your fundraising goals from one year to the next. Involve your staff, your board and other volunteers to identify, cultivate and ask for gifts from new donors while renewing and receiving larger gifts from current donors.
Successful fundraising is an ongoing process. As you continue to identify new donors, you also need to maintain good relations with current donors and encourage them to repeat and increase their giving. Learn and strengthen the fundraising skills that can sustain your organization including direct mail, online giving, major gifts and special events.

Who should attend
Development officers, annual fund campaign staff, board members, volunteers, prospect researchers, program officers, department heads, and financial officers.
Participants must stay through the end of the class in order to receive Continuing Education Units and the Certificate of Completion. Travel arrangements and other appointments should be scheduled around class times. The course will adjourn at 5 p.m. on the last day.
You'll learn how to
Determine which strategies to use and when to use them
Manage your time effectively
Make a convincing case for support
Create gift range charts for planning
Get volunteers actively involved with your fundraising
Use the annual fund to support a total development program
You'll also learn
How to put together an annual fund by using worksheets
How to assess the cost efficiency and effectiveness of your annual fund
What you'll receive
An easy-to-use, comprehensive study guide to use for future reference
Checklists for organizing special events
Training exercises to use in your workplace
Planning tools for your direct mail program
Tips from annual fund specialists
--------------------
The non-profit sector is a significant portion of American economic activity both in terms of its impact on the lives, financial contributions and number of jobs in this sector. In 2014, nonprofits accounted for over 10% of all wages and salaries paid in the United States. Nonprofit Share of GDP was 5.5% in 2012 and in 2017 the charitable donations reached over $390 billion. In the US there are a total of 1,429,801 tax-exempt organizations, 966,599 public charities, 96,584 private foundations, 366,618 other types of nonprofits organizations, including chambers of commerce, fraternal organizations and civic leagues.
A growing number of Muslim Americans are choosing a career in the nonprofit sector, Muslim Americans seek both Muslim and non-Muslim nonprofit organizations to serve.

Developing Annual Sustainability
Fee: $1295 (Indiana University Fee)
2-Day
Developing Annual Sustainability qualifies for 13.5 CFRE Education Points/Hours.
Lead Faculty: Dr. Shariq Siddiui
Course Agenda

CMP Academy Value Addition: On-Going Access to a Nonprofit expert.
Attendees of this course will have access to recordings of past webinars and monthly 90-minutes Live Webinars to help with follow up questions about the course material and any help with the fundraising or development campaigns.

These Live Webinars will start from August of 2018, every third Wednesday of the month 8:30 pm CST to 10:00 pm CST. The Live Webinar will be led by Dr. Richard Klopp, he holds a Ph,D in Philanthropic Studies from Indiana University
About CFRE
The Certified Fund Raising Executive (CFRE) credential was first awarded in 1981. In June 2013, the CFRE became the first globally-recognized credential for fundraising professionals.
Since 2001, CFRE International has existed as an independent nonprofit organisation. We are dedicated to setting standards in philanthropy through a valid and reliable certification process for philanthropic fundraising professionals.
-----------------------------------------------------

The Tuition fee includes access to on-demand webinars, monthly live webinars, breakfasts, and lunches.