We're sorry, this invitation is invalid.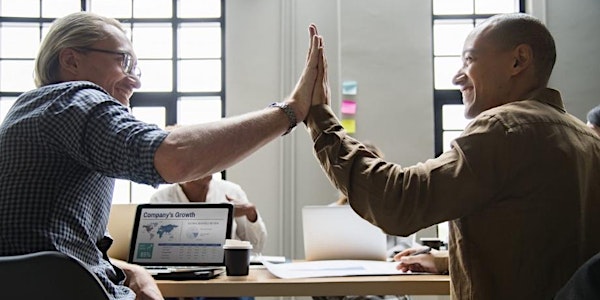 Developing a Thriving Workplace (and Life)
When and where
Location
Hotel Andaluz 125 2nd St NW Albuquerque, NM 87102
Refund Policy
Refunds up to 7 days before event
Description
Developing a Thriving Workplace (and Life): The Four Steps to Grow Personal Potential into Team Success
People skills rank number one with successful leaders. So, how much relevant training did you get, and how skilled are the key leaders in your organization?
Join Eric and Will to explore and learn what they've found are the four best ways to grow personal potential into team success.
"We're all in this together... that's how it is in the 21st century. Lone super stars with compliant followers are being replaced by effective teams of diverse specialists. If you're not developing your own people skills and helping your key leaders do the same, you could lose young talent, risk lawsuits, struggle to compete, and endure a soul-deadening working environment." Will Wilkinson

Topics:
• Develop an Irresistible Vision for Navigating to Success
• Innovative Proven Mediation Principles to Co-create Imaginative Solutions
• Steering Clear of Legal Hot Water: what causes employees to sue?
• Maximize Potential: from "fried and bored" to "energized and engaged"
• Turning Management into Leadership to Inspire Genius in your Staff
• How the "Me Too" Movement Demands Proactive Attention to Pre-empt Disaster
• Whistleblower, Trouble maker, or Ally: leveraging the value of "speaking up"
• Advanced Communication Skills for Developing Engaged Stakeholders
• Turn Victims and Spectators into Invaluable Team Players
• Implementing Quantum Responsibility: what happens when everyone shows up?
Take Away:
• 20-page program manual with guidance for ongoing integration.
• 10-minute audio program highlighting essential topics with power practices.
• 12 tools for implementation.
• Personal practices for every skill.
• 4 audio programs for commuters from 12 Essential Practices for Thriving in Business and Life.
• Graduates can audit the program again at a later date, as space is available.
• Discounts on personal mentoring and presentation fees for your organization.
• Peer Coach training.
9:00 registration, begin 9:30. Complete 5:00. Optional dinner together. Luncheon provided.
Fees:
Single: $149 / $199 after February 15th
Organizations: 1 free for every 3 registered.
Limited partial scholarships as available to reduce fee to $100. Inquire at eric@ericsirotkin.com