DeveloperWeek 2021 is the world's largest developer & engineering conference & expo – uniting the global developer community online
About this Event
DEVELOPERWEEK 2021 | February 17-19, 2021
The World's Largest Developer & Engineering Conference & Expo: All-Virtual for 2021
DeveloperWeek 2021 is going all-virtual – Feb 17-19, 2021 – and will be the world's largest virtual developer conference with 10,000+ engineers, software architects, developers, IT managers & leaders, and technical executives from 90+ countries, for 3 days of learning, best practices & networking.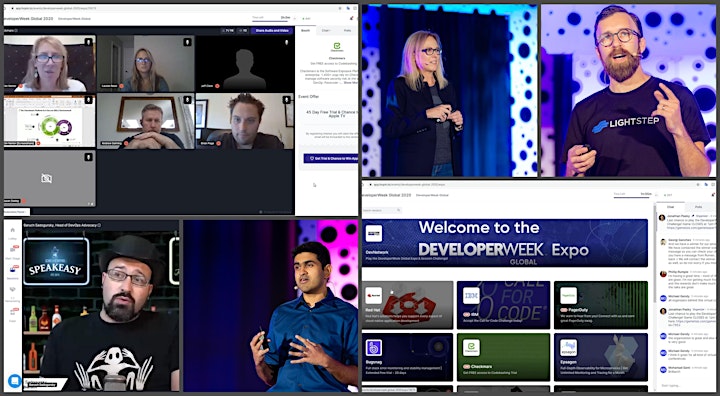 Uniting the global developer community
With a fully immersive virtual experience, we're bringing DeveloperWeek 2021 online with: 15+ conferences & tracks, 150+ speakers, technical Keynotes, a live 2-day Virtual Expo, product demos, speaker Q&As/AMAs, 1:1 and group online networking.
We'll be hosting 10,000+ engineers, software architects, developers, managers & leaders, and technical executives & professionals from 90+ countries for 3 days of technical keynotes, workshops, and conference sessions from 150+ speakers, a 2-day Virtual Expo, speaker Q&As, and many online networking events.
What you can expect at DeveloperWeek 2021:
15+ Conferences & Tracks, including: API & Microservices, Artificial Intelligence & Machine Learning, Blockchain, Containers & Kubernetes, DevOps & Security, JavaScript, IoT & Hardware, New Programming Languages & Platforms, DevExec World, the DevLead Conference, and more.
150+ PRO workshops, PRO sessions, and OPEN Talks – all live & online: Industry-leading talks from pioneers, subject-matter experts & practitioners in software engineering & development.
The Industry's largest live Virtual Expo: Discover new tech & tools and solve your challenges in our live virtual expo -- and interact with 50+ exhibitors & see product demos.
Expanded DevExec World / DevLead Conference: We're inviting the world's engineering & technical leaders to discuss & learn engineering best practices -- from new languages & frameworks to common pain points for teams.
Co-located with ProductWorld & CloudWorld: New this year, we're co-locating CloudWorld, where you can join 4,000+ cloud industry professionals for the premier vendor-neutral conference covering the entire cloud & cloud-native landscape. An expanded ProductWorld invites 2,000+ product managers & product teams to learn from the best product management success stories, with tracks covering best practices and new online/remote trends in product development & strategy.
More networking! From 1:1 topic-focused networking, to group roundtables and fireside chats, we're adding more to the all-virtual experience -- so you can still make valuable connections @ DeveloperWeek 2021.
DeveloperWeek 2020 covers the new, emerging and popular languages and frameworks. Our conferences, tracks, technical workshops and events throughout the week invite you to get lessons, best practices -- and advanced knowledge -- on technologies like JavaScript, Python, C, C++, Java, Node, PHP, Go, R, Open Source, Artificial Intelligence, Machine Learning, Robotics, Security, APIs & Microservices, DevOps, CI & CD, Serverless, Data Science, Developer Management, Team Leadership, Blockchain, VR/AR/MR + 3D and more.
#DEVWEEK2020: Building the Future
Tech companies aren't the only companies re-positioning as tech-centric. Fortune 500 consumer brands, financial institutions and manufacturers alike are pivoting away from simply being a 'company' to being a 'software/technology company'. Coding and engineering innovation is no longer only for Silicon Valley – every corporation in the world is joining the "industrial revolution" of code. The more software and the cloud integrate with consumer goods, transportation, hardware, etc – the more we will see innovation move from manufacturing to coding – no matter the industry – underscoring the power of developers in 2020 and beyond.
DeveloperWeek is produced and owned by DevNetwork, the world's developer event community and producer of leading conferences for the developer, engineering & IT industries.
By registering for this event, you are opting into DevNetwork email updates and one-time email-based promotions from top-level DeveloperWeek sponsors including exclusive invitations to DeveloperWeek parties and partner events. These updates will notify you about DeveloperWeek news, as well as announcements about DevNetwork events and services. You can opt out of DevNetwork email updates at any time.
Refund Policy: Due to limited availability, DevNetwork cannot offer refunds once your tickets are purchased. If you cannot make the event due to unforeseen circumstances, you may transfer your ticket(s), or we will give you a credit towards a future conference of equal or lesser value. Thank you.
Date and Time
Location
Refund Policy