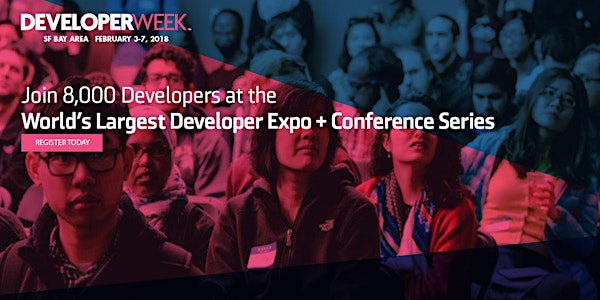 DeveloperWeek 2018
When and where
Location
SF Bay Area | Oakland Convention Center 550 10th St Oakland, CA 94607
Description
#DEVWEEK 2018 -- The World's Largest Developer Expo & Conference Series
DeveloperWeek (#DEVWEEK 2018) is the world's largest professional developer expo and conference series with 8,000+ participants across: 10+ Conferences, Technical Workshops, 200+ Speakers, DevExec World - the Executive Summit, 90+ Exhibitors at the DEVWEEK 2018 Expo, the DEVWEEK Hackathon -- the Nation's Largest Challenge-Driven Hackathon (800+ hackers), Mentor Mixers, the Hiring Mixer, Area-Wide Partner Events and more.
DeveloperWeek 2018 Schedule
Hackathon | Feb 3-4, 2018 (Galvanize San Francisco)
Technical Workshops | Feb 5, 2018 (Oakland Convention Center)
Hiring Mixer | Feb 5, 2018 (Oakland Convention Center)
Conferences | Feb 5-7, 2018 (Oakland Convention Center)
Expo | Feb 6-7, 2018 (Oakland Convention Center)
Area-Wide Partner Events | Feb 3-7, 2018 (San Francisco, Oakland, Silicon Valley)
DeveloperWeek puts the spotlight on new dev technologies. Past event hosts, partners and supporters of DeveloperWeek include: Google, Oracle, Facebook, Yelp, Rackspace, IBM, Cloudera, Red Hat, Optimizely, SendGrid, Microsoft, Neo Technology, Built.io, Ripple, GNIP, Tagged, HackReactor and hundreds more.
DEVWEEK 2018 covers all new, emerging and popular dev technologies. Our conferences, workshops and events throughout the week invite you to get intro lessons -- and advanced tips and knowledge -- on technologies like Python, JavaScript, Java, Node, PHP, Go, R, Open Source, Artificial Intelligence Dev, Robotics Dev, Security, API/Microservices, Serverless Dev, Data Science, Dev Management, Machine Learning, Blockchain Dev, AR/VR Dev and more.
#DEVWEEK2018: Building the Future
Tech companies aren't the only companies re-positioning as tech-centric. Fortune 500 consumer brands, financial institutions and manufacturers alike are pivoting away from simply being a 'company' to being a 'software/technology company'. Coding and engineering innovation is no longer only for Silicon Valley – every corporation in the world is joining the "industrial revolution" of code. The more software and the cloud integrate with consumer goods, transportation, hardware, etc – the more we will see innovation move from manufacturing to coding – no matter the industry – underscoring the power of developers in 2018 and beyond.








---
By registering for this event, you are opting into DevNetwork email updates and one-time email-based promotions from top-level DeveloperWeek sponsors including exclusive invitations to DeveloperWeek 2018 parties and partner events. These updates will notify you about DeveloperWeek news, as well as announcements about DevNetwork events and services. You can opt out of DevNetwork email newsletters at any time.
Due to limited availability, DevNetwork events cannot offer refunds once tickets are purchased. If you cannot make the event due to unforeseen circumstances, we will give you a credit towards a future conference of equal or lesser value. Thank you.