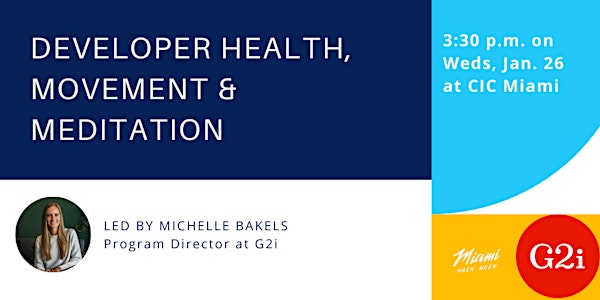 Developer Health, Movement & Meditation
Join us for a Miami Hack Week talk on the mental, physical, and emotional health of developers, followed by a mind and body training session
When and where
Location
CIC Miami 1951 Northwest 7th Avenue #600 Miami, FL 33136
About this event
The future of work is one where technologists escape the cycle of burnout and recovery to find a restful, sustainable, productive work pace.
Join us at CiC Miami for a lightning talk on the mental, physical, and emotional health of developers, followed by a mind and body training session with Reese Whitely of Complex Health and Wellness in support of our Miami Hack Week devs!
About G2i
Our mission is to be an uplifting force in the tech industry by matching healthy remote developers with healthy development teams. Our vision is to be the first hiring platform that puts developer health first. We've seen burnout all too often in tech and we are on a mission to push back against it. We are building a "deep job platform" that will also offer services to support the physical/mental health of software developers in addition to matching them with jobs that are in line with our vision. We don't believe we can see our vision through unless we model it internally which is why we work 4 day work weeks, value async communication, and have flexible schedules.
About Michelle Bakels
Michelle Bakels is the Program Director at G2i where she creates community-focused solutions for developer health and burnout, and has spent the last several years as a software engineer in south Florida.
Outside of G2i, Michelle is passionate about creating equitable spaces and opportunities in tech and serves as the Chair of Code Palm Beach, and Co-Chair of Tech Hub South Florida's Women's Council.