Description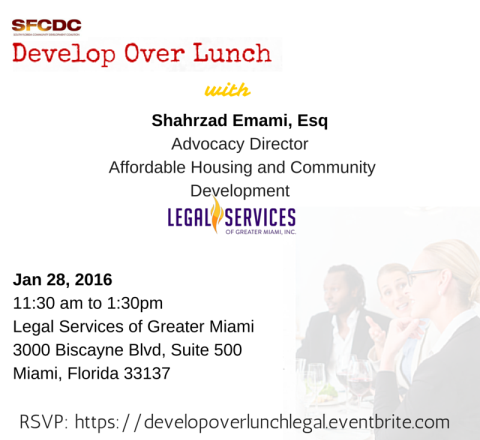 Join South Florida Community Development Coalition and Legal Services of Greater Miami as we discuss ways for nonprofit community developers to have more effective joint venture partnerships through better legal agreements.
---
11:30am to 11:45 - Registration & Networking

11:45 to 1:30pm - Lunch Served & Program
Pre-Registration Required, Space is Limited

Learn:
How to structure legal agreements that help build your nonprofit's capacity in a joint venture transaction. Why you should have independent legal representation. How Legal Services of Greater Miami's Community Economic Development Practice Group can help your nonprofit. If you have specific questions you would like addressed next week, please let us know at the link below.

https://www.surveymonkey.com/r/6KWGRKQ
Guest Speaker:
Shahrzad Emami, Esq - Advocacy Director Affordable Housing and Community Development
Legal Services of Greater Miami, Inc. Community Economic Development Practice Group
Shahrzad Emami, Esq. serves as Advocacy Director of the Affordable Housing and Community Economic Development Unit at Legal Services of Greater Miami, Inc. Emami primarily focuses her practice on the representation of non-profit developers and other non-profit organizations that are developing or preserving affordable housing and community based facilities. Her representation includes providing counsel on non-profit corporate governance and business development, drafting and negotiating business agreements including joint ventures and the formation and structuring of business entities, transactional legal drafting and document review pertaining to the real estate development process from site acquisition through closing which includes drafting and review of loan closing documents, construction contract drafting, condominium document drafting, representation of housing co-operatives and legal representation of eligible organizations involved in litigation, including pre-foreclosure and foreclosure workouts in order to preserve affordable housing.
As Project Director for the Florida Bar Foundation Preservation of Affordable Housing Grant Project, Emami's activities include representation of tenant organizations and non-profit affordable housing developers whose primary mission is to increase and preserve affordable housing in Miami-Dade County. Emami's primary clients are non-profit affordable housing corporations.
Emami is originally from Steubenville, Ohio. She received her undergraduate degree from Vanderbilt University, received her Juris Doctor degree and her Masters of Laws (LL.M) degree in Real Property Development from the University of Miami School of Law.
Emami is a member of the Dade County Bar Association, the Florida Housing Coalition and the American Bar Association's Forum Committee on Affordable Housing and Community Development Law.
---
SFCDC's Develop Over Lunch series is made possible through the generous support of JP Morgan Chase & Co.