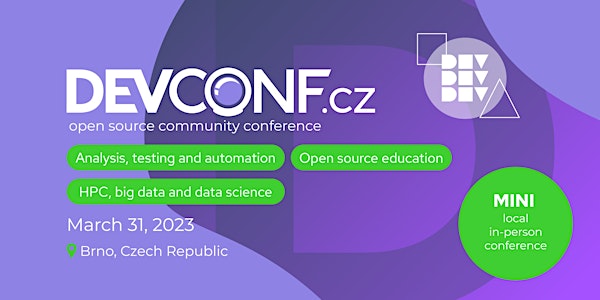 DevConf.cz Mini | March 2023
DevConf.cz Mini | March 2023
Date and time
Friday, March 31 · 2 - 7pm CEST
Location
Faculty of Informatics Masaryk University 68A Botanická 602 00 Brno-Královo Pole Czechia
About this event
DevConf.cz Mini is a bi-annual, highly focused, local, in-person version of DevConf.CZ.
It offers an opportunity to return to our conference themes in a smaller setting and establishes a platform for the Czech Republic and EMEA based community to sync, share and hack on upstream projects together.
There is no admission or ticket charge for DevConf.CZ events. However, you are required to complete a free registration.
We are committed to fostering an open and welcoming environment at our conference. We set expectations for inclusive behavior through our code of conduct and media policies, and are prepared to enforce these.
About the organizer
We are Red Hat
Our mission is to be the catalyst in communities of customers, contributors, and partners creating better technology the open source way.
RedHat is the world's leading provider of open source solutions
We help more than 90% of Fortune 500* companies solve business challenges, align their IT and business strategies, and prepare for the future of technology. We do this by providing enterprise-grade solutions through an open business model and an affordable, predictable subscription model.
*Red Hat client data and Fortune 500 list, June 2018