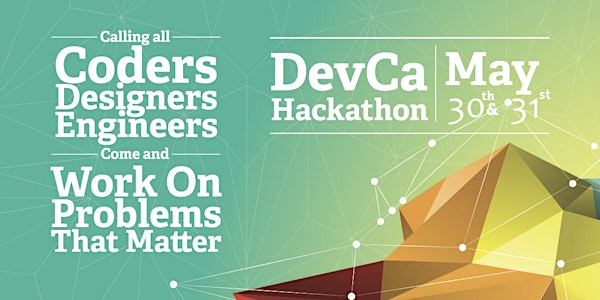 DevCA 2019 Saint Lucia Hackathon
Date and time
May 30, 2019 · 8:30am - May 31, 2019 · 8am AST
Location
National ICT Centre Bourbon Street Castries, Castries Saint Lucia
Description
Developing the Caribbean (DevCA) is a regional technology for development conference and code sprint.
The main goals of DevCA are to highlight both the current and potential impact of open data and software innovation on addressing social challenges globally and particularly in the Caribbean.
The Saint Lucian leg of DevCA2019 Codesprint will be held from May 30-31st, 2019 at the National ICT Centre, Castries under the theme 'Smart Communities, Smart(er) People'.

Saint Lucia DevCa 2019 participation includes two days (9:00am-5:00pm) of :
Working with your team to come up with ideas to solve real problems. (

Participants must register as part of a team (max. 5 members). You may create a team as captain and invite others to join by using the team page which will automatically be created for you or join an existing team.)

Getting free mentoring and briefing on using technology and data sources to solve real problems.
Presenting your ideas and prototype to a team of esteemed judges.
Winning cool prizes.
Entries are limited, register now! Deadline for Registration is May 27th, 2019.

Please note that registrants below the age of 18 will be required to present signed parental consent.
Follow Saint Lucia Open Data on facebook for updates!
About the organizer
Map4SaintLucia is an project under the Open data for Resilience and Risk Management Initiative - Open Cities Latin America and Caribbean (LAC) - Saint Lucia which is funded via a partnership of the Humanitarian OpenStreetmap Team (HOT), the Global Facility For Disaster Reduction and Recovery (GFDRR) and SwissRe. Saint Lucia is one of five countries in the Open Cities Latin America and Caribbean pilot (LAC): Mexico, Guatemala, Saint Lucia, Dominica, and Jamaica. In short, it is a drive to build Saint Lucia's GIS data on OpenStreetMap and develop the local mapping community, having noted the importance of maps in building resilient societies.