Sales Have Ended
Ticket sales have ended
Thank you for supporting the Virtual World Premiere of DETROIT RISING: HOW THE MOTOR CITY BECOMES A RESTORATIVE CITY.
Sales Have Ended
Ticket sales have ended
Thank you for supporting the Virtual World Premiere of DETROIT RISING: HOW THE MOTOR CITY BECOMES A RESTORATIVE CITY.
New docuseries spotlights a Black-led movement in Detroit to restore relationships and repair harm at a time of racial reckoning in America.
About this event
DETROIT RISING, a new docuseries highlighting the pioneering, restorative practices work of Black civic leaders in Detroit will have its virtual World Premiere on Tuesday, July 14, 2020 at 3 p.m. EDT.
Zoom link and credentials --
Link (Please cut and paste) -- https://us02web.zoom.us/j/84292435552?pwd=V3RFMlNxT0RWY2ZvdkNuRy9oc2ZVUT09
Webinar ID: 842 9243 5552
Password: 736617
Tickets are $12.
The event is hosted by the Building a New Reality Foundation. A portion of the proceeds will be donated to Hope Academy Charter School, featured in the documentary.
Black Family Development Inc. (BFDI), BFDI Training Institute (BTI), the International Institute for Restorative Practices (IIRP), Kresge Foundation, and Building a New Reality (dot com) are sponsoring the event.
"In the wake of George Floyd's death, Detroit was among a handful of cities in the United States that didn't experience an outbreak of violence," says Henry McClendon, a lifelong resident and community leader whose family tragedy ignited his vision of Detroit as a restorative city.
"When we embrace restorative practices, we can build community," Henry continues. "We have hope as a result of the restorative practices we are employing. Never waste a crisis."
***
DETROIT RISING: HOW THE MOTOR CITY BECOMES A RESTORATIVE CITY is a five-part docuseries that follows Kerra Bolton, a Black American writer, and recovering idealist, who witnesses the power and potency of restorative practices to repair harm, restore relationships, and build community in nearly every sector of Detroit.
The virtual launch of the series will feature two episodes followed by a conversation with the series' protagonists, including members of law enforcement, the court system, clergy, and nonprofit sector. Through restorative practices, the series' protagonists are dismantling entrenched policies that foster distance and avoidance while simultaneously building an ecosystem of connection and community.
"What's happening now is about redressing centuries of harm," said Alice Thompson, CEO of Black Family Development Inc. (BFDI) Educational Services who is featured in the docuseries. "In Detroit, we have all the right ingredients for strengthening relationships and community building. To make something like this happen, you need the mayor's support, the support of the philanthropic and corporate sectors, the community and for everyone to come together around a single vision for Detroit."
***
The docuseries is co-executive produced by Restorative Practices pioneers Ted and Susan Wachtel, produced by CNN Contributor Kerra Bolton, and directed by award-winning restorative practices documentarian, Cassidy Friedman.
"You cannot have reconciliation without the reckoning," Bolton says. "But a reckoning doesn't have to be destructive. With restorative practices, you can have a 'revolution by conversation.' You can hear someone else's truth and allow yourself to heal and be changed by it."
DETROIT RISING gives parents, educators, and activists who are working toward transformative justice, on small and large scales, an adaptable blueprint for an approach that works.
"This is what healing looks like," says DETROIT RISING Executive Producer Ted Wachtel.
After founding IIRP, the world's largest restorative practices organization, Ted envisioned the series as a way of launching his new initiative, buildinganewreality.com, which is geared toward bringing restorative practices into the mainstream.
"By sharing the powerful stories of self-determination coming out of Detroit," Wachtel says. "I want to show people that we have a living model for how as Americans we can reshape our society. Through understanding, healing from harm, and igniting conversations about what practices can be adapted to create accountability and harmony in schools and communities across the U.S., and beyond."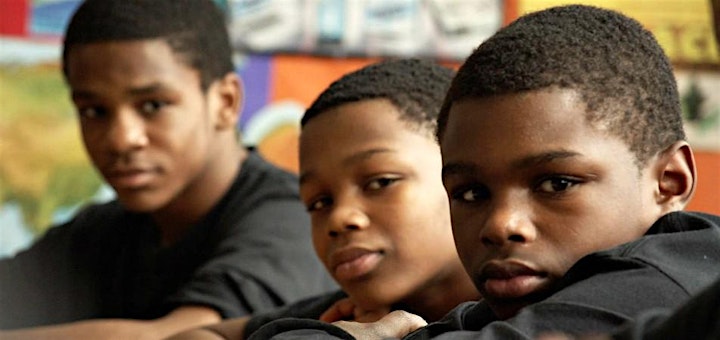 Date and time
Location
Refund policy