Detroit Real Estate Investing - Opportunity Session - LA

Wednesday, April 3, 2019 from 6:00 PM to 9:00 PM (PDT)
Event Details
Want to learn about real estate investing opportunities in Detroit?  Invest and grow with the billion dollar-plus revitalization of the Detroit community.
We'll be presenting our turn-key investments which produce:
12% average positive cash flow
Equity growth over 5 years
Community development
Multiple tax benefits 
DEBA HARPER, Founding Partner and Chief Executive Officer, Detroit DREAM Investment Solutions
Born and raised in Los Angeles, California Deba Harper's interest in real estate development was birthed from the chaos of the economic downturn or The Great Recession 2007-2010. Out of great chaos comes greater ingenuity for visionaries like Deba Harper.
The rebirth of Detroit, Michigan is a welcoming blank canvas for Deba Harper to emerge as a real estate developer to implement the community development model that was conceived from her strategic community-based planning and advocacy in Los Angeles.
Deba is the Senior Data Solutions Administrator for the Detroit Land Bank Authority (DLBA), which is the biggest land bank in the nation. DLBA is the repository of all residential Detroit City owned parcels and manages all activity associated with the inventory, disposition and demolition. She was selected as a participant of the first cohort of Capital Impact Partner: Equitable Developers Initiative. The DDIS community-based Lazarus Project has the interest of the city and capital partners ready to support the implementation of our project. She's also a founding member of the Real Estate Association of Developers, a member of the National Association of Black Women in in Construction, and a member of the Urban Land Institute, Michigan Chapter.
Deba holds an Associates in Science degree in Business Administration from Antelope Valley College, a Bachelor of Arts degree in Liberal Studies with emphasis in Urban Planning from California State University Northridge and a professional certificate from the USC Ross Minority Program in Real Estate.
ZABRINA HORTON, Founding Partner and Media and Investor Relations, Detroit DREAM Investment Solutions
Zabrina Horton is a TV-publicist-turned-real-estate-investor-goddess. After being laid off from BET Networks two days after returning from maternity leave, Zabrina felt relieved that she could finally do something she always wanted to do full time – and that is real estate investing. She utilizes and promotes a strategy she calls the "2-for-1 investment." Zabrina also helps individuals strengthen their credit profile so they can qualify to invest in multi-family units which serve two purposes; primary residence and income property.  
Not letting her 25+ years of Hollywood PR experience and contacts go to waste, she now applies those award-winning skills to investor relations activities. Zabrina's favorite mission is connecting passive and/or newbie investors with seasoned developers and flippers that provide high returns. 
Zabrina earned a Bachelor of Science degree in Business Marketing from California State Long Beach and a Master of Science degree in Sports Management from St. Thomas University, Miami. She resides in Los Angeles with her fiance' and their 4 year old son.  She invests in California as well as Detroit, where she co-founded Detroit DREAM Investment Solutions with Deba Harper.  
Why We Love Investing in Detroit:
This Opportunity Session is open to Accredited Investors and/or, individuals that can make a minimum investment of $50,000. 
6:00 PM: Networking
7-9:00 PM: Opportunity Session
Admission fee includes light dinner and a wealth of information not available anywhere else.
Photo caption:  This image depicts what Detroit Dream IS entrenched in; A revitalized community that leads to a multi-billion dollar industry.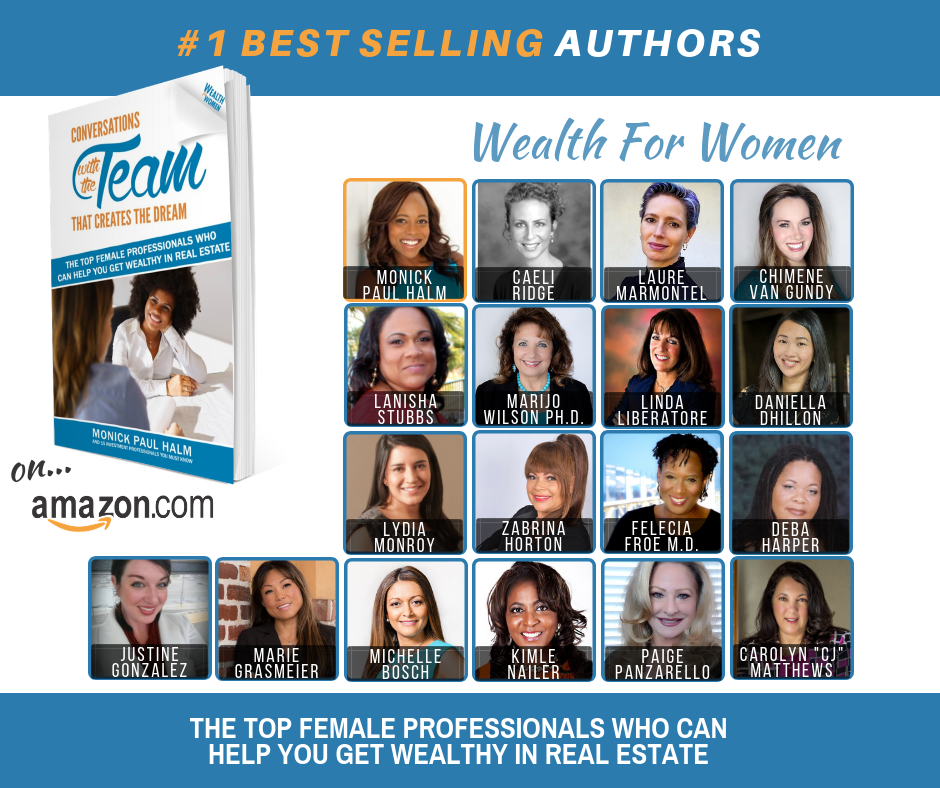 You can purchase for $10 your copy of Amazon's #1 Best Seller, and get it autographed by Co-Authors of Wealth for Women: Conversation with the Team Team that Creates the Dream and Co-Founders of Detroit DREAM, Deba Harper and Zabrina Horton
It'S TIME TO MAKE YOUR MONEY WORK FOR YOU!
NOTE: By signing up via Eventbrite, you are opting in to receive an email and/or text message reminding you about the tour 1-2 days prior to the tour date. You will also be automatically signed up for our weekly Detroit DREAM IS… E-Newsletter, which you can opt out of at any time, and we promise not to spam you with any other messages!
For additional information send an email to:
When & Where

Hot and Cool Cafe
4331 Degnan Blvd.
Los Angeles, CA 90008


Wednesday, April 3, 2019 from 6:00 PM to 9:00 PM (PDT)
Add to my calendar