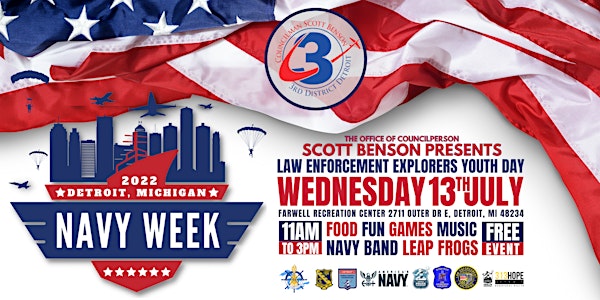 Detroit Navy Week - Law Enforcement Explorers Youth Day
Join the Office of Councilperson Scott Benson for the Navy Week Law Enforcement Explorers Youth Day for fun, food, music, a show and more!
When and where
Location
Farwell Recreation Center 2711 Outer Drive East Detroit, MI 48234
Refund Policy
Contact the organizer to request a refund.
Eventbrite's fee is nonrefundable.
About this event
Detroit Navy Week Law Enforcement Explorers Youth Day
On Wednesday July 13, 2022 from 11am-3pm, the Office of Councilperson Benson is hosting the Law Enforcement Explorers Youth Day at Farwell Recreation Center. The Explorers Youth Day will have tons of fun, resources, activities, food, live entertainment and an awesome show from the United States Navy. This event is free and made possible by our sponsors and partners. Interested in tabling at the event? Click here to complete the vendor form.
About Detroit City Councilperson Scott Benson
Scott Benson is connected to the people of the 3rd District and the challenges they face every day. Since becoming Councilman of the 3rd District in January 2014, Scott has been a tireless and innovative leader working to bring jobs into the community and making public safety and quality of life his top priorities. His primary goal is to make District 3 a community where families settle and grow, and where the youth and seniors thrive and prosper. With over 20 years experience as a Coast Guard officer, achieving the rank of Commander and serving in two overseas deployments, Scott is no stranger to hard work, sacrifice and devotion to duty. Scott sees his role in the Detroit City Council as an extension to his life's work of service to his family, country, and community. To learn about the latest District 3 initiatives, visit: detroitmi.gov City Council District 3
About Law Enforcement Explorers Program
The Detroit Police Department Law Enforcement Explorers Program is a hands-on education and career readiness program for young Detroiters interested in a career in law enforcement. The Explorer Program was established in 1977 to build a better understanding between the youth, the community and members of the law enforcement profession. It is also geared toward building good citizenship and character development. The Explorers are required to attend and complete advanced training at the annual Law Enforcement Explorer Academy. The academy, (5-day duration) provides a positive learning environment and experience for the Explorers. Many of the youths have not experienced swimming, canoeing, horseback riding, games and hands on experience with law enforcement officers. Follow them on Twitter at @DPDExplorers313
About Detroit Navy Week
The U.S. Navy is preparing to bring Navy Week back to Detroit, July 11-17, with 50 to 75 Sailors from across the fleet to take part in the service's signature outreach program. Detroit Navy Week will give the community an opportunity to learn about the Navy, its people and its importance to national security and prosperity. Detroit Navy Week will feature in-person demonstrations, performances, and engagements throughout the week that will include:
Senior Navy Leaders – Flag officer and senior civilian Navy leaders with ties to Detroit and the surrounding area.
Namesake Sailors – Sailors serving on the littoral combat ship USS Detroit (LCS 7), and the Ohio-class nuclear-powered guided missile submarine USS Michigan (SSGN 727).
Navy Band Great Lakes - Performances and masterclasses with Navy Musicians.
Naval History and Heritage Command – Educational presentations and lesson plans about the deep ties between Michigan and the Navy.
USS Constitution – Demonstrations about the oldest commissioned ship in the Navy.
U.S. Navy SEALs and Special Warfare Combat Craft Crew – Demonstrations and Static displays.
U.S. Naval Meteorology and Oceanography Command – Educational presentation on the importance of atmospheric and oceanographic science and the overall value of STEM education to the Navy.
Detroit was selected by the Navy Office of Community Outreach (NAVCO) as one of 14 locations for the 2022 Navy Week program.
Background on Navy Week
Since 2005, America's Navy has come home to up to 15 cities across the country every year. The Navy Week program has served as the Navy's principal outreach effort into areas of the nation without a significant Navy presence, with over 250 Navy Weeks held in 80 different U.S. cities. The program is designed to share with Americans how their Navy is deployed around the world and around the clock, and why a strong Navy is vital to protecting the American way of life. Navy Weeks focus a variety of outreach assets, equipment and personnel on a single city for a week-long series of events with key influencers and organizations across the market.
During a Navy Week, 75-100 outreach events will occur in participation with corporate, civic, government, education, media, veterans, community service and diversity organizations throughout the city. The Blue Angels, the Navy Parachute Team, Navy bands, Navy divers, namesake ship and submarine crews, hometown Sailors, medical personnel, Navy environmental, USS Constitution Sailors and equipment, and Navy recruiting all participate in the Navy Week program.
Learn more about Navy Week here.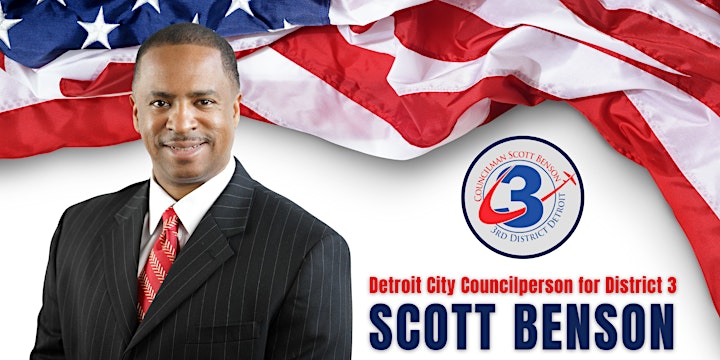 Have you ever wanted to pilot a high-speed assault craft or extract Navy SEALs from enemy territory?
If you are 14 to 18 years old, you'll get your chance when the U.S. Navy brings its state-of-the-art virtual reality experience to your school. After a quick briefing, you'll try on an Oculus Rift headset and other cool gear to lead an immersive, high-speed water extraction of a Navy SEAL team pinned down under enemy fire. Once the mission is complete, you'll be graded on your performance. It's about as realistic as it gets! There will also be opportunities to talk to current U.S. Navy Sailors, participate in physical training (PT) challenges and try out an interactive photobooth. Click here to register: https://www.navyevents.com/
EVENT WAIVER: Event waivers must be signed by all participants. If you are under the age 18, you will need to have a waiver form signed by a parent or guardian. This waiver must be completed in advance for the participants to enter and engage in the event. Download the waiver.
There are two options for waiver signature for those under 18:
1. Online registration: Go online to https://www. navyevents.com and complete the registration process. Then, print your confirmation or screen shot the QR code. The printout or the QR code must be brought to the event for entry.
2. Day-of registration: You may register on-site on the day of the event. Please fill out the attached waiver with signatures and bring it to the event for entry.
Check out the video to get a sneak peak of the Nimitz Virtual Reality Tour coming to Detroit!