About this Event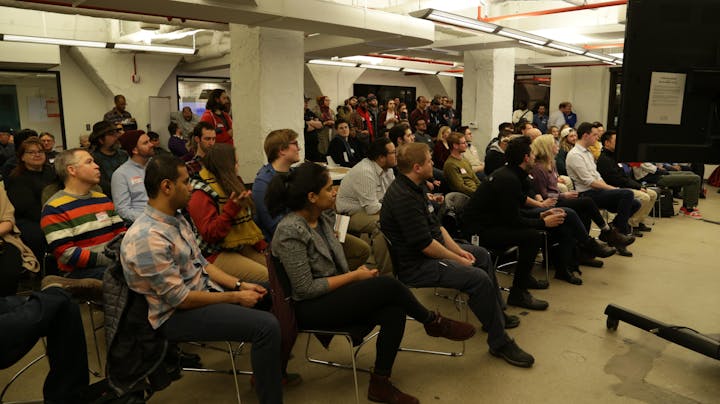 Join us for a night of meetups as we welcome Detroit Ruby, Detroit React, Detroit Kubernetes, Motor City CocoaHeads, Detroit Android and Motor City Software Testers for our largest tech focused night yet. We are bringing together these 6 community ran tech focused meetups to put on 3 workshops (Building your first iOS app, Building your first Android app and learn how to test them with a testing workshop) and 3 lecture style meetups (Ruby, React, Devops) in a mini-conference style event across 2 locations.
Come check in at Grand Circus then make your way to Altimetrik 1 block down the street above Wright and Co for the workshops or travel up to the 4th floor for Ruby, React or Devops.
There will be food and an open bar at both locations
At the Grand Circus Location:
-------
Detroit.rb (Detroit Ruby) - Show and Tell: Using Multiple Databases in Single Rails App - Jacob Barrieault
Jacob Barrieault wrote his first line of Ruby in 2013 and has been at it ever since. He's spends most of his working hours building for the web with Rails and React. Besides software, he likes dad jokes, music, bicycles, rock climbing, and Oxford commas. You can find him telling jokes and adding bugs as @jbarrieault on Twitter and Github, respectively.
Detroit React User Group - Kickoff & Lessons Learned Running NextJS in Production - Evan Ruby
As the meetup organizer, and a heavy user of React & NextJS, it seemed a natural choice for Evan Ruby to be the inaugural speaker for the Detroit React User Group. The beginning will be include basic dialog regarding community expectations, what the group should expect from organizers, followed by a time for the audience to request future discussion topics. Lastly, Evan will take the remaining time to go over some of his recommended patterns for building sites on NextJS ranging from statically exported to larger, server-rendered deployments.
Detroit Kubernetes, Docker & all related things - Mario Lorlia Differently Wrong: Continuous Delivery at StockX
For too long, developers at StockX have been taxed with building and deploying their code. Manually. No checks, no verification, no alerts. That's all about to change. Join Mario Loria for a trip down implementation lane on molding the coveted pipeline: Enabling unit testing, automated builds, and safe deployments all on Kubernetes, Helm, and CircleCI.
At Altimetrik Location:
------
Detroit Android - How to build your first Android app
We are having a workshop to show how to build a simple app for your first startup or Android development position. This is a perfect event for entry level developers interested in mobile app development. There will also be some coverage of convention as it relates to Android specific development.
Motor City CocoaHeads - How to build your first iOS app
DC313 - AWS Cloud Compliance and Security featuring Cloud Conformity
Workshop Abstract: The goal of this workshop is to enable the adoption of compliance frameworks and drive adoption using native AWS tooling and with 3rd party tooling. We will have a demo of the AWS Native tooling including AWS GuardDuty, AWS Inspector, AWS Security Hub, AWS CloudFormation and the AWS Well-Architected Tool. Cloud Conformity will also be onsite from Australia and San Fransisco to demo the ease of alignment to the 5 pillars of the AWS Well-Architected Framework using its platform and doing a small demo of it in action.
Materials Needed: Laptop and Charger, AWS account (we will be using the free-tier so you wont ever be billed), working knowledge of AWS (this will be a focused workshop on security and compliance solely), text editor of your choice
Our Schedule for the evening:
6:00pm - 6:45pm: Networking, Food & Drinks
6:45pm - 7:00pm: A word from our sponsors
7:00pm - 8:00pm: Breakout into meetups
8:00pm - 9:00pm: Finish up meetups, networking and cleanup
Sponsors
AppDynamics
StockX
Microsoft TEALS Program
Altimetrik
Grand Circus
Red Ventures
RIIS
GalaxE Solutions
Tech Elevator
Vaco Talent and Solutions
Ticket Sponsor
AppDynamics
Also don't forget to join our slack channel!
https://goo.gl/hQhfgK