Description
Dear Friends,
I'm extremely excited to share that my vision is coming to fruition in seven days, the Detroit Heritage Theatre Festival. It has been a dream of mine to tell the story of Detroit one story at a time from the people who make this city great. It's time for us to own our narrative and showcase the great talent and artistry that is our heritage.
Please join me for the inaugural festivities, May 19-20, 2018 in partnership with the educational, professional, and amateur theatre community...because it's all about Detroit!
See you at the theatre!
Karen
Lights, Camera, Action! ....Join Us to Celebrate
TELLING THE STORY OF DETROIT. . .ONE PLAY AT A TIME
DETROIT HERITAGE THEATRE FESTIVAL OF 10 MINUTE PLAYS.
. . PLAYS ABOUT DETROIT
. . WRITTEN IN DETROIT
Festival Line-Up:
"Moving Up North" By Jennifer Ellis
"Sons" By Charity Clark-Anderson
"A Gentle Place" By Joseph Pete
"The Devil Tree" By Roberta Ralston
"The Mural Near the Ford Plant" By Arthur French
"The Nerd Corner" By Brandon Elliot
"Salon Uncensored" By Alondra Vasquez, Angelita Vlasic, Denasia Robinson and Gabrielle Clayton
Play created by the Matrix Theatre Youth Education Program.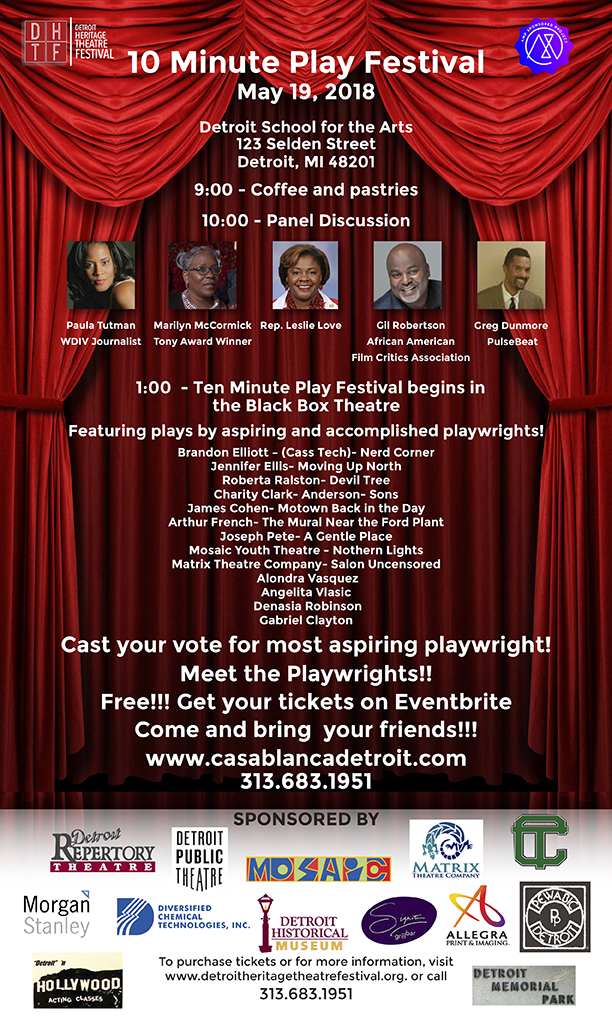 Detroit Heritage Theatre Festival is an Allied Media sponsored project. Allied Media Projects is a registered 501(c)(3). All donations to the Detroit Heritage Theatre Festival are tax deductible.
For any question or to learn more, visit www.detroitheritagetheatrefestival.org.