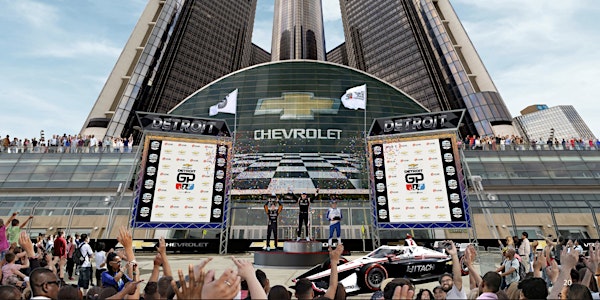 Detroit Grand Prix Photo Walks: Main Event Page
Capture stunning shots of racing cars and the vibrant city during photo walks at the Detroit Grand Prix! Tickets linked by event below.
Date and time
June 2 · 8am - June 4 · 4pm EDT
Location
Hart Plaza 1 Hart Plaza Detroit, MI 48226
About this event
YOU MUST REGISTER FOR INDIVIDUAL EVENTS. To register for a photo walk spot, for one of our photo walks, you must scroll to the individual events at the bottom of this page and sign up for a specific time slot.
Attention all photography enthusiasts! We have an exciting and unique opportunity for you to capture stunning images at the Detroit Grand Prix. For the first time ever, we are hosting photowalks during the race weekend where you can learn from experienced race car photographers and borrow professional camera equipment.
The Detroit Grand Prix is an iconic event that draws in crowds from all over the world. It's an opportunity to witness high-speed racing, adrenaline-pumping stunts, and some of the most impressive cars you'll ever see. And now, with our photowalk events, you can capture these moments from a photographer's perspective.
During the photowalk, you'll have the chance to learn from experienced car photographers. We will provide you with tips and tricks on how to capture the best shots, as well as answer any questions you may have. Whether you're an amateur or a seasoned photographer, you'll walk away with new skills and techniques that you can apply to your photography.
And the best part? You'll have access to professional camera equipment! We understand that not everyone has access to high-end camera gear, so we're providing you with the opportunity to borrow cameras, lenses, and other equipment at no additional cost. This means you can focus on getting the perfect shot without worrying about your gear.
Don't miss out on this incredible opportunity to combine your love of photography with the thrill of the Detroit Grand Prix. Join us for our first-ever photowalk event and capture stunning images that you'll cherish for a lifetime.
The Photo Walk
Schedule & Registration Below
Our booth will be located west of Hart Plaza. Photowalks have been planned around events that are expected to have fewer crowds, but still allow for killer photos! The walk will commence 30-50 minutes before the chosen race event to allow time for walking and addressing any questions. We aim to assist you in capturing great photos by providing guidance and tips before the event. We will also be accessible to address any questions during and after the race. If you plan to borrow equipment, kindly arrive 15 minutes earlier than the photowalk's scheduled start time.
Gear Loan
If you're planning on attending the event and need equipment, contact the store directly to discuss the available options and reserve the necessary gear. To start the process, send an email to inquire about equipment for the event. By doing so, one of our team experts will call you, to provide personalized recommendations and ensure that the equipment is available on the day of the event.
Email media@woodwardcamera.com
Please include in your email: your name and phone number, the brand of camera you currently shoot and if there is something specific you're interested in trying or if you would like recommendations.
If you intend to borrow equipment, please arrive 15 minutes prior to the photowalk. To ensure the rented gear's returned, we'll keep your driver's license until the end of the photowalk and the gear's return.
Our First Photowalk at a Grand Prix
We are excited to announce that this will be our first time hosting a photowalk at this event. As a result, we kindly ask for your patience and understanding as we navigate unfamiliar territory.
Please note that this year's event is in a new location, and it may take some time to find the ideal spot for photography. The Detroit Grand Prix is a crowded event, and while we will do our best to secure a location where the cars are visible, we cannot guarantee that each photowalk will have access to a prime spot. We are at the mercy of the crowd.
We appreciate your patience and understanding as we work to make this event a success. We are confident that with your help, we can capture some amazing photographs and create a memorable experience. Thank you for your understanding, and we look forward to seeing you at the Detroit Grand Prix photowalk.
Event Costs
There will be a $30 fee to attend the event. This fee helps cover a portion of our booth rental and ensures that people who register actually show up, as there are limited spots available.
Please note that we can only host 10-12 people per walk (depending on the walk), so it is important to secure your spot as soon as possible. We apologize for any inconvenience this may cause, but we believe that the fee is necessary to provide you with the best experience possible.
Thank you for your understanding and we look forward to seeing you at the event!
Photo Walk Schedule
Friday 06/02
The Detroit Grand Prix is FREE to the public on Friday, this means there is no ticket required to enter the event at stands 1 & 9, however you must register to join the photowalk. Kindly arrive on time (or 15 minutes early if you reserved gear) as we will leave the booth promptly at our scheduled start time.
Photo Walks (click the time link to register):
To join the photo walk you must have a Saturday ticket for The Detroit Grand Prix AND register for the photowalk.
Photo Walks (click the time link to register):
To join the photo walk you must have a Sunday ticket for The Detroit Grand Prix AND register for the photowalk.
Photo Walks(click the time link to register):
MORE INFORMATION ABOUT THE DETROIT GRAND PRIX, EVENT MAPS, BOOTH LOCATION AND SCHEDULES: