Learn new ways and strategies to efficiently grow your BUSINESS, BRAND, OR IDEA and take all your ENTREPRENEURIAL EFFORTS to the next level!
About this event
Come join Marcus Bowers, AN AMERICAN GLOBALPRENEUR & CO-FOUNDER of SHE'S HAPPY HAIR plus, Detroit's own Hope Watkins OWNER OF YBIP & YOUNGSIR as they explore the functions of modern business management, marketing, and ethics and social responsibility that can improve or tarnish a brand.
Marcus will break down how he became the first person in his family to graduate college with a BAAS in business, how the Navy changed his life, creating jobs instead of applying for them and Co-founding a multi-million dollar start-up with just $800!
Special guest speakers include Serial Entrepreneur Hope Watkins who will teach perseverance and strategy, as well as, how to move without money!
Get informed with real stories from tried and true business owners. Get equipped with actual resources in your hand that can instantly take you or your brand to the next level!
LEAVE EMPOWERED TO BE THE BEST ENTREPRENEURIAL MANAGER YOU CAN BE!
Register EARLY and we'll see you there!
Free General Admission Ticket
Free Lunch
Fire Side Chat
Vendor Tables $45 includes
Table (1) assistant
2 Chairs
Fire Side Chat
Vendor Plus w/Print $125 includes
Table (1) assistant
(2) chairs
PLUS | (1) Small Business Package which includes
250 Flyers + 250 Business cards + (1) 2x4 Banner
+ 1 Custom-Branded Hashtag Cutout,
Fire Side Chat.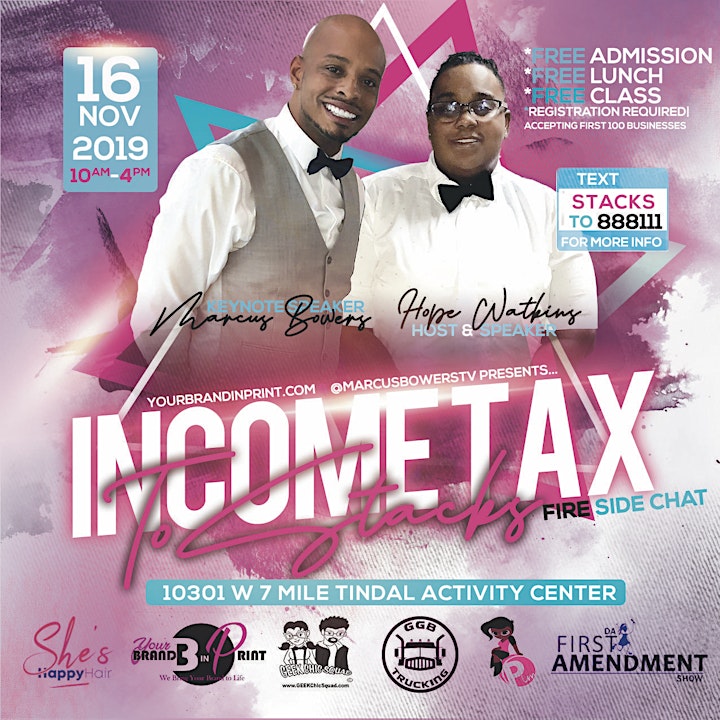 Organizer of Detroit - FIRE SIDE CHAT (Income Tax To Stacks)