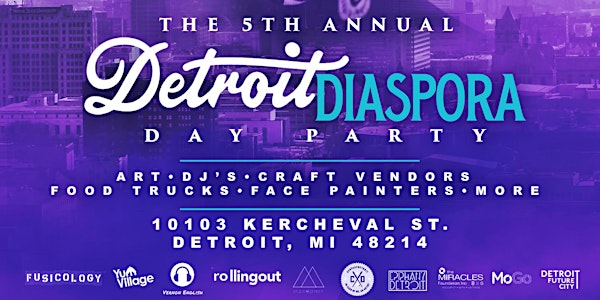 Detroit Diaspora Day Party - The Homecoming
Day Party to Celebrate Homebased Detroiters As Well as Expats Visiting For The Memorial Day Weekend with Awards Brunch, DJs, Art and more.
Date and time
Sunday, May 28 · 10am - 10pm EDT
Location
Epiphany Community House 10103 Kercheval Detroit, MI 48214
Refund Policy
Contact the organizer to request a refund.
About this event
In Its 5th installation year the Detroit Diaspora Day Party returns for the ones who dream vivid dreams. The ones who rejoice in the cathartic experience of communal dance. The ones where movement and sound are ritual. Here's the rundown:
10am -11:30am - "Buy Back The Block" Panel Discussion, will be led by husband/wife urban planning duo Ritchie and Clarinda Harrison of The Everyday Sacred. The discussion will include panelists in the real estate/development space and will explore the ways in which Detroit expats and current residents can work together to continue revitalize the city in an equitable fashion.
12pm-1:45pm - The Diaspora Awards Brunch - Brunch prepared by Chef Nik Cole will pay tribute to home-based and expat Detroit creatives, including: artist - Shirley Woodson; retired gallerist - Dell Pryor; fashion designer - Maurice Malone; filmmakers - Kristian Hill and Jennifer Washington; and entrepreneur and DJ - Bruce Bailey
2pm-10pm - DJs Play Inside and outside
Diaspora Marketplace - reminiscent of a vibrant and bustling African marketplace, where merchants come together to sell their wares and craft products.
Diaspora Wellness Lounge - The wellness lounge will have on hand Kim Yokley of Kimochi Detroit, Dr. Ruth Lehman of Alleviate Acupuncture and Wellness, Toya Hankins of Face Maps By Toya, and Geo Edwards of Grain and Pestle all offering a bevy of natural healing technics, including massage, reflexology, herbal remedies, and voice Harmonic evaluations as well as Blood Pressure checks
Face painting - featuring Ifoma Stubbs and Tre Marcel
DetroitisDifferent.com podcast will be on-site streaming live, interviewing attendees and performers, capturing the vibrant spirit of the event.
MogoDetroit.com will also be setting up a Bike Rental Station at the event, providing a fun, flexible, and convenient way to explore the festivities and the surrounding area.
Diaspora Pop-Up Gallery - original works of Detroit artists. The exhibit is curated by Detroiter Onzie Norman, and Harlem New York Curator, Phillip Harvey.
Featured DJs include globally renowned Ron Trent, Vernon English, Duane Powell, Sabrina Nelson and a soulful line up of other DJs from around the country. Proceeds from the event will benefit The Miracles Foundation - a non-profit that raises funds for educational, performing art and humanitarian scholarships and grants. Tickets may be purchased online at urban-organic.net or Eventbrite.com
Rollingout.com,Fu sicology.com and DetroitisDifferent.com are the official media partners for the Detroit Diaspora Day Party.
For questions or to inquire about vending call 313-451-3625
About the organizer
Urban Organic is a multi-genre marketing and promotions company founded in 2001 with a focus on Music, Visual Arts, Film, and Literature.  We help creatives and entertainment professionals  connect their products and ideas to various target audiences through events, product placement, talent booking, and media outreach.