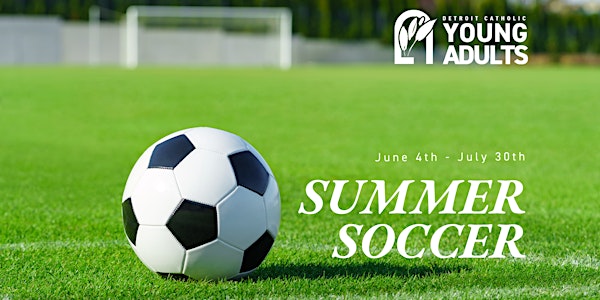 Detroit Catholic Young Adult Sports - Summer Soccer 2022
Catholic Young Adult Soccer returns for summer of fellowship and soccer!
About this event
In this season of Resurrection, Catholic Young Adult Soccer (CYAS) is rising again on the 3rd summer after a two year hiatus, for the 2022 summer co-ed soccer league. Join us on Saturday mornings in June and July for fellowship and soccer as we bring back CYAS with the new beginning of Detroit Catholic Young Adult Sports (DCYAS)!
WHEN: Saturday mornings at 9:30am & 10:30am June 4th - July 30th (with a break on July 2nd)
WHERE: Bishop Foley Catholic High School football field (32000 N Campbell Rd, Madison Heights, MI 48071)
WHAT YOU'LL NEED: A good pair of soccer shoes or cleats (no metal spikes allowed)
COST: $30 per person or $50 for a couple. This includes your team T-shirt. (Must be age 18-35 to play)
2022 DCYAS Soccer League Rules
FORMAT
Games will consist of two 25 minute halves.
Players are to arrive at least 15 minutes prior to their scheduled kickoff.
Games will begin no later than 5 minutes past scheduled kickoff time. If they do, it's a 3-0 forfeit.
Captains will meet to flip a coin for sides and first possession just before the start of the game.
TEAMS
Team captains will be assigned to each team and are responsible for coordinating their players, and disseminating messages from league leadership. Should a day of play or any game be cancelled for any reason, the team captain(s) will be notified by leadership, and will be held responsible for forwarding onto all of their team members.
If a captain is not able to be present for a game, the team must nominate a fill-in.
Each team is required to have a maximum of 8 players on the field at one time, including a goalkeeper.
Each team is required to have a minimum of 6 players present to play each game.
If a team has fewer than 8 players for any given game, that team may recruit a player from another team to play the position of goalkeeper. It must be a registered League player.
A maximum of 6 men may be on the field at one time.
If no female players are present for a team, the game will be considered a forfeit.
PLAY
If the leading team is ahead by 5 or more goals at any given time, the trailing team is permitted to add a player onto the field until they reduce the lead to 4.
At the end of regulation, if the score is tied, the game will be declared a draw.
If the ball exits the field on the sidelines, the other team will bring the ball back in play by performing a throw-in.
Should a foul by the defensive team occur within the 18-yard box, an indirect free kick will be awarded. A team cannot score a goal off of the free kick itself. The spot of the free kick is to be moved back to the edge of the 18-yard box
No PKs
Slide tackling and playing the ball while on the ground is not permitted. Any player who is not a goalkeeper must be on their feet to be permitted to play the ball.
If the ball is kicked excessively out of bounds, the team kicking the ball is must retrieve their own ball.
Should the ball be kicked off the property, the player who kicked it must substitute out to retrieve it.
Most of all, have a fun time out there!
TOURNAMENT
Each team will participate in the postseason tournament, which will take place on July 30th, one week after the conclusion of the regular season.
The tournament will be a single-elimination format. Teams will be seeded based on season ranking. Any ties in record will be decided by: 1) head to head matchup, least points against, most points scored, coin flip
Games will consist of two 25 minute halves, if the league adjusts to more than 8 teams given interest in the league, tournament games will be two15 min halves.
At the end of regulation, if the score is tied, the game will be decided by a penalty kick shootout.
PENALTY KICK SHOOTOUT (IF NECESSARY) (Will be administered by league manager)
Captains will meet to flip a coin to decide which team will shoot first.
A penalty kick may only take place once a whistle has been blown (or another signal signifying the start of play).
Each team will alternate penalty kicks and have five penalty kickers. The game will end once a lead becomes insurmountable (i.e. 4-2 after four rounds).
If the penalty kick shootout is tied after five rounds, the shootout will continue in a sudden death format, and will end after one team leads at the end of a round.
Only an official player of the team may play goalie.
Each player on a team must have an opportunity to take a penalty kick before any player is allowed to shoot a second time. Of the first 5, 2 must be female.
If you have any questions, don't hesitate to contact Trey Bauman, league manager at (419) 438-7913 or at Trey.Bauman.14@gmail.com