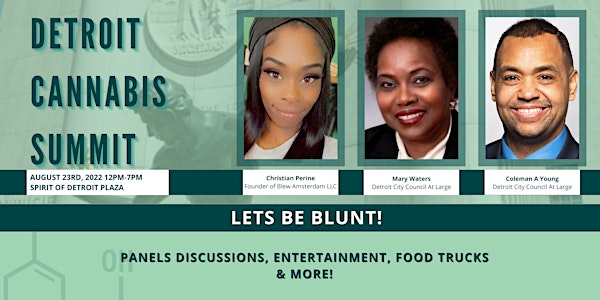 Detroit Cannabis Summit
High! Join us as we discuss the Economic, Health and Business aspects of Cannabis! Education, Food, Entertainment, Resources & More!
When and where
Location
Spirit of Detroit Plaza 2 Woodward Avenue Detroit, MI 48226
About this event
This conference, hosted by Blew Amsterdam LLC and Detroit City Council Members at Large; Mary Waters & Coleman A Young II can play a vital role in the both the Detroit Community and the Cannabis Industry. Conferences can enable the dissemination of critical information and provide opportunities for enhancement of important skills and goals by bringing together diverse and dispersed groups for interaction, collaboration, and presentation of ideas that may not be possible otherwise.
Join us as we discuss and learn about Cannabis and the Cannabis Industry!
So, what's happening at detroit's 1st cannabis summit?
High! Im glad you asked...
Panel Discussions
Medicinal Professionals
Cannabis Patients
City Council Members
Medicinal & Recreational License Holders
Community Activists &
Exceptional Minds in the Cannabis Industry
Potential Panelists, KeyNote Speakers & Guests
Christian Perine; Blew Amsterdam LLC
Mary Waters; Detroit City Council At Large
Kimberly Scott; Chronic City
Justin Hatchett; Mary Documentary & Blew Amsterdam LLC
Coleman Young II.; Detroit City Council At Large
Rev. Al Sharpton; Community Activists
Dr. Rob McCurren; The Well Flower
Andrew Brisbo; Executive Director of the CRA & More
​
Is there someone you want to see at the Summit? Tell us & them on Social Media!
Live Performances & DJ Sets:
Spoken Word By: Malcolm Harris; Cass Tech Graduate & Performer
​Stay tuned for more details!
Musicians & Comedians
Musicians: Mike Fate , More Coming Soon!
Comedians: Ken Webb; Church Comedian
More Updates Coming Soon!
Food Trucks:
We are finalizing the Food Trucks sections as we speak! And mmcht nah, we ain't forget its TACO TUESDAY!
Eduction, Resources & Networking:
Network with some of the most influential people in the Cannabis Industry!
Learn about:
The Endocannabinoid System
Terpene Flavor Profiles
The Cannabis Industry
What Social Equity Means & Who its for
Explore Resources such as:
Job Placement Opportunities
Cannabis Business Lending & Financing & More!
Community Workshops & Food Drive
Community based Workshops will be held by the Detroit Community & DPS Activist, Mr. Derrick Anderson.
The Black Woman Owned Non Profit Organization, The Karen Lynn Foundation, founded By Lashante Keels will be hosting a Community Food Drive.
Games, Raffles & Prizes
All of the Sponsors for Detroit's 1st Cannabis Summit are contributing SWAG for Give-A-Aways, Raffles & Prizes! Come get FREE:
T-Shirts
Hats
Cups
Tote Bags
Information & Resources !!
Special Guests & Announcements
There is always someone or something to celebrate, join us as we give flowers and rounds of applause to some beyond deserving Detroiters'!
A Cannabis Friendly After Party
Special Thank You's to Mike Fate, Founder of Believe In Fate LLC who will be hosting a 420 friendly afterparty since there will be NO ONSITE CONSUMPTION DURING DETROITS CANNABIS SUMMIT, HELD AT THE SPIRIT OF DETROIT PLAZA.
SPONSORED BY:
Mary Waters; https://detroitmi.gov/government/city-council/city-council-large-0
Zeal Credit Union, https://www.zealcu.org
THANK YOU !!
Stay tuned for more details soon!
RSVP FORA FREE RAFFLE TICKET OR LEARN MORE INFORMATION AT: www.BlewAmsterdam.com