Detroit Book City's 2nd Annual African American Family Book Expo 2018

Sunday, February 25, 2018 from 12:00 PM to 5:00 PM (EST)
Event Details
2018 EVENT HIGHLIGHTS
ADMISSION FREE FOR 1ST 1,200 REGISTRANTS- SOLD OUT 
AT THE DOOR: $3/Adults - $1/Youth (5-12 years)
$1 SOUVENIR "KeepSake" Books
Please reserve FREE ticket
Join us at Detroit Book City's 2nd Annual African-American Family Book Expo 2018! The event will be held on Sunday, February 25, 2018 from 12 noon - 5pm at the newly, renovated Northwest Activities Center, 18100 Meyers Road, Detroit, MI 48235.
This exciting annual, one-day event is designed to preserve literacy in our community – at the family level. You'll enjoy a winter afternoon with over 60 talented, Black Indie Authors of adult & children books.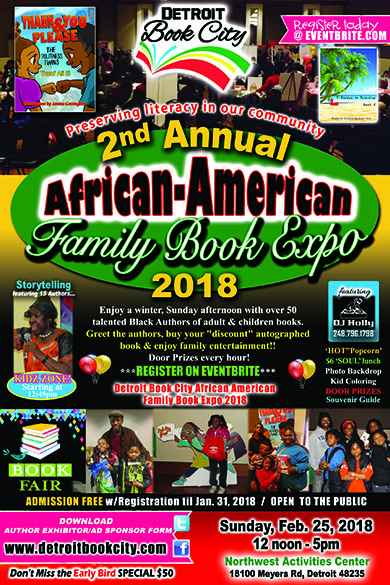 Meet the authors, buy your "discount" autographed books and enjoy a host of family, fun entertainment -- KIDZONE...HOT Popcorn, $6 soul food lunch, photo backdrop, LOTS OF DOOR PRIZES and $1 Souvenir Booklets!!! You'll also enjoy storytelling and author talks in the 'Author's Boardroom' from over 15 amazing writer/speakers in a captive audience setting.  Be one the first 200 to arrive and GET A FREE Swag bag!
This event highlights some of the best books written & illustrated by Black authors covering every aspect of African-American lives. They are well-written and beautifully illustrated. We want to continue the momentum of sustaining literacy for all ages. "Every home should have a library." And every library in Metro Detroit, should have books written by Black Indie Authors."
We've SOLD OUT ...our FREE 1,200 complimentary tickets!  But, please be sure stop by.  Door Tickets:  $3/Adults | $1/Kids (5-12 years).
That's right!  Get ready for Detroit Book City's 2nd Annual African-American Family Book Expo 2018! Greet a room full of talent and walk away with your autographed book. This is your chance to meet a book author or illustrator of color and support literacy in one-day! 
Preserving Literacy in our Community
A DETROIT BLACK HISTORICAL EVENT... 

YOU DON'T WANT TO MISS!!!
 ___________________________________________________
AUTHOR SHOWCASE 2018

Biography/Memoir
Houston, Francine
Sample, Phillip
Wilson, Brenda

Business
Galloway, Warren S. Jr.

Education
Hawkins, Jahquan
Jordan, Frank "Zaaqan
Matthews, Brian

Hip-Hop Music
Thompson, Eric

Poetry/Inspiration
Barr, Tajhae
Cochran, Denise
The Poet, RJ

Relationships
Ali, Hasani & Shelbie
Thomas, Darnell 
Simpson, Tialie

Guest Vendors
Black Interdependent Council
NSpire Network - Now we Know



 

 

 

 

 




Ferguson, Cythnia - African Fabric
Rashid, Lorena - Candles
Vista Maria

Children Book Authors
Afrika, Sekou
Baker, Teresa
Bass, Trina
Batchelor Davis, Kim
Bellinger, Odis
El, Yusuf Ali
Grant, Mary
Hardin, Lonna
Hardy, Stephanie
Lee, Patrice (Leep Joy)
Mitchell, Shirley
Mngaza-Moore, Lungiswa
Pope, Cheryl Lynn
Scott, Andrea
Watkins II, Te'lario
Watkins, David

Comics/ Coloring
Savage, Sherrie
Batts, Andre
Shelton, Asher

Religious / Faith
Gentry-Pugh, Barbra
Willingham, Brittany

 

 

 




 

Self-Development
Bankston, Tanya  
Bennett, Horatio & Natasha
Brown, Nickiya
Davis, Jameel
Johnson, Paulina
Kelly, Darren Robert
Kelly-Boyd, Ranequa
Love, Quentin G
Mendez, Yolanda 
Segars, Mary
Thomas, Julie
Wynne, Jonathan

Urban Fiction /Romance
Caldwell, Leonette
King Benjamin
Deloach-Lucas, LaKeila  
Johnson, DeQuindra
Mann, Aliza
Norfleet, India
Pearl, Jada
Rockwell, Cetarracca 
Warir-Marbly, Lisa

Teens/Young Adults
Dabney, Karen
Belcher, JahNikki
Lampkin, Stacy
Smith, Marcel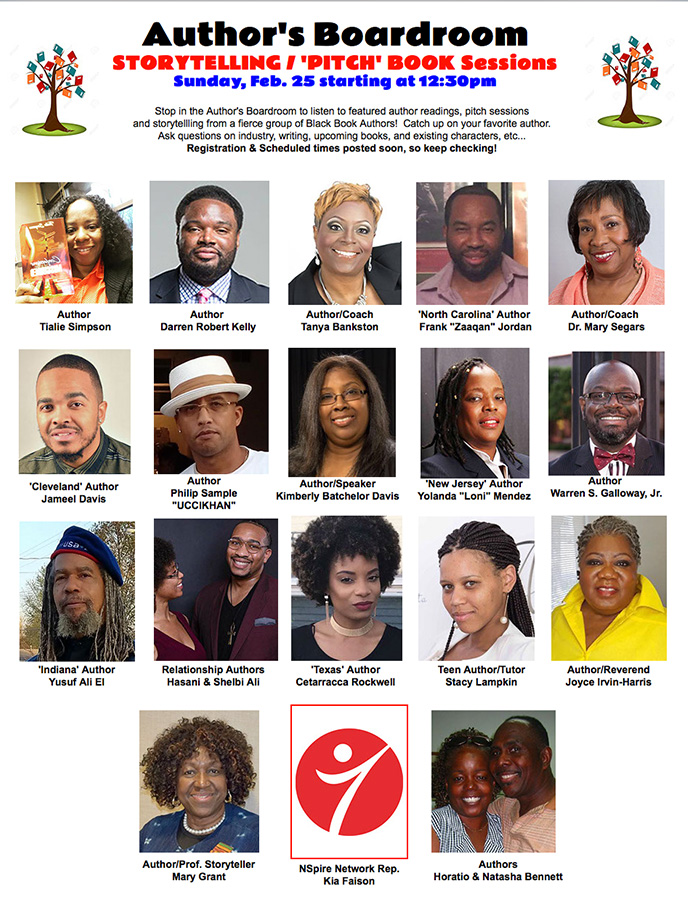 Registration & Schedule Times...coming soon!
Author Boardrooms are a big hit!  These heavy-hitter authors
will give a 15 min. engaging "talk" or storytell their book.
Don't miss out...you just might learn something new!


---
2018 Souvenir Booklet Sponsor Advertiser

SUPPORT LITERACY...
REACH 2,500 PEOPLE IN ONE-DAY
SELL YOUR PRODUCTS/SERVICES
Download 2018 Sponsor Advertiser Registration Form
http://www.detroitbookcity.com/2018-book-expo.html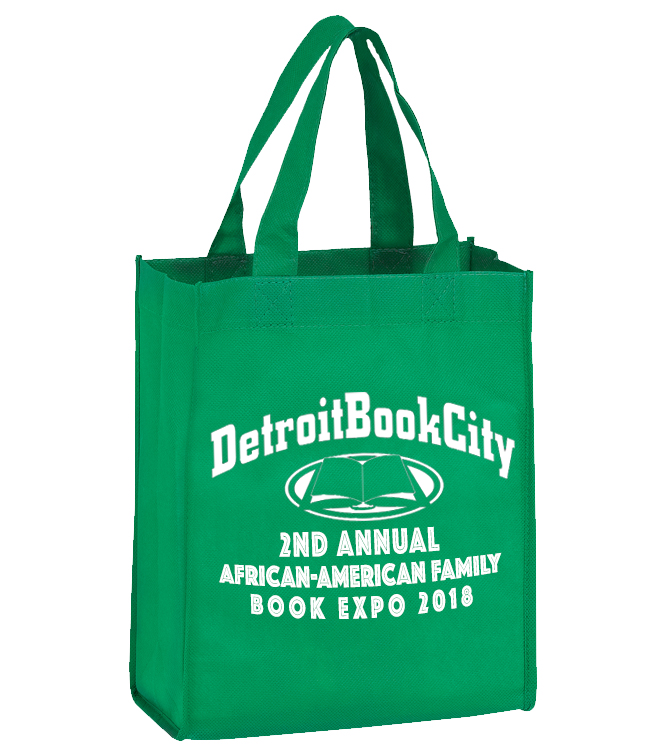 SWAG Bag Insert Advertiser - $40
Stuff your biz card or flyer in 200 Swag Bags
distributed to our 1st ...200 adult arrivals!  Register today.
http://www.detroitbookcity.com/2018-book-expo.html

Got additional questions???  Call Janeice at 248.667.6449
www.detroitbookcity.com
When & Where

Northwest Activities Center
18100 Meyers Road
Detroit, MI 48235


Sunday, February 25, 2018 from 12:00 PM to 5:00 PM (EST)
Add to my calendar
Organizer
Detroit Book City a small independent, brick & mortar book store that specialize & market books, media, & events to the African-American consumer market.  We carry children, youth  and adult books (fiction/non-fiction) novels, self-help, black-consciousness, spiritual, how-to's, urban-fiction, memoirs, biographies & much more!!! We also sell CDs, DVDs, T-shirts, Posters, Games, plus rare hard to find and out-of-print African-American books.
We have a treasure chest of GREAT books awaiting for you!!
 STOP BY OUR NEW BRICK & MORTAR "SOUTHFIELD" LOCATION
Summer Hours:  Tues-Fri 12-6 | Sat 10-3
The Stratford Building
24361 Greenfield Rd, Ste. 305
Southfield, MI 48075
Phone: 248.209.6880
www.detroitbookcity.com