Detroit Book City BookSWAP & Conversations LIVE Internet Talk Show
Description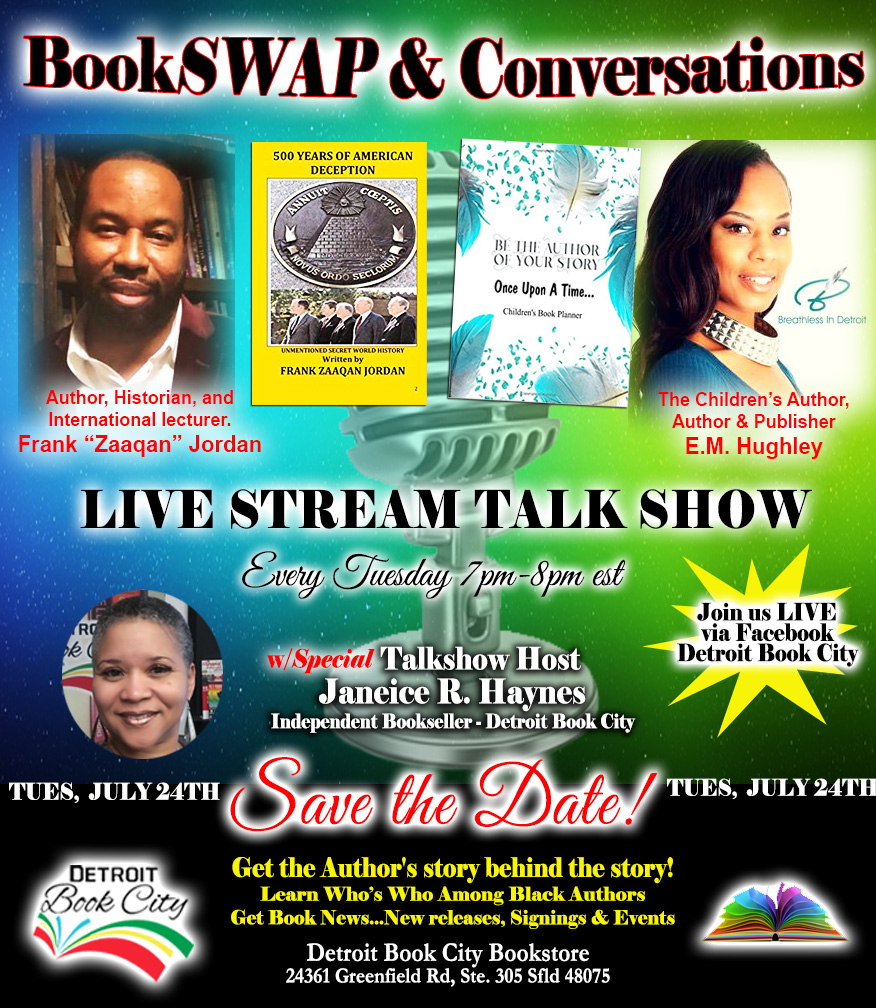 HOT OFF THE PRESS!!! It's tomorrow, Tues, July 24th @7pm est. You are invited to watch Detroit Book City's LIVE Internet Talk Show "BookSWAP & Conversations" with host Janeice Black-Haynes. Watch at:
https://facebook.com/detroitbookcity/videos/1709096532520076/.
This is our 1st Episode!! We're excited to interview two 'thriving' book authors whom are making MAJOR moves through literacy and positioning themselves to become experts in their field.
Meet Frank "Zaaqan" Jordan, a Brooklyn native who currently resides in Raleigh, NC. He's an educator, world history historian, Black history author and 'best-selling' author! He's authored 5 books and published his last three. We'll discuss his latest book, "Uncovering the Evil of Amerikkka" and learn about the release of newest book, "The Holiday Hustle: Controlling the Black Mind and Finances."
Meet E.M. Hughley "Erin"...a native Detroiter, Director of Storyteller Storyseller Young Author's Academy and Co-founder of My Litle Storie Publishing. She creates fictional worlds and help young aspiring authors bring their own story to life by helping them write and publish their books. Learn about how she got started in the industry, who's who among her youth authors and the publishing services available to you!
Tune into LIVE tomorrow on Facebook at 7pm sharp! https://facebook.com/detroitbookcity/videos/1709096532520076/
---------------------
ABOUT US...
We are a new, live Facebook talk show that host interviews with local & national Indie Authors and highlight book news & events starting...Tues, July 24, 2018 (Every Tuesday at 7:00 - 8:00 PM EST)

Get the Author's story behind the story! Dive into the stories whether it be poetry, children's books, mysteries, romance, history, inspirational and so much more. It's all on BookSWAP & Conversations. You'll get to hear the authors talking about their books and the journey behind how it all began. Take the opportunity to hear the insights on what inspired them to write it.

BookSWAP & Conversations is presented by Detroit Book City Bookstore… a small, independent book store located in Southfield, MI that specialize & market books, media & events to the African-American consumer market. We carry new and gently used adult and children books i.e. self-help, black-consciousness, spiritual, how-to's, urban-fiction, memoirs, biographies & much more!!! We also sell books written by local and national Indie Authors and rare, hard to find or out-of-print African-American books.

Join us LIVE every Tuesday at 7:00-8:00PM Eastern (beginning Tues, July 24th to hear the latest interviews by today's authors!

STAY TUNED....for the Author Interview Line-up!! Watch at: https://www.facebook.com/detroitbookcity/