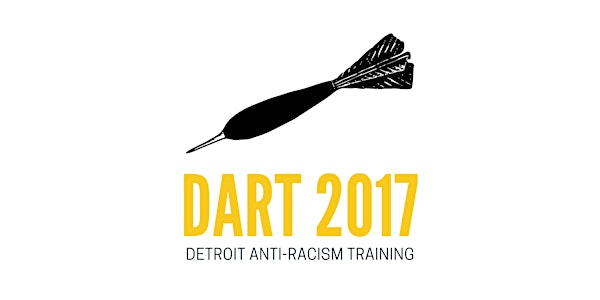 Detroit Anti-Racism Training (#DART2017)
When and where
Location
Wayne State University Law School (Damon J. Keith Center for Civil Rights) 471 West Palmer Avenue Detroit, MI 48202
Description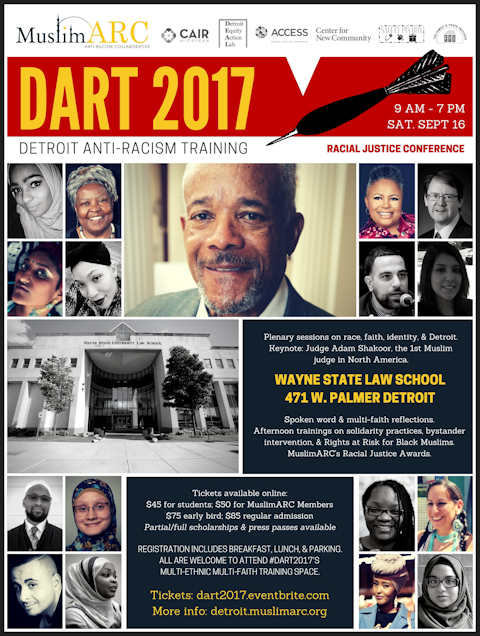 This conference aims to bring together organizers and community leaders to build collaborations through critical-consciousness raising on racial justice and critical anti-Islamophobia activism to address issues of water, community power, and sanctuary. This is an important moment to mobilize Muslims and allied communities to develop a proactive agenda to build power and counter harmful policies on a local, state, and national level by developing a shared vision for Metro Detroit.

The training will feature plenary sessions in the morning with breakout and small group sessions in the afternoon. The training will close with our Racial Justice Awards Ceremony, honoring Michigan organizations and groups doing powerful work.
Breaks, live performances, a reflection and prayer space, and opportunities for building with fellow training attendees are built-in to our day.
DART 2017 is hosted by Muslim Anti-Racism Collaborative (MuslimARC) and co-sponsored by the Council on American-Islamic Relations - Michigan (CAIR-MI), Arab Community Center for Economic and Social Services (ACCESS), Center for New Commmunity (CNC), Safety Pin Box, Blac Pearl Media, and the Family and Youth Institute (FYI).
INCLUDED:
---
Breakfast and lunch (zabihah/halal meals available)
Coffee, tea, water, and other refreshments
Event parking in Structure 1 across from the venue
Special accommodations are also available - please let us know what you may need when you purchase your ticket.
Brief Overview of Agenda:
---
9:00a - 12:00p: Morning Plenary Sessions

12:00p - 1:00p: Lunch

1:00p - 1:30p: Reflections/Dhuhr

1:30p - 5:00p: Afternoon Breakout Sessions

5:00p - 5:30p: Break/Asr

5:30p -7:00p: Closing/Racial Justice Awards Ceremony

Visit the official DART 2017 website at detroit.muslimarc.org to find more information about speakers, housing and accommodations for out-of-town guests, and more.
OPTIONAL
Add on a #BeingBlackAndMuslim or MuslimARC tee for $10 each with your registration.
Check the box during your registration for more information about the post-DART group dinner off-site if you're interested in joining us.
DISCOUNTED TICKETS:
---
MuslimARC Members receive $50 tickets: please visit the MuslimARC Slack channel to find your discount code or check your members-only newsletter for the code to enter. You can join as a member at www.muslimarc.org/join.
Scholarships are available. Please email dart2017@muslimarc.org with your request. We need your name and the amount of scholarship you would like to request.
DART 2017 Co-Sponsors: some community organizations have discount codes available for their members. Please check with your local organization for the code, or ask them to sponsor tickets by contacting dart2017@muslimarc.org.
Press passes are available for plenary/large group sessions. Please email dart2017@muslimarc.org to receive a code for your press pass.
Speakers and awardees - please provide your information to the DART teammember assisting you so we can arrange for your ticket(s).