Detox 101: THE WATER WORKSHOP

Monday, October 19, 2015 from 6:15 PM to 7:45 PM (EDT)
Event Details
DETOX 101

Part 3 of  3 in our monthly 101 series

This Month's Topic: Water Detox
Feeling sluggish or tired all the time?  Struggling with aches and pains, digestive, or skin problems?  Can't seem to lose weight?  Have a cloud of brain fog that won't seem to lift?  The common denominator could be water.

Water is essential for the body to detoxify.  Water is required for your body to remove and filter impurities from the blood, liver, kidneys, intestines, lungs, lymph and skin.  However, when our bodies are not receiving the right amount or correct type of water, our bodies become stressed, impurities aren't properly filtered and every cell in the body is heavily affected.
Not only is the amount of water that you drink on a daily basis important, but you must also drink the correct type of water.  Tap water has been shown to contain over 1000 chemical impurities and multiple heavy metal contaminants.  Common home carbon filters really don't catch but a fraction of the contaminants in city tap water.  At this month's water workshop, you will learn the optimal types of water you can filter at home or from the store.
Dr. Schwartz will also explain how you can safely rid your body of toxins and heavy metals from impure water.  Come and learn from our knowledgeable experts about proper nutrients & minerals in the body.  Plus a Q&A with Dr. Schwartz!

So don't wait any longer. Get back your energy.  Reduce your pains and aches.  Hydrate your skin.  And get your digestive system properly working. And most importantly renew your ability to maintain optimum health and prevent diseases.
Featuring guest speaker, Jason Barnes, expert water specialist from Dr. John's H2O!
Our 101 Seminar Series is FREE and available only to current chiropractic and functional medicine patients at Triad Health Center.  For more information, please call us: 336.288.4677.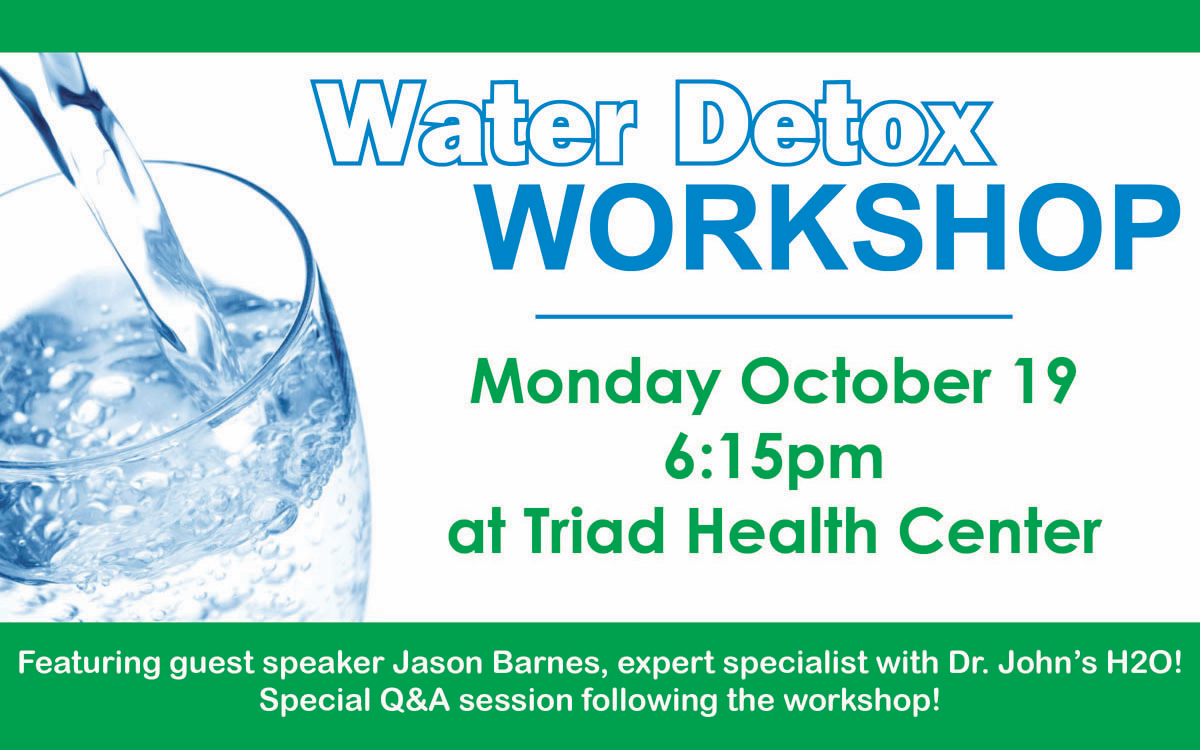 Detox 101: THE WATER WORKSHOP