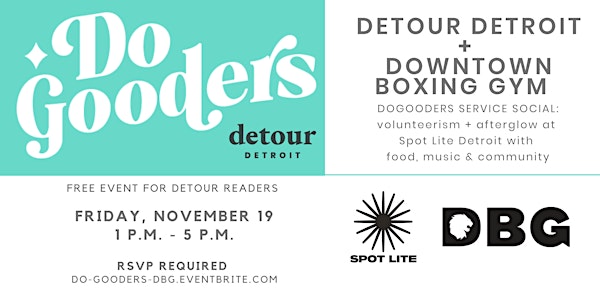 Detour DoGooders Service Social with Downtown Boxing Gym
Detour Detroit is partnering with Downtown Boxing Gym & Spot Lite Detroit for an afternoon of community service and an afterglow
When and where
Location
Downtown Boxing Gym 6445 E Vernor Detroit, MI 48207
About this event
We had such a great time at our first Detour DoGooders event that we're doing it again! The goal? We're here to support local Detroit nonprofits, give back to our community, get to know each other AND have a great time doing it.
You are invited to one-of-a-kind volunteer hang at Downtown Boxing Gym, a nonprofit youth program that has been servicing kids in our community since 2007. Through education, athletics, mentorship and intervention, the Downtown Boxing Gym empowers Detroit students to be positive and productive members of society.
We will learn more about the program, tour the space and see the new outdoor athletic facilities, then support DBG staff as volunteers until 3 p.m.
That is when the real fun begins! We will relocate one block north to Spot Lite Detroit, an art gallery, music venue, bar, coffee shop and record store all under one roof! There we will warm up for the weekend with cocktails on Detour, snacks, and DJ Vince Patricola spinning records.
RSVP is required. Email kelsey@detourdetroiter.com with any questions.
Detour Detroit is an independent local news outlet dedicated to building community, serving fellow Detroit residents, spotlighting neighborhood-level issues and providing important stories about our city through an equitable perspective. Detour couldn't exist without our members and supporters. Click here to become a Detour member.