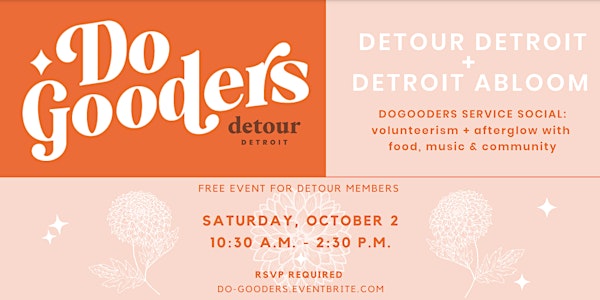 Detour DoGooders service social with Detroit Abloom
Detour Detroit is partnering with Detroit Abloom for a day of restoring and replenishing flowerbeds.
When and where
Location
Detroit Abloom 248 Manistique Street Detroit, MI 48215
About this event
We're launching our first-ever Detour DoGooder event! The goal? We're here to support local Detroit nonprofits, give back to our community, get to know each other AND have a great time doing it.
As a member, you're invited to one-of-a-kind volunteer hang at our favorite flower farm/native plant nursery/outdoor wellness center, Detroit Abloom. The farm has been growing in Detroit's Jefferson-Chalmers neighborhood since 2015 and is a beacon for the east side community.
We will spend a couple hours getting dirty, restoring and rebuilding flower beds. Then we'll follow it up with an unforgettable afterglow on Detroit Abloom's campus with a delicious farm-to-table meal, beverages and live music!
Local DJ and producer stphn-b will be setting the mood while we enjoy an incredible lunch served by Maryam Khan, chef and owner of Khana Detroit, and sip cocktails provided by American Liquor Co.
Admission is free for active Detour members and a plus one. (Click here to become a Detour member.) Email kelsey@detourdetroiter.com with any questions.
Detour Detroit is an independent local news outlet dedicated to building community, serving fellow Detroit residents, spotlighting neighborhood-level issues and providing important stories about our city through an equitable perspective.