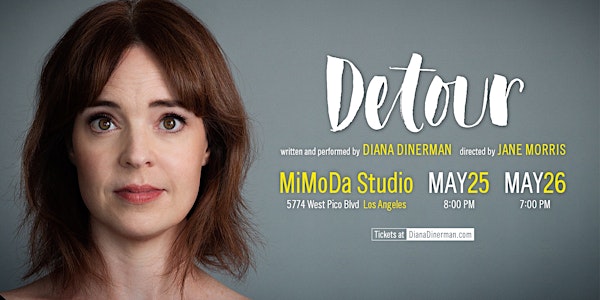 DETOUR: A Show About Changing Your Mind
Event Information
Location
Mimoda Dance Studio/Theater
5772 West Pico Boulevard
(through Paper or Plastik Cafe)
Los Angeles, CA 90010
Refund policy
Refunds up to 1 day before event
Description
DETOUR: A Show About Changing Your Mind
Written/Performed by Diana Dinerman
Directed by Jane Morris based on original direction by Anne Hollister
Visual and Sound Design and by Adam Macias and Jeff Gardner

What happens when the finish line is finally in sight, and you realize you're running the wrong race? If you're Diana Dinerman, you stop, pivot and then run like hell, in another direction. You don't know where you're going, you just know you're running for your life –the life you want. At least, you hope so.
DETOUR is Diana Dinerman's autobiographical feminist comedy about what happened next. Against a backdrop of Los Angeles's self-obsessed shiny people and palm trees, Diana Dinerman embarked on a different kind of Manifest Destiny. DETOUR traces her path from artist to academic and back to the stage, through a 10-year period of isolating research, an intoxicating love of the California choreographer Lester Horton that led to a PhD, heartbreak fuelled vandalism, and fasting in the jungle. In a refreshing portrait of getting your life all wrong, she let go of who she thought she was and founds parts of herself she didn't know she had. Told with humor and insight, DETOUR mixes exposition with editorial, humour with heartbreak, feminism with femininity – Diana Dinerman has her finger on the pulse of every woman rising up.

There is a reason Ms. Dinerman has been called "one to watch" by TribeLA Magazine. She's one of LA's most dynamic writer/performers. With impeccable writing and sharp comedic timing, DETOUR: A Show About Changing Your Mind blends storytelling with comedy, and boasts an evocative visual design and sound scape - including historical photographs of 1950s Los Angeles, chanting, dance, and Peruvian imagery. DETOUR is the perfect balance of head and heart - an infectious and inspirational tale about how one woman created the life she wanted by drawing her own map.
About the Writer/Performer: Diana Dinerman is a writer, stand-up comedian, and actor. Her writing has appeared in The Routledge Encyclopedia of Modernism, Wifey.tv, and Australia's NastyWomenEverywhere. She was a guest performer in Baryshnikov & White Oak Dance Project's Past Forward, a rehearsal director for the Life, Rhythm Move Project, and the Director of the Horton Summit. She's received multiple grants for her scholarship on race and performance, including the DC Commission for the Arts and Humanities, the Humanities Council, and the Institute for Advanced Study at the University of Minnesota. She was an invited speaker at the CLAGS Harry Hay Centennial and the Western Historical Association. She's held research fellowships at the New York Public Library for the Performing Arts and the University of Southern California. Detour is headed to the Edinburgh Fringe Festival in August 2019. @dldinerman
more info: www.dianadinerman.com

This is a 55 minute show with no intermission.
No late seating.
Street parking is available but limited, please plan ahead.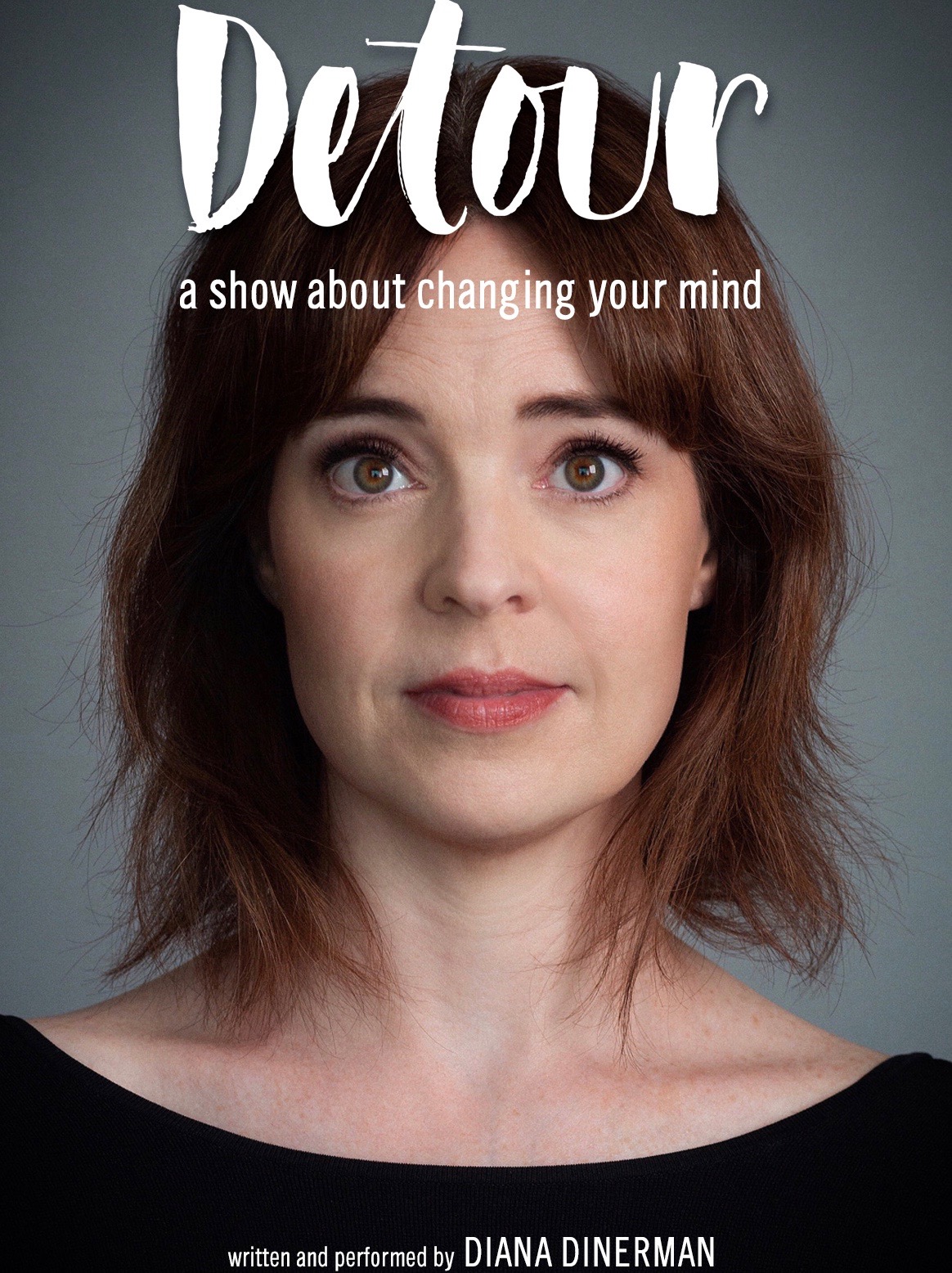 Location
Mimoda Dance Studio/Theater
5772 West Pico Boulevard
(through Paper or Plastik Cafe)
Los Angeles, CA 90010
Refund policy
Refunds up to 1 day before event