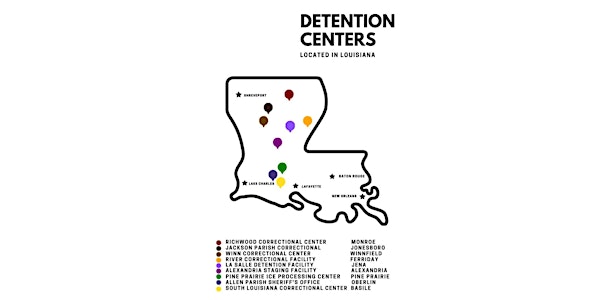 Detention Visitation Community Training / Capacitación Comunitario
Training on community visitation with people incarcerated in LA/MS detention. Capacitación sobre visitas comunitarios en LA/MS detencion.
About this event
*Espanol abajo *
In recent years, our region has undergone rapid detention expansion, with Louisiana state detaining the second highest number of immigrants in the country - now almost 7,000 people a day (almost 25% or more of the total U.S. detained population). Louisiana detention centers are notorious for their abusive treatment. Some of them were shut down as criminal prisons due to human rights violations, then reopened clandestinely by the Trump administration for immigrants. These detention centers are also the site of incredible organizing and resistance by those on the inside.
Community oversight, human connection, and true solidarity with people detained is essential in addressing this critical issue impacting our community.
Home is Here NOLA and Freedom for Immigrants invite you to come learn how to enter these detention centers (which you have the right to do as concerned community) and build relationships with people detained to monitor human rights abuses, intervene in critical, sometimes life-threatening moments, and support the organizing of people detained and their families for their freedom, wellness, and dignity.
We aim for everyone to leave with an understanding of the immigration detention system in the region, a solid power analysis, including how their own roles come to play, and an enhanced ability for impact in standing alongside people detained.
Agenda:
Goals of Community Visitation
Expectations of Visitors, Including Re: Power Dynamics & Expressions of Solidarity –
Organizing with People Inside Detention
Overview of Louisiana and Mississippi Detention System: Rapid Expansion
Modeling Visitation: Role Plays
Interventions for Protection/Care/Release
Trauma Informed Support
Additional Supports: Legal, Bond, Sponsorship, and other forms of relational and financial support to people on the inside.
Next Steps
We hope you'll join us!
This online training will take place Tues Dec. 13th from 6pm-8pm. Please register in advance HERE to receive the Zoom link, and contact Julie Yael Ward for any questions at jward@homeisherenola.org
-------------------------------------------------
En los últimos años, nuestra región ha experimentado una rápida expansión de la detención, con el estado de Luisiana deteniendo el segundo mayor número de inmigrantes en el país: ahora casi 7,000 personas por día (alrededor casi 25% de la población total detenida en los EE. UU.). Los centros de detención de Luisiana son conocidos por su trato abusivo. Algunos centros fueron cerrados como prisiones criminales debido a violaciones de derechos humanos, y luego la administración Trump las reabrió clandestinamente para inmigrantes. Estos centros de detención también son el sitio de una increíble organización y resistencia por parte de quienes están adentro.
La supervisión comunitaria, la conexión humana y la verdadera solidaridad con las personas detenidas son esenciales para abordar este problema crítico que afecta a nuestra comunidad.
Home is Here NOLA y Freedom for Immigrants les invitamos a aprender cómo entrar estos centros de detención – el cual es su derecho como comunidad preocupada - y establecer relaciones con las personas detenidas para monitorear los abusos de los derechos humanos, intervenir en momentos críticos, a veces potencialmente mortales, y apoyar la organización de las personas detenidas y sus familias por su libertad, bienestar y dignidad.
Nuestro objetivo es que todos se vayan con una comprensión del sistema de detención de inmigrantes en la región, un análisis de poder, cómo participan en sus propios roles y una capacidad de impacto mejorada al estar junto a las personas detenidas.
Agenda:
Objetivos de la visita comunitaria
Expectativas de los visitantes, incluyendo Dinámicas de poder y expresiones de solidaridad
Organizarse con personas dentro de la detención
Descripción general del sistema de detención de Luisiana y Mississippi: expansión rápida
Modelado de visitas: juegos de rol
Intervenciones para Protección/el Cuidado/Liberación
Apoyo informado sobre traumas
Apoyos Adicionales: Legal, el bono, patrocinio y otras formas de apoyo financiero y relacional con las personas en el interior.
Próximos pasos
Esperamos que se unan con nosotros!
Este entrenamiento va hacer el martes 13 de diciembre de 6 a 8pm. Regístrese con anticipación AQUÍ para recibir el enlace y comuníquese con Julie Yael Ward si tiene alguna pregunta por correo electrónico a jward@homeisherenola.org.