Sales Have Ended
Registrations are closed
We are no longer taking online reservations for this ESPA event, but you can access the performance by clicking this link: We hope to see you virtually at 7pm!
Sales Have Ended
Registrations are closed
We are no longer taking online reservations for this ESPA event, but you can access the performance by clicking this link: We hope to see you virtually at 7pm!
Description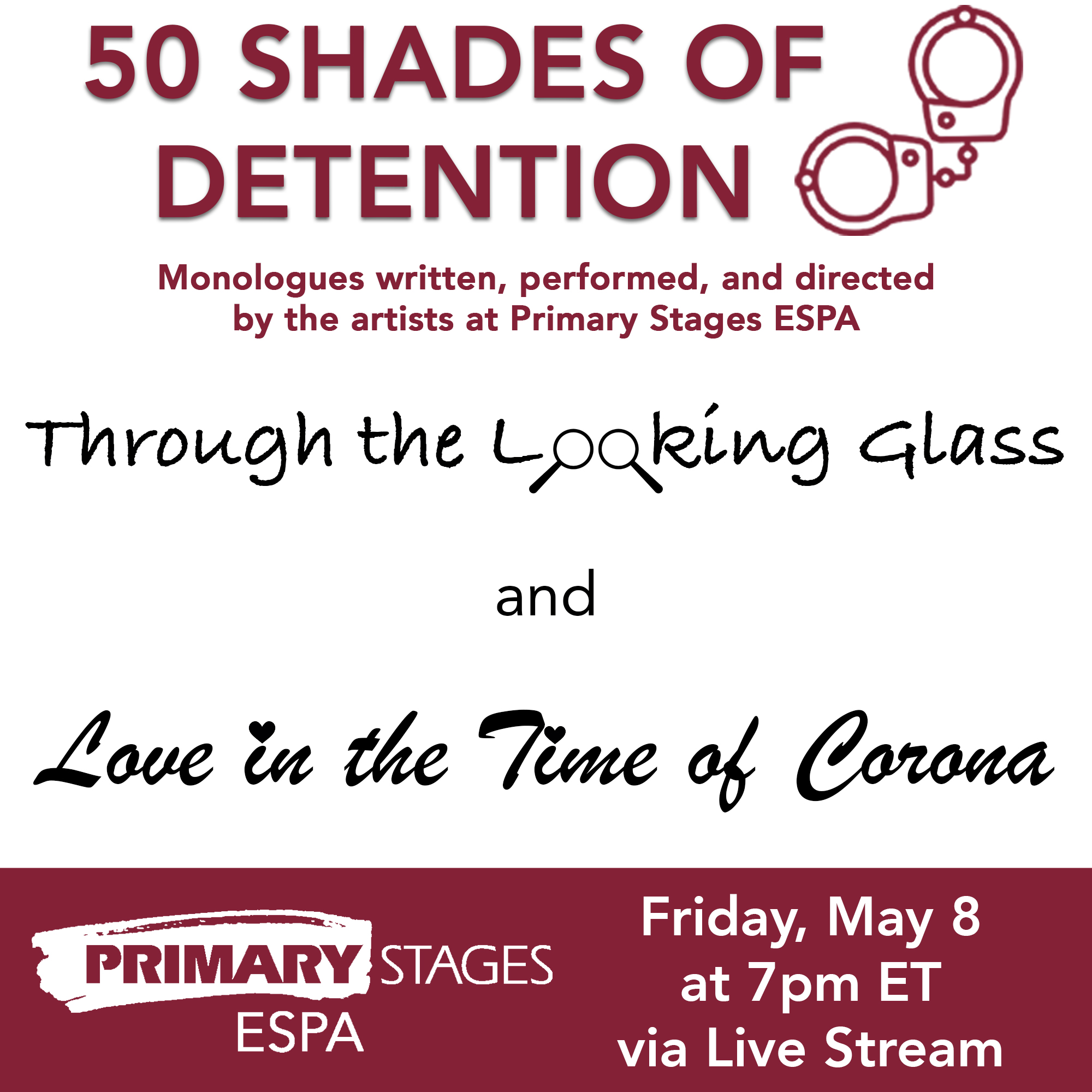 DETENTION #50: 50 Shades of Detention
Friday, May 8 at 7pm
via Live Stream

All Detention performances are FREE and open to the public. When you register for this event, a link to our live stream via YouTube will be included in your confirmation screen and confirmation email.


This special virtual edition of Detention is a challenging opportunity for writers to create material for a specific person, for actors to receive and perform a monologue written especially for them, and for directors to rehearse and create a performance virtually. Since it is Detention #50 and we are celebrating our 50th performance of this unique program, we are looking back at some of our favorite prompts (and adding one new prompt that is about this moment in time), and asking writers to use one of them to create monologues for their actors!
May 8 Writing Prompts: Through the Looking Glass & Love in the Time of Corona
Through the Looking Glass
Explore what life will be like one year from now, in any place and from any point of view. Whether it's through the microcosm of an individual's experience or the macrocosm of society at large, let your inner fortune teller go wild.

Love in the Time of Corona
Write a monologue about love of any kind (partners, friends, parents, roommates) and how that love is affected or tested in this time of either extreme isolation or constant togetherness.
This Detention performance showcases the work of over 50 artists:

Playwrights: Averi Israel, Dan Chen, Debra Whitfield, Diane Davis, Donnie Tuel, Duvi Stahler, Emily Perkins-Margolin, Erik Corona, Esther Ko, Gabrielle Fox, Heidi Armbruster, Isabel Monk Cade, Jane Elias, Jeff Smith, Jodi Beck, Kathryn Paulsen, Kendra Cunningham, Laurie Sammeth, Pamela Grayson, Raven Petretti-Stamper, Sean McGrath, Serena Norr, Shelby Solla, Stuart Green


Actors: Anne Schroeder, Ashley Wool, Brian Hotaling, Caroline Aaron, Clint Zugel, Debra Wassum, Emma Taylor Miller, Haley Hnatuk, Jack Sochet, Jade Anderson, James J. Lorenzo, Jodi Beck, Joshua Youngerman, Kelsey Puttrich, Max Herzfeld, Michael DeFilippis, Michael Labbadia, Mike Dreyden Figueroa, Primer Grace, Rachel Lynn Jackson, Sarah Krasnow, Susan Hochtman, Thanh Ta, Veronica Cooper


Directors: Amber Calderon, Chris Morrissey, Duvi Stahler, Mêlisa Annis, Miranda Wilson, Pip Merrick, Renana Fox, Steven Kanner

For more information about Primary Stages ESPA or our Detention series, please visit our website or email espa@primarystages.org.
Want to see the other Detention performances for this series? RSVP here!
Detention #50: This American Detention & Love in the Time of Corona
Saturday, May 9 at 7pm ET

Detention #50: April Fools & Love in the Time of Corona
Sunday, May 10 at 7pm ET
Organizer of Detention #50: 50 SHADES OF DETENTION - May 8
Primary Stages Marvin and Anne Einhorn School of Performing Arts (ESPA) is a multidisciplinary school with departments in writing, acting, and directing. Now in its eleventh year, ESPA has refined actors who have been seen on and off-Broadway, developed writers whose work has won awards and received workshops and productions, and served as a professional and artistic home for emerging talent. ESPA is defined by its strong commitment to collaboration through programs such as Detention, a monthly series that partners ESPA writers, actors, directors, and a faculty advisor in the creation of highly original performances. Having provided a home to over 3,000 students, ESPA has become a leader in performing arts education through its excellence in training, collaboration and networking opportunities, and strong professional community. ESPA is open to all artists, in all stages of their careers.