Detention #50: 50 SHADES OF DETENTION - May 10

Sunday, May 10, 2020 at 7:00 PM (EDT)
Event Details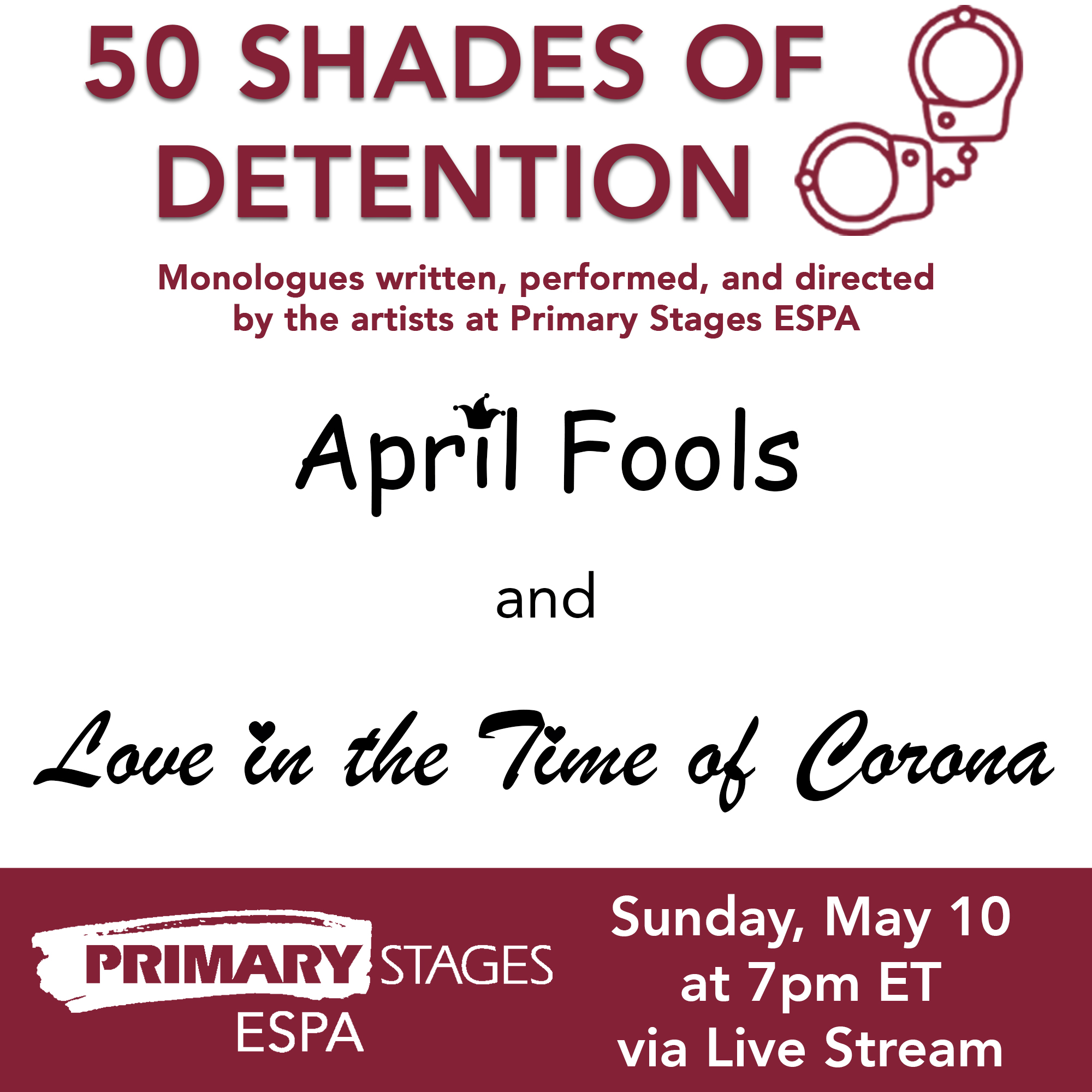 DETENTION #50: 50 Shades of Detention
Sunday, May 10 at 7pm ET
via Live Stream

All Detention performances are FREE and open to the public. When you register for this event, a link to our live stream via YouTube will be included in your confirmation screen and confirmation email.


This special virtual edition of Detention is a challenging opportunity for writers to create material for a specific person, for actors to receive and perform a monologue written especially for them, and for directors to rehearse and create a performance virtually. Since it is Detention #50 and we are celebrating our 50th performance of this unique program, we are looking back at some of our favorite prompts (and adding one new prompt that is about this moment in time), and asking writers to use one of them to create monologues for their actors!
May 10 Writing Prompts: April Fools & Love in the Time of Corona
April Fools!
We're embracing the element of surprise. Write a monologue that involves an unexpected twist, turn, or change of fortune. It can be comedic or tragic, for good or for bad...just as long as we didn't see it coming! 

Love in the Time of Corona
Write a monologue about love of any kind (partners, friends, parents, roommates) and how that love is affected or tested in this time of either extreme isolation or constant togetherness.
This Detention performance showcases the work of over 50 artists:

Playwrights: Audrey Lang, Brigid Amos, Caroline Bennett, David Ceci, David Dudley, Elinor Amlen, Joshua Young, Kallan Dana, Laurel Lockhart, Leslie Corn, Lilia Rubin, Lora Danley, Maggie Wilson, Martha Garvey, Matt Black, Meghan Duffy, Nicole Reinert, Pamela Popeson, Roseanna Zerambo, Sylvia Schwartz, Taylor Landesman, Thomas Dieter, Tulis McCall


Actors: Aliza Sotsky, Amanda Bruton, Austin Ku, Deborah Linehan, Delia Kemph, Elizabeth West, Emily Cordes, Gina Haver, Irene Auch, Isra Elsalihie, Kendall Cafaro, Laura Riveros-Sefair, Lia Madeline, Lisa Purrone, Lluvia Almanza, Matthew Zimmerman, Nick Ong, Paula Gates, Shashone Lambert Short, Tabitha Ellis, Talia Saraceno, Thomas Vorsteg, Tulis McCall


Directors: Emmett Murphy, Ginny Mohler, Jessalyn Gerbholz, Kevin Ray, Lorna Ventura, Rani O'Brien

For more information about Primary Stages ESPA or our Detention series, please visit our website or email espa@primarystages.org.
Want to see the other Detention performances for this series? RSVP here!
Detention #50: Through the Looking Glass & Love in the Time of Corona
Friday, May 8 at 7pm ET

Detention #50: This America Detention & Love in the Time of Corona
Saturday, May 9 at 7pm ET
Organizer
Primary Stages Marvin and Anne Einhorn School of Performing Arts (ESPA) is a multidisciplinary school with departments in writing, acting, and directing. Now in its eleventh year, ESPA has refined actors who have been seen on and off-Broadway, developed writers whose work has won awards and received workshops and productions, and served as a professional and artistic home for emerging talent. ESPA is defined by its strong commitment to collaboration through programs such as Detention, a monthly series that partners ESPA writers, actors, directors, and a faculty advisor in the creation of highly original performances. Having provided a home to over 3,000 students, ESPA has become a leader in performing arts education through its excellence in training, collaboration and networking opportunities, and strong professional community. ESPA is open to all artists, in all stages of their careers.