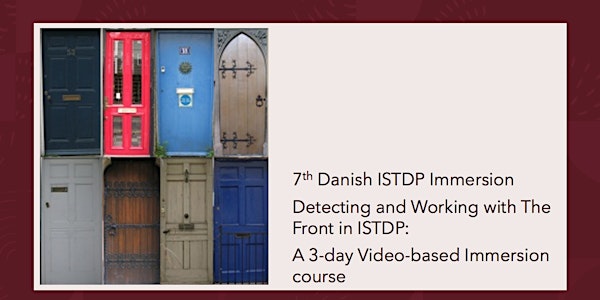 Detecting and Working with The Front in ISTDP
3 Day Video-Based Immersion Course will focus on Detecting the Defensive or Emotional Front in Intensive Short-term Dynamic Psychotherapy
Refund Policy
Contact the organizer to request a refund.
Eventbrite's fee is nonrefundable.
About this event
Davanloo specifically developed Intensive Short-term Dynamic Psychotherapy in order to treat complex and resistant patients who were not responding to other treatment methods. He developed specific methods to rapidly handle the highly resistant defended patient, the patient with significant somatic symptoms and repression, and the patient with primitive defenses and fragile character structure.
One of the main challenges in learning ISTDP treatment is focusing on the defensive or emotional " Front" the patient is using at any point in time. The Front is the way the patient is working with us by putting defenses on front, by having anxiety on front or by having feelings on the front. Each of the different fronts requires different interventions from the therapist.
In this three day video based immersion course, Dr Allan Abbass and ISTDP trainers in Denmark, will review the metapsychology, treatment processes underlying ISTDP and provide a detailed study of a series of patients in different treatment phases with different aspects on the Front. This will especially include how to work with Rapidly Rotating Defensive Fronts who have fragility or significant repression.
It will include the following points:
• How to recognize and handle "No Signals" on Front
• How to detect and handle high resistance on Front
• How detect and handle extreme anxiety on Front
• How to recognize and manage primitive defenses on Front
• How to detect rapidly rotating defensive Fronts
• How to manage self-destructive behaviors on Front
• How the Fronts change over treatment
This immersion will be held online or both online and in person in Copenhagen. It is now highly likely Dr Abbass will be in Copenhagen teaching live and streaming the course. If it becomes impossible for him to teach the course live, you will be reimbursed the cost difference and provided attendance to the course online.
All videos will be subtitled in English.
Because the course will be broadcast online, it is open to the following groups of healthcare professionals and therapists : 1) those who are in an ISTDP or EDT Core training or supervision, 2) those who have previously completed an ISTDP/EDT Core training program, 3) ISTDP/EDT Trainers, 4) Colleagues of these 3 groups who will attend the immersion while physically being present in the same room, and 5) those who are part of any ISTDP/EDT Societies with signed confidentiality agreements. This is all to ensure confidentiality of case materials that will be reviewed and discussed.
19.5 CEU Credits are available for purchase for this course for $25 USD. Click here for Credits