A new look at the 1941 corporate-forced urban renewal diaspora of Homestead, PA
About this event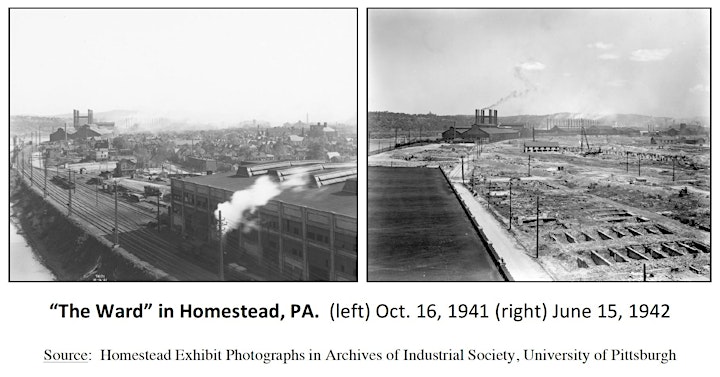 JOIN THE Battle of Homestead Foundation for an online program by Tammy Hepps discussing the legacy of US Steel's1941 expansion of Homestead Works by demolishing the immigrant working-class neighborhood called "The Ward".
** Thursday June 10, 2021 from 7:30-9:00 pm **
_______________________________________________
As World War II loomed, the federal government and US Steel — supported by a coalition of local politicians, community leaders and clergy — embarked upon a massive propaganda campaign to convince the 8,000 residents of The Ward in Homestead, Pennsylvania, that it was their patriotic duty to vacate their "blighted slum" and make way for industry and progress.
Within months, an entire community encompassing 40% of the town's population was literally wiped from the map as1,566 families were forced to abandon 1,363 buildings that included 12 churches, 5 schools and innumerable small businesses ... replaced by 80 new factory buildings and 30 new miles of rail.
Historian Tammy Hepps looks at the wide range of cultural and social elements that disappear when an entire neighborhood is eliminated via enforced corporate fiat.
80 years later after the planned diaspora of The Ward in Homestead, what lessons can be brought to bear when evaluating today's proposed urban improvement efforts?
-----------------------------
* Please note: upon registration participants are given a Zoom link for the event ... scroll down to the bottom of the email for information.
_____________________________
** WHILE THIS PROGRAM is admission-free, you are welcome to make a monetary donation to offset expenses involved in producing our 2021 Program Series.
The Battle of Homestead Foundation is a tax-exempt 501(c)(3) nonprofit.
_______________________________________________
** PRESENTER **
Tammy Hepps is a Pittsburgh genealogist and community historian who takes a creative and rigorous approach to rediscovering the most compelling and authentic narratives of the past and how they shape our present and future.
Ms. Hepps will be joined by Lloyd Cunningham (Vice-President, Homestead Borough Council) and Curtis and Tracey Reaves (co-founders of C-Clear Empowerment, Inc. in McKeesport) who will offer perspective on similar current renewal efforts in Pittsburgh today.
_______________________________________________
The Battle of Homestead Foundation is an educational nonprofit promoting Western Pennsylvania's vibrant industrial and labor history starting with the 1892 Homestead Steel Strike and connecting with current labor issues involving economics, the environment, healthcare, racism and other social concerns.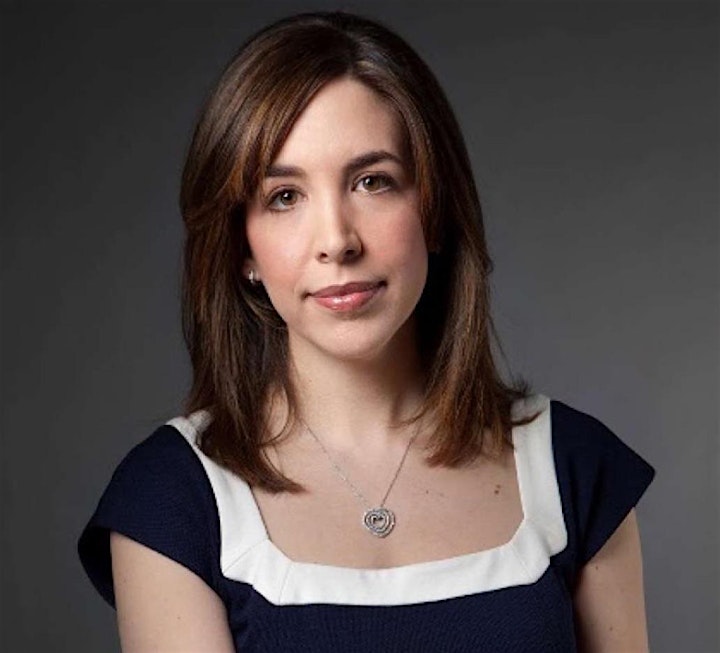 Tammy Hepps, presenter, "The Destruction of 'The Ward' — 80 Years Later" ... May 21, 2021.
Organizer of Destruction of "The Ward" – 80 Years Later, Homestead, PA
The Battle of Homestead Foundation is a non-profit, charitable organization of citizens, workers, educators, artists and historians. Its purpose is to preserve, interpret, and promote a people's history focused on the significance of the dramatic labor conflict at Homestead, Pennsylvania in 1892.  
The Battle of Homestead Foundation is exempt from Federal Income Tax under Internal Revenue Code Section 501(c)(3). All contributions are deductible from federal taxes under section 170 of the IRS code.