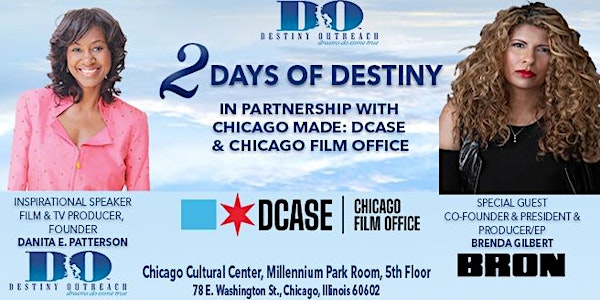 Destiny Outreach 2 Days of Destiny Entertainment Panels
Location
Chicago Cultural Center
78 E Washington St
Chicago, IL 60602
Destiny Outreach's 2 Days of Destiny Entertainment Panels in partnership with DCASE and the Chicago Film Office!
About this event
Join us for a day of "action-packed" career development panels featuring accomplished entertainment professionals from TV, Film and Media representing NBC's Chicago Fire, Showtime's The CHI, Disney's Saturdays, Illinois Film Office, BONDIT, Gamechangers, Level Forward, and many more... .
Renowned writers, producers, film financier, crew members, and entertainment professionals will share their journey with you.
Note: Please register separately for each event (Day 1: Saturday, May 21, 2022 and/or Day 2: Sunday, May 22, 2022). To register for Day 1: https://www.eventbrite.com/e/326131848137
PLEASE NOTE: The Half Marathon is happening on Sunday, May 22, 2022 which could impact traffic.
Course Details - Chicago Spring Half Marathon: Access to the Millennium Parking Garages will be open on the west side of Randolph but closed on the east side. Michigan Ave access will remain open.
ENTERTAINMENT PANELS
Writing Biz of the Scribe - Creating & Producing for TV
Moderator - Danita E. Patterson, Film/TV Producer, Content Creator & Writer, Founder/CEO of Destiny Outreach & Destiny Unlimited, Inc., Fresh Prince of Bel-Air , Heaven is For Real (Sony), Healing Circle (Pre-Prod)
Sylvia L. Jones Supervising Producer, Executive Story Editor, Staff Writer on The Endgame, Power Book IV: Force, Cherish the Day
Ashley Cooper, Story Editor on NBC, Chicago Fire
Ricardo Gamboa, Writer and Producer on Showtime, The Chi
Bashir Salahuddin, Creator, Writer and Actor of Southside and Sherman's Showcase
Geno Brooks, Writer/Director on Bounce TV's Johnsons
Stacey Evans Morgan, Supervising Producer on Disney's Saturdays
"The Crew - Building the Team that Makes the Dream" 
Moderator - Donna-Marie Reid, Creative Director, Producer, TV Programming Executive and former NBC DEI Consultant, Little Big Shots (NBC), Extreme Home Makeover Franchise (ABC)
Demetra Diamantopoulos, Line Producer/Producer on Chicago Fire, Jupiter Ascending, Shameless, Supernatural
Stefan Rand, AD on Chicago Fire, Iron Mike, Shameless
Christopher Rejano, DP/Cinematographer on Candyman, Lovecraft Country, Divergent
David "Louie" Lukasik, Gaffer on Chicago PD, Divergent, Stranger Than Fiction
Keith Walker, DP/Cinematographer on Oprah with Meghan Markle & Prince Harry - CBS Primetime, Oprah with Viola - Netflix, John Lewis - Good Trouble
Jim Hartnett, Jr., Executive Board, I.A.T.S.E. Local 476
"Financing Film/TV - Understanding the 360 of Funding"
Moderator - Christine Dudley, Executive Director, Illinois Production Alliance and Former Director of Illinois Film Office
Adrienne Becker, Level Forward
Brenda Robinson, Partner at Gamechanger Films. Board member of Cinema/Chicago, producer and entertainment attorney. Recently elected Chair of Film Independent.
Cesar Lopez, Illinois Film Office
Grady Craig, BondIt Media Capital
SESSION IS VIDEO-TAPED, thank you in advance for your participation.