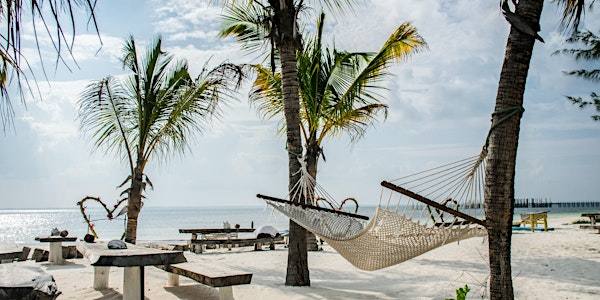 Destination Zanzibar Training for Travel Advisors
Embark on an adventure to Zanzibar! Enhance your travel advisory skills with our Destination Zanzibar Training Join us and be a pro!
By Tanganyika Coastal Campsite
Date and time
Thursday, March 30 · 12 - 1pm PDT
About this event
Welcome to the ultimate training for travel advisors - Destination Zanzibar! Join us on a virtual journey to the exotic archipelago of Zanzibar, also known as the 'Spice Islands'. Immerse yourself in the rich history and culture of this breathtaking destination, from its haunting past of slavery to its vibrant present as a tropical paradise.
During this training, you will learn about Zanzibar's main island of Unguja and its smaller surrounding islands, including Pemba Island - famous for its deep-sea fishing. Discover the island's varied history, from its heyday as the world's leading producer of cloves to its present-day plantations that produce more than 50 different spices and fruit.
Explore the captivating Stone Town, the historic center of Zanzibar's capital city, built by Arab and Indian merchants in the 19th century from the island's coral stone. Lose yourself in the disordered twisting alleys, past intricately-carved wooden doors and beneath ornate balconies, with the lingering scent of spices in the air. Learn about the remaining influence of the Persians and the Omani Arabs who established themselves as the ruling power here, from decaying architecture and numerous mosques to a bathhouse and old fort, cool interior courtyards, and lively markets.
But it's not just about history and culture - Zanzibar also offers stunning beaches with white palm-fringed shores and turquoise coves, dreamy dhows with billowing white sails, and incredible diving and snorkeling opportunities among coral reefs. Join us for an unforgettable virtual experience, and gain the skills and knowledge to enhance your travel advisory expertise. Sign up now for our Destination Zanzibar Training for Travel Advisors!
About Us.
In 2018 a Group of Tanzanian Adventurers decided to share their sense of adventure by establishing a small safari camp in the vast savannah land of Saadani. Since then we have grown from a safari camp in Saadani National Park to an African Adventure Safaris. Over the years we have fostered in providing exceptional safari experiences to various visitors all over the world. We have a wide number of safari packages that range from Budget Safaris to Luxury Safari trips. And exciting excursions ranging from the Serengeti National Park Migration to the Beach holidays in Zanzibar. Our team is ready to make your dream African Safari come true.