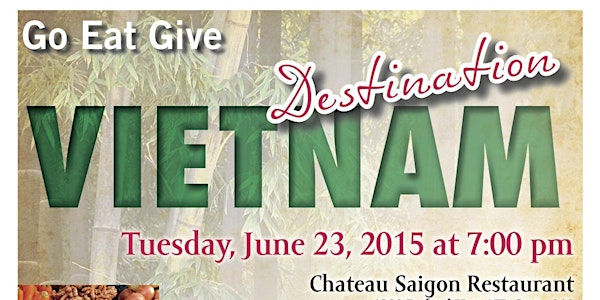 When and where
Location
Chateau Saigon Restaurant 4300 Buford Hwy NE Suite 218 Atlanta, GA 30345
Description
Go Eat Give Destination Vietnam
Join us on a culinary and cultural journey to Vietnam at this Buford Highway favorite. Drawing on a rich French and Southeast Asian heritage, Chateau Saigon showcases a different side of Vietnamese cuisine – one that displays a blend of flavors and textures unique to the region and its roots. Family style menu will include Grilled pork rolls, Egg rolls, Papaya salad w shrimp & pork, Pho, Shaken Beef, Basil Chicken, Lemongrass Tofu, Fried fish w Lemongrass sauce and Orange for dessert.
Our first speaker is Boaky Vu, a refugee from Saigon, who graduated from Georgia Tech and Georgetown University. Vu's family were party to the introduction of Pho to the larger Atlanta community, through the founding of Pho Hoa and subsequently Viet Chateau. Vu has appeared as political guest commentator on CNN, and been often cited in local and national papers such as USA Today, Washington Times and the Atlanta Journal and Constitution.
Jenny Huynh is a managing partner at the lawfirm Caldwell and Huynh. She serves on the boards of the Georgia Vietnamese American Chamber of Commerce and the National Association of Asian American Professionals, and will be sharing her story of backpacking across Vietnam as a Vietnamese American.
Listen to Vietnamese love songs performed by Laura, a vocalist often seen at the Vietnamese Catholic Church in Norcross.
Destination Dinner ticket includes dinner, presentation, live entertainment, tax, and tips. Cash bar. Portion of proceeds benefit Go Eat Give, 501(c)(3) registered nonprofit organization that raises awareness of different cultures through travel, food and community service.

ATTEND THIS EVENT FOR FREE
Go Eat Give's Premium Members get FREE access to ALL Destination Dinners and Member's Only events througout the year. Become a 2015 member for only $350 and get a FREE ticket.
Basic Members ($99) receive discounts on trips and dinners, in addition to access to member only events. Read more about our membership program.