Description
REGISTRATION NOW OPEN!!
$1000 DEPOSIT DUE NOW TO RESERVE SPOT
TOTAL TICKET PRICE $3999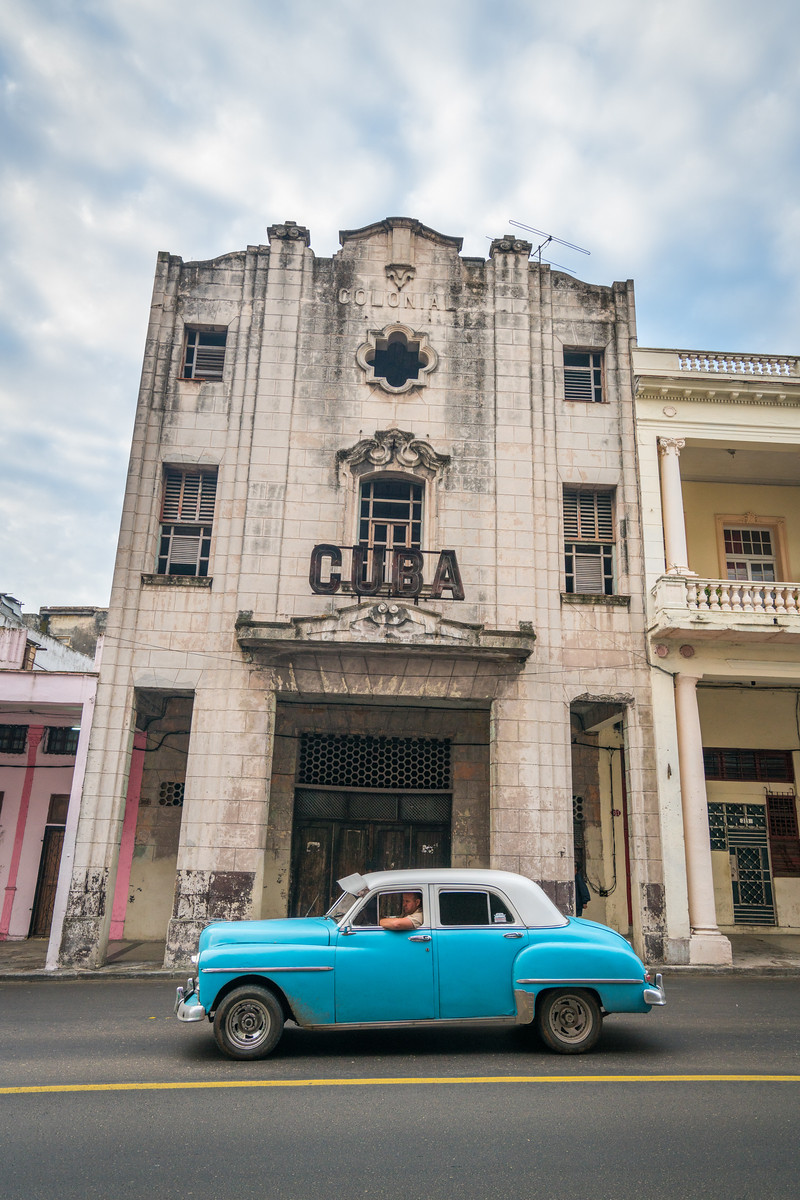 Classic cars parked alongside Spanish-colonial buildings; the beat of the Afro-Cuban drums; intoxicating aroma of strong roasted coffee; rich flavors of authentic cooking. Immerse yourself into Cuba's soulful way of life while you journey back in time to a land of indefinable magic that will awaken your senses and feed your soul. Sony Artisan of Imagery Colby Brown will lead photographers of all levels of expertise in a one-of-a-kind experience in Cuba. Colby has spent his life traveling and photographing the world. Join Colby in Cuba and take your photography and digital editing skills to the next level.
This Workshop's Highlights
Walking the famous El Malecon, a beautiful seaside road full of classic cars, tall buildings and ocean waves.
Old Havana at night where the occasional neon signs light the way for spectacular night photography.
A visit with tobacco farmers on their farms in the quiet town of Vinales.
Capturing the sunrise along the Havana skyline from the walls of Castillo de Los Tres Reyes Del Morro
Touring Ernest Hemingway's Cuba in San Francisco de Paula, Cuba.

Walking the vibrant streets of both Old and New Havana all the while witnessing the changes happening to Cuba in real time

Photographing the amateur Cuban youth boxing world.
Photographing and interacting with the kids and young adults of Amigo Skate as they continue to push boundaries and empower the Cuban people. Amigo Skate is an NGO working in Cuba to bring skateboarding equipment, clothing, art supplies, musical instruments and friendships to communities with fewer resources to help empower Youth.
Feeling the beat of live music playing throughout the city as you walk the Plaza del la Cathedral in Old Havana.

Everyone that signs up for this Workshop will be given a Sony A6300 Kit camera to keep!!
The Workshop Includes

Round trip airfare from Miami, Florida to Havana, Cuba*
6 days of photography instruction
8 nights accommodations in Casa Particulars**
1-3 meals daily
Free Rental of an A7 Series Camera and 2 FE lenses for the duration of the trip
Land transportation and local transfers while in Cuba
Cuba Entry Visa
Departure Tax Compliance with US Treasury Department
Legal letter of Authorization
Health care coverage while in Cuba
Cost: $3,999
Deposit: $1000 will reserve your space on this workshop. The balance of $2999 is due 75 days prior to departure (December 26,2016). See Terms and Conditions for refund and cancellation details.
$250 is non-refundable
Remaining $2999 due 75 days prior to the start of the Workshop
Full Deposit becomes non-refundable 75 days prior to the start of the Workshop.
Cancellations made before 75 days prior to the trip will be refunded $750 of the $1000 deposit.
* It is strongly encouraged for all participants to obtain travel insurance from a third-party carrier of their choice
** Participants will stay in Casa Particulars. Casas are run by Cuban families. Being a guest of a Cuban Family in their casa is a way to submerge yourself in authentic Cuba. Casas are all double occupancy. If you are traveling on your own, you will share a casa with a roommate from our group of the same gender. Similar to a Bed and Breakfast stay, there will be common areas for sitting and catching up. Most breakfasts and dinners will be served at the Casa.
By purchasing this ticket your are agreeing to the following terms and conditions:
Terms and condition: SAMY'S CAMERA ASSUMPTION OF RISK, WAIVER, AND RELEASE FROM LIABILITY
Name of Program: Cuba Photography Workshop
Date of Program: March 11-19, 2017
In consideration of my upcoming participation in the Workshop offered, sponsored and/or organized by Samy's Camera (including any affiliates, officers, employees, agents, contractors or licensees, collectively referred to hereinafter as "Samy's") and related use of the property, equipment, facilities and/or services provided through such Workshop, including travel related thereto, (hereinafter collectively referred to as the "Workshop") I agree to the terms and conditions in this Assumption of Risk, Waiver and Release from Liability (referred to below as this "Agreement") as follows:
1. RISK FACTORS. I understand and acknowledge that traveling and or services provided through the Workshop, may involve risks such as, but not limited to, risk of property damage, theft, bodily injury and possible death, which might result from the activity itself, from the acts of others, or from the unavailability of emergency medical care.
2. ASSUMPTION OF RISK. I thoroughly understand the hazards of participating in the specified travel. By signing this release, I certify that I am fully aware of and expressly assume these and all other risks involved in traveling. I assume all risks (including known and unknown) that arise out of the use of the equipment, the facilities, the activity itself, the act of others and/or the unavailability of emergency care, including but not limited to, those risk factors described in section 1 above. My participation in this Workshop is purely voluntary; no one is forcing me to participate and I elect to participate in spite of all known and unknown risks.
3. PREREQUISITE SKILLS AND PHYSICAL FITNESS. I acknowledge that I have the requisite skills, qualifications and physical abilities to participate in the workshop. I certify that I have no health-related problems/reasons that preclude participation in the workshop.
4. RELEASE. I understand and agree that neither Samy's nor its Instructors, Sony, Sony Alpha Universe, Employees or Agents nor its affiliates or subsidiary corporations may be held liable or responsible in any way for any occurrence on this workshop which may result in personal injury, property damage, wrongful death or other damage to me or my family, heirs, or assigns that may occur as a result of my participation in this workshop or as a result of the negligence of any party whether passive or active. I waive, release and discharge Samy's from any and all liability, including but not limited to, liability arising from the negligence or fault of Samy's, for death, disability, personal injury, property damage, property theft, accident, cancellation, delay, alteration, inconvenience or actions of any kind which may hereafter occur to me, including traveling to and from the workshop. I agree not to sue Samy's on account of or in conjunction with any claims, causes of action, injuries, damage, cost of expenses arising out of the workshop (including traveling to and from), including but not limited to those based on death, bodily injury, disability property damage or theft whether or not caused by the acts, omissions, negligence or other fault of Samy's. I acknowledge that Samy's is not responsible for the errors, omissions, acts or failure to act of any party or entity conducting a specific Workshop on behalf of Samy's.
Samy's Camera, its members, employees and agents, give notice that all services and arrangements related to this workshop have been made by Samy's Camera, only as agents upon the express condition that Samy's Camera shall not be liable and does not assume responsibility for any claims, damages, expenses or other financial loss whether to person or property arising out of any injury, accident, death, cancellation, delay, alteration, or inconvenience resulting from any act of omission, commission or inadvertence of any hotel, carrier, restaurant or other company or person rendering any of the services included in the workshop or its pre and post tour arrangements, or caused by weather, sickness, strikes, quarantines or the willful or negligent acts of any other workshop members or any cause whatsoever beyond the control of Samy's Camera.
5. WAIVER. I waive the protection afforded by any statute or law in any jurisdiction including California Code 1542 whose purpose, substance, and/or effect is to provide that a general release shall not extend to claims, material or otherwise which the person giving the release does not know of or suspect at the time of executing the release. This means, in part, that I am releasing unknown future claims.
6. INDEMNIFY AND DEFEND. I agree to indemnify and defend Samy's (also referred to below as "indemnitee") against, and hold Samy's harmless from any and all claims, causes of action, damage judgments, costs or expenses, including attorney fees which in any way arise from the Workshop or this Agreement which include but are not limited to damages to or destruction of any property of the indemnitee, of any others, my injury or death or anyone else or any liability arising from the act or negligent act of the indemnitee, myself or anyone else.
7. PAY. I agree to pay for any and all damages I have caused either negligently, willfully, or otherwise to any property or individual during the Workshop (including travel to and from).
8. REPRESENTATIVES. I enter into this Agreement for myself and my heirs, assigns and legal representatives.
9. EMERGENCY TREATMENT CONSENT. I, as a participant in the Workshop, hereby consent to medical treatment in a medical emergency where I am unable to consent to such treatment.
10. INSURANCE. I understand that Samy's does not carry participant insurance. I understand that I am encouraged to have a physical examination and to purchase health insurance prior to any and all participation.
11. IMAGES. I understand that I might be photographed and/or filmed at the Workshop and/or related activities. I hereby consent to being photographed and/or filmed at the Workshop and/or related activities. I understand that any image or images (including any video or film), containing my likeness taken during the Workshop and/or related activities (hereinafter the "image") are the property of Samy's, and may appear in various publications, modes of communication, advertising and social media including but not limited to the Samy's website, Twitter, Facebook and other such media. My signature below grants Samy's and the photographer of the image the following worldwide, irrevocable rights, in perpetuity: to use and re-use, publish and re-publish, disseminate, modify or alter, and copyright such images of me, or in which I may be included. Use of such images of me for editorial, commercial, trade, marketing, advertising, or any other purpose may be made in any medium now existing or subsequently developed. I waive my right to inspect or approve any such images of me and/or any editorial matter or advertising copy that is used in connection with any such images. My signature below grants Samy's the right to sell by auction or any other mode of sale the images as determined by Samy's in its sole discretion. I hereby waive all rights to any kind of compensation for Samy's use and/or sale of the images. I release and discharge Samy's and the photographer from any and all claims arising out of use and/or sale of such images by Samy's and the photographer for the purposes described above, including any claims for libel, copyright violation, invasion of privacy and compensation.
13. DEPOSIT AND PAYMENT. The price of the workshop is a per person price for adults 18 years and older based on double occupancy (unless otherwise stated) including round-trip charter airfare from Miami to Cuba, round-trip airport/hotel transfers, visa application fee, casa particular accommodations nights in Cuba, meals as specified in itinerary, excursions as specified in itinerary and the services photography instructor(s), local tour guide and driver. Restrictions may apply. This workshop is organized under one of the twelve general Cuba travel license categories administered by the Office of Foreign Assets Control (OFAC) of the U.S. Department of Treasury. All prices are subject to availability and change without notice. A deposit of $1,000 per person, per workshop is required to confirm a reservation. The balance of the workshop fee is due 75 days prior to departure. If the balance is not paid when due, Samy's Camera reserves the right to regard the reservation as canceled.
14. CANCELLATIONS AND REFUNDS
Samy's Camera reserves the right to cancel the workshop for any reason. In such an instance, we will refund all payments received, which will constitute full settlement.
Samy's Camera reserves the right to accept, remove, retain or decline any trip member at any time for any reason. In such case, a refund equal to the actual cost of the unused services is the limit of Samy's Camera's responsibility.
I understand that if I cancel my reservation for the workshop, my cancellation is subject to the following fees:
Days Prior to Trip Start Date Trip Cancellation Fee Per Person
75+ days $50
74-60 days $1,000
0-60 days 100% of trip price
12. GOVERNING LAW AND ARBITRATION. The validity, interpretation and performance of this Agreement shall be governed by and construed in accordance with the laws of the State of California without regard to its conflict of law principles. The parties agree that any controversy, claim or dispute between them or against any agent, employee, successor, or assign of the other, whether related to this Agreement or otherwise, and/or the relationship or duties contemplated under this Agreement including the validity of this arbitration clause, shall be resolved solely and exclusively by binding arbitration by the American Arbitration Association or other arbitration association mutually agreed upon by the parties. Any arbitration hearing shall take place in Los Angeles, California, under the Arbitration Rules then in effect. Any award of the arbitrator(s) may be entered as a judgment in any court of competent jurisdiction. The parties agree to abide by all decisions and awards rendered in such proceedings. Such decisions and awards rendered by the arbitrator shall be final and conclusive. The costs of any arbitration shall be borne equally by both parties pending the arbitrator's awards. The arbitrator shall not have the right to amend this Agreement. The arbitrator shall be required to follow applicable law. If for any reason this arbitration clause becomes inapplicable, each party to the fullest extent permitted by applicable law, hereby irrevocably waives all right to trial by jury as to any issue relating hereto in any action, proceeding or counterclaim arising out of or relating to this Agreement or any other matter involving the parties hereto.
13. ENTIRE AGREEMENT. This Agreement constitutes the entire agreement of the parties and supersedes all prior communications, understandings and agreements relating to the subject matter hereof, whether oral or written. This Agreement may be amended or modified only by mutual agreement of authorized representatives of the parties in writing.
14. ACKNOWLEDGMENT. I acknowledge that I have read and comprehend this Agreement. I fully understand the potential dangers incidental to engaging in this boat trip and scuba dives, am fully aware of the legal consequences of signing this Agreement and that I understand and agree that this Agreement is legally binding and will preclude me from recovering monetary damages from the above listed activities and/or individuals, whether specifically named or not, for personal injury, property damage or wrongful death caused by product liability or the negligence of the released parties, whether passive or active. I acknowledge and understand that this Agreement relates to surrendering valuable legal rights and I do so freely and voluntarily.