Description
THANK YOU TO OUR GENEROUS SPONSORS FOR SUPPORTING FREE TICKETS FOR STARTUPS!
---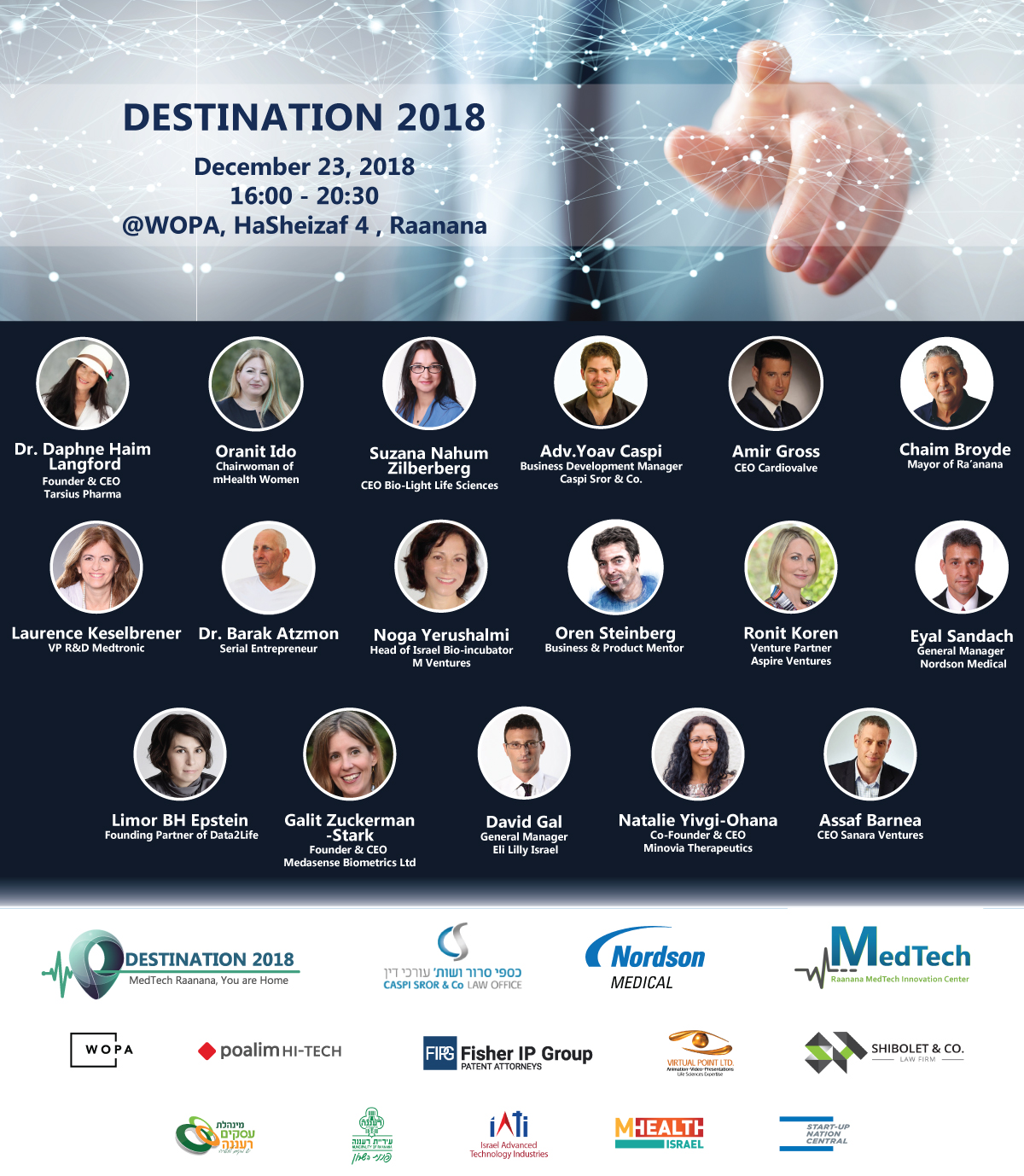 Confirmed speakers and participants:
Welcome note by Ra'anana Mayor Chaim Broyde
Adv. Yoav Caspi – Can you blame the machine? The implications of introducing AI to the healthcare system from a Medical Liability perspective
Amir Gross - a fireside chat discussing the Rollercoaster of an Entrepreneur, the Valtech Cardio experience
Dr. Daphne Haim-Langford - Biomimicry – Medical Technologies Inspired by Nature
Pharma Track - Curated by Dr. Daphne Haim-Langford, Founder & CEO Tarsius Pharma
Panel includes: David Gal, General Manager Eli Lilly Israel, Noga Yerushalmi, Head of Israel Bio-incubator M Ventures, Natalie Yivgi-Ohana, Co-Founder and CEO at Minovia Therapeutics
Digital Health Track - Curated by Ms. Oranit Ido, Chairwoman of mHealth Women
Panel includes: Ronit Koren, Venture Partner Aspire Ventures, Yoav Caspi, Business development manager Caspi Sror & Co., Business & Product Mentor Oren Steinberg, and Limor BH Epstein Founding Partner of Data2Life, Assaf Barnea, CEO Sanara Ventures
Medical Devices Track - Curated by Suzana Nahum Zilberberg, CEO Bio-Light Life Sciences
Panel includes: Eyal Sandach, General Manager Nordson Medical, Adv., serial entrepreneur Dr. Barak Atzmon, Galit Zuckerman-stark, Founder & CEO at Medasense Biometrics Ltd. and Laurence Keselbrener, Site leader and Vice President R&D Medtronic.

****************************************************************************************************************************
PLEASE NOTE: YOU MUST CHOOSE *ONE* TRACK WHEN REGISTERING, THERE IS NOT OPTION TO MOVE BETWEEN THE TRACKS.
NOTE 2: FREE TICKETS ARE FOR STARTUPS ONLY. WE WELCOME ALL OTHER PLAYERS IN OUR WONDERFUL ECO-SYSTEM AS SUPPORTERS!