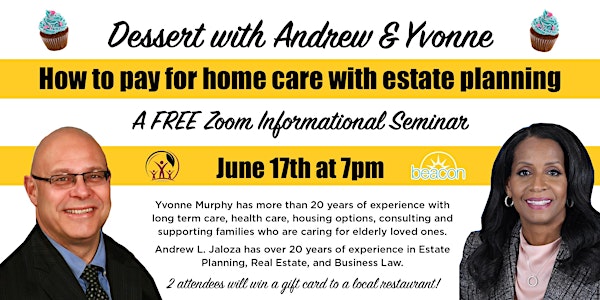 Dessert with Andrew & Yvonne: How to pay for home care with estate planning
How to pay for home care with estate planning: A virtual Estate Planning Seminar hosted by Beacon Eldercare and ALJ Law
About this event
Join our FREE Zoom event to help your loved one live in their home longer and safer in an environment that they love!
Click here to enter the FREE Zoom seminar on Thursday, June 17th at 7pm
Beacon Eldercare, located at 69-23 Grand Ave. in Maspeth, has been helping families throughout New York City to find the best practices and solutions to healthcare needs for decades. Now, through the use of the conference call app Zoom, Beacon Eldercare CEO Yvonne Murphy and Andrew Jaloza, of the Estate Planning & Elder Law Group, will share their vast knowledge during their free upcoming virtual informational seminar.
"We want to be able to communicate with families who need our help and we've found that we're able to do that by utilizing social media and meeting technology," said Beacon Eldercare's founder and CEO, Yvonne Murphy. "It's important that families start a dialogue about estate planning and elder care early."
Murphy and Jaloza are hoping that the virtual open forum gives more people the opportunity to get their estate planning and elder care questions answered. As an added bonus, four attendees will be picked at random to receive $50 gift cards from local businesses.
Click here to enter the FREE Zoom seminar on Thursday, June 17th at 7pm
Yvonne Murphy has more than 20 years of experience with long term care, health care, housing options, consulting and supporting families who are caring for elderly loved ones. Ms. Murphy is known to be the "champion of innovative and diverse care plans for those with special needs." She is the Founder and CEO of Beacon Eldercare, a New York licensed home care agency, and Beacon Geriatric Consulting Agency, the consulting arm of the agency. Ms. Murphy received her first Masters' Degree in Social Work from Adelphi University and continued her graduate studies to acquire a second Master's Degree in Forensic Psychology from John Jay College.
Andrew L. Jaloza Esq. has been practicing law for over 30 years. He is a member in good standing of the Bar of the State of New York, The New York Bar Association Section on Trust and Estates and Special Needs, a member of the National Academy of Elder Law Attorneys (NAELA), and Lawyers with Purpose. He has lectured on estate planning and real estate topics to audiences in New York City and the surrounding areas.
As owner, CEO and Principal Attorney of the Estate Planning & Elder Law Group, Andrew L. Jaloza takes pride in helping families prepare for their future. He specializes in assisting families with preserving their generational wealth and passing on their legacy that they have spent most of their lives building. Mr. Jaloza and his team help families achieve peace of mind by developing personalized solutions so they can maintain control when they are at their most vulnerable, they achieve this by listening with empathy to each client's situation. Their planning leaves their clients feeling safe that their future and their family's future are protected.
"This virtual seminar is an excellent opportunity for those with questions about estate planning and eldercare to connect with two professionals with extensive experience in those areas," Jaloza said. "We're looking forward to having productive and informative conversations, and also giving away some fun prizes."
Click here to enter the FREE Zoom seminar on Thursday, June 17th at 7pm