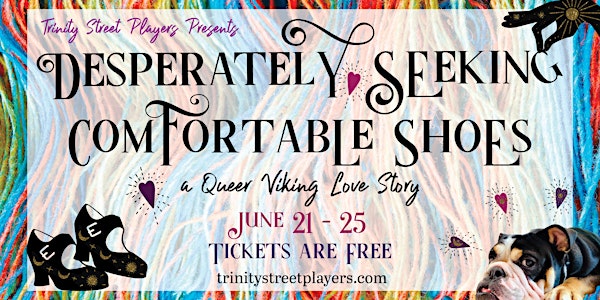 Multiple dates
Desperately Seeking Comfortable Shoes
The Trinity St Players invite you to this new Queer rom-com with songs. There will be magic, romance, and a bulldog.
By Trinity Street Players
Date and time
June 21 · 7:30pm - August 5 · 9pm CDT
Location
Trinity Street Playhouse 901 Trinity St Austin, TX 78701
About this event
Desperately Seeking Comfortable Shoes
~a Queer Viking love story~
story by jkjk
script by Jenny Larson-Quiñones
music by khattieQ, Anton Berrios, and Jenny
ABOUT THE SHOW:
Miya, a 30-something single mom, auditions for non-binary rocker Jonny's band. Sparks fly between the two, but their flirting is interrupted by a robbery. Jonny's bulldog Judy Garland and Miya's comfortable Dansko clogs are stolen. The duo takes off on a wild chase across the city, trying to recover their precious belongings. Little do they know, Jonny's roommate and bandmate Norena is weaving them into a love spell.
This simple story of falling in love is wrapped up in questions of time, fate, and the supernatural. It is inspired by true Queer Norwegian histories, Queer Vikings, and the story of Odinn's quest for the mead of poetry. As in Odinn's quest, we encounter twin robbers, angry giants, a little bit of magic, and a whole lot of love.
ABOUT THE TEAM:
Directed by Jenny Larson-Quiñones. Musical Direction by khattieQ.
The cast features Kate Taylor as Miya, khattieQ as Jonny, Rosalind Faires as Gunnlod, Christine Hoang as Norena, and David Bowie Bulldog as Judy Garland.
The design team is: set by Liz Tyson, puppetry by Julia Smith and Marina DeYoe-Pedraza, sound by Johann Solo, costumes by Kelli Bland, and lighting design by Steve Willams.
SCHEDULE:
June 21st-25th, 2023
Wednesday to Saturday at 7:30pm, Saturday and Sunday at 2pm
@ the Trinity St Playhouse | 901 Trinity St. 78701 | 4th floor of the First Baptist Church of Austin
ART PARTY PERFORMANCE: This summer the work of Joy Scanlon will fill the walls of the Trinity St Playhouse. On June 25th immediately following the 2pm matinee performance, we will have a reception for the artist.
ASL INTERPRETED PERFORMANCE: We will also have ASL interpretation on June 25th at 2pm.
VIRTUAL PERFORMANCE: We are offering a limited number of tickets to an online screening of the show after we close. If you can't make it in person you can reserve a ticket to the online streaming by selecting the August 5th performance date. The link will be active and viewable from August 5th-12th 2023*
*Fun Fact... August 5th is Vancouver Pride, and this play is partially jkjk's love letter to Vancouver B.C., their former home. PLUS August 12th is Austin Pride! What's a better way to say "Gay!" Watch a Queer romance during Pride week.
CONTACT & TICKETS:
Tickets are FREE! Reservations encouraged. Appropriate for teens and adults.
reservations.tsp@gmail.com | 1+737-289-9493
trinitystreetplayers.com | jkjklol.org | fbcaustin.org
Instagram: @trinity_street_players | Facebook: trinitystreetplayers
About the organizer
Trinity Street Players is a nonprofit theater committed to providing high-quality, thought-provoking, and entertaining stage productions in the heart of downtown Austin. We believe in making the arts accessible and relevant, and welcome all who share a passion for creating and experiencing the transformative power of the theater.