Desperate Times Call for Radical Measures
Description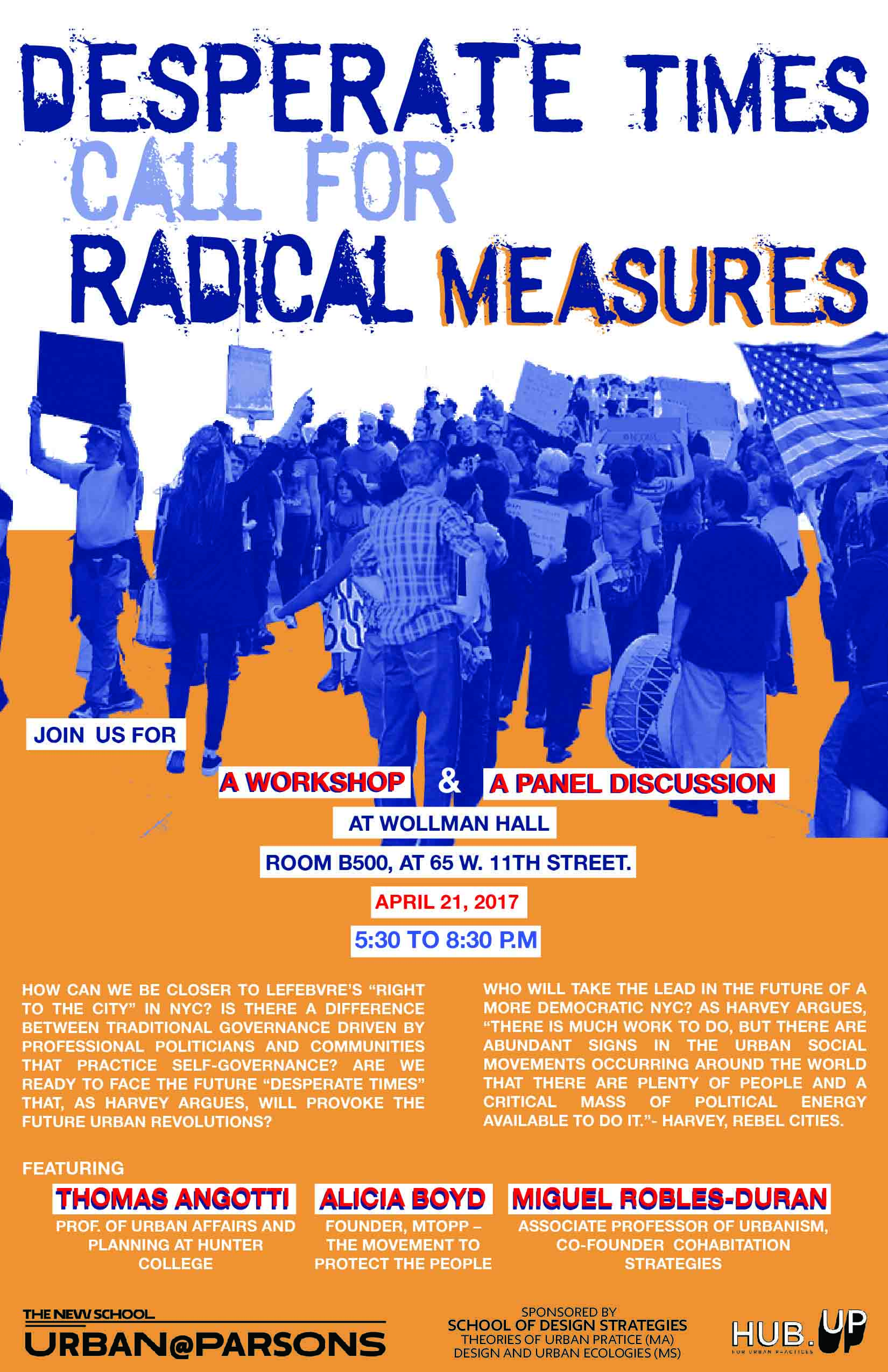 The Right to the City and the future of the governance of commons in a context of "desperate times."
Description:
Cities are the first institutions that answer residents' needs. At the same time their role at the global scale is becoming crucial but their capacities are subdued by national governments and strategic interests. The idea of the discussion is to analyze the topic. Cities work at various, simultaneous, scales: affecting individual and global realities. With an active, and reflective, panel we will explore the /potential/ relationship between activism and governance in North American cities under Trumpism:
Panel overview of Henri Lefebvre's "Right to the City" and discussion of its contemporary relevance and application in activism and governance. Describe Lefebvre's concept of the "Right to the City" and how governance today is especially essential to ensure an equitable and inclusive city.

What is the neoliberal understanding of activism? How does neoliberalism frame activism? How can we use our understanding of both neoliberal values and the right to the city in tandem??

Community boards boundaries do not align with districts. Complex networks of public agencies seem to work towards economic development, not for social good. This government structure decides rezonings on specific areas that entail enormous changes for the current residents, and their demands are processed through community organizations with complex structures and professional members. Where in the city today do we see structures of inequitable, exclusive, or just ineffective practice/and how is this reinforced by federal/state/city policy and practices?
How can we be closer to Lefebvre's "Right to the city" in NYC? Is there difference between traditional governance driven by professional politicians and communities that practice self-governance? Are we ready to face the future "desperate times" that, as Harvey argues, will provoke the future urban revolutions?
Who will take the lead in the future of a more democratic New York City? As Harvey argues, "There is much work to do, but there are abundant signs in the urban social movements occurring around the world that there are plenty of people and a critical mass of political energy available to do it." Harvey, Rebel Cities.
The panel discussion will incorporate the expertise of all participants, Tom Angotti, Alicia Boyd and Miguel Robles-Duran, their current work, and how we translate the action from grassroots organizations and the voices of the community into tangible change within government structures. We will focus on the idea of the Right to the City and ensuring that the city is a space for the citizens.
Event Format:
Introduction - An overview of Lefebvre's concept of The Right to the City (5:30 to 5:45)

Workshop - Posing the question about an equitable NYC, break up in to groups (5:45 to 6:15)

Strategy Share - Bringing together the groups to discuss topics (6:15 to 6:45)

Break (6:45 to 7:00)

Panel Discussion - The moderator facilitates a discussion among panelists, highlighting their parallel backgrounds while using their career differences to understand the connection between activism and governance (7:00-8:00)

Q&A - (8:00 - 8:30)
We hope to see you there!
Questions? Please email Maha Aslam at aslam462@newschool.edu or Lyric Kelkar at kelkl249@newschool.edu.