Description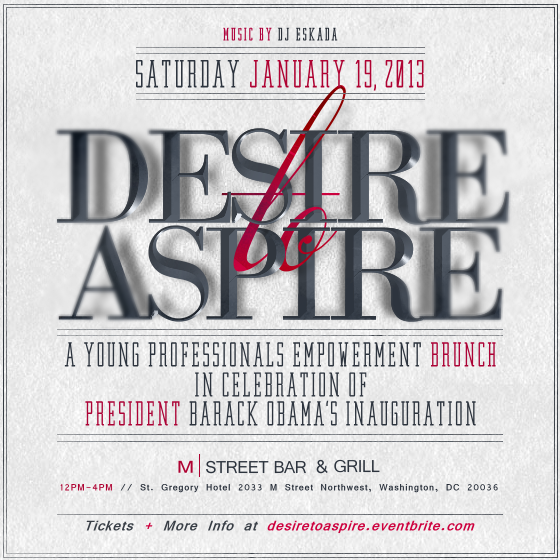 "Desire to Aspire"
A Young Professionals Empowerment Brunch Reception
In Celebration of President Barack Obama's Inauguration


Saturday, January 19th, 2013
Address: 2033 M Street Northwest, Washington, DC 20036

Special Guests: Michael Blake and Stefanie Brown James,
Presidential Inaugural Committee
Event Host Committee
The Young Fabulous Fly Experience
Music by: DJ Eskada

#DesiretoAspire
This January, in Washington, D.C., we will once again celebrate
the inaugural ceremony of President Barack Obama. Young professionals, political
enthusiasts, as well as notable figures in politics, business, and entertainment will meet in our nation's capitol to socialize and connect for this historical moment.
The "Desire to Aspire" event will bring celebrities, infuencers and professionals together to empower and utilize their influence for a great impact on their community.