Location
BAX | Brooklyn Arts Exchange
421 5th Avenue
Brooklyn, NY 11215
About this event
Desire: A Sankofa Dream, by Maria Bauman and MBDance, is a site-responsive, immersive performance-ritual built around Black Queer survival techniques such as place-claiming and world-building. It presupposes a world wherein our ancestors are unicorns who have come back to remind humans of our possibilities and agency. Unique every time it is offered, choreographer and writer Maria Bauman reimagines Desire for each new site it inhabits, in the tradition of the Radical Faeirie network and of Black & Brown queer youth claiming and co-creating Christopher Street Pier in NYC. This exciting piece of embodied speculative fiction includes a Cat's Cradle-like yarn installation that creates fractals and portals. With Desire: A Sankofa Dream, Bauman and MBDance conjure a new site and choreography for dancing and speaking with, through and in spite of the possibilities and obstacles of the installation—a site of world-building and choice-making.
This 2022 version of the work at BAX will be danced by MBDance associate artistic director Audrey Hailes with Maria Bauman and it is the kick-off to the QTPOC Sankofa Dreaming weekend festival.
Please note, this event will be filmed as participants move through the space. However, participants who would like to opt out of filming may do so, and they will be given a sticker saying "No Video" to wear in the space.
Timing & Space Details:
This is a live performance in the BAX Theater. Masks and proof of vaccination are required for the in-person event.
Covid Notes:
All performers and audience members must show proof of vaccination upon admission. Audience will remain masked for the duration of the showcase. Performers who will be maskless are required to submit a negative COVID test within 48 hours of the performance.
Accessibility :
BAX is on the second and third floors of the building with stairwells that extend from the ground floor entrance to the building's third floor. There is no elevator or ramp at this time. BAX is actively working on an extensive accessibility initiative and is committed to implementing ADA-compliant solutions that open the spaces to all.
There will be ASL interpretation at the performance.
Questions or access needs? Email: info@bax.org.
About QTPOC Sankofa Dreaming & Practice Lab:
QTPOC Sankofa Dreaming was created by BAX AIR (2017-18) Maria Bauman, QTPOC Sankofa Dreaming is a weekend festival for queer and/or transgender people of color in Brooklyn to build community with each other, access power through performance practice, and see themselves centered in performance and in curricula that lifts up the histories of queer makers of color. Following the summer pilot, the program will be expanded and offered throughout the year.
PRACTICE LAB, as a programmatic platform at BAX, promotes artist-led initiatives that center curricula focused on art and social justice. Led predominantly by queer, disabled, and artists of color, its intensive, cohort-based experiences prioritize mentorship, collaboration, and collective learning, and honor intergenerational learning and lineage of forms often unacknowledged by higher education or classical arts training.
PRACTICE LAB provides the infrastructure and scaffolding to ensure the sustainability of these artist-led initiatives.
About BAX:
BAX/Brooklyn Arts Exchange is a multigenerational arts organization nurturing creative expression and artistic process through education, residencies, and performance at the intersection of arts and social justice.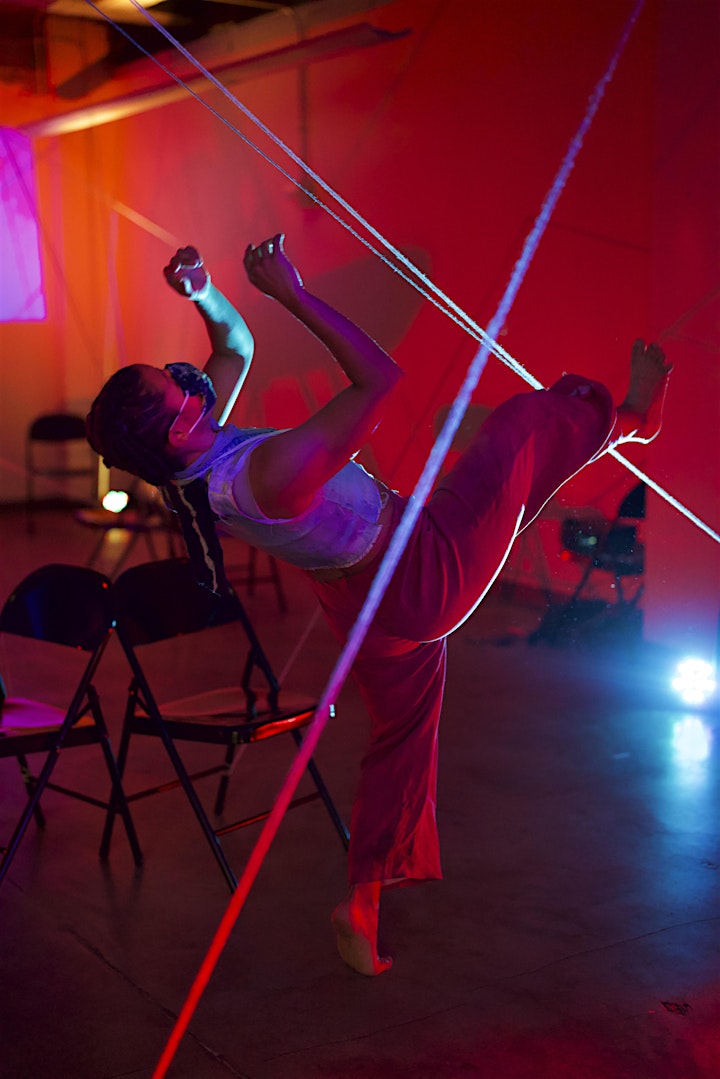 Image Descriptions:
Header Image: Two dancers perform some phrasing on the floor of a studio with foldable chairs. One dancer hovers over the other, hands and feet on the ground, hips raised into the air in a down dog position, while the other mirrors the same position from a lower plank level. The image is overlain with a pink-yellow-red gradient. The words "Desire: A Sankofa Dream" in block lettering with a galactic fill line the bottom of the image.
Body Image: A dancer in a cropped denim vest and orange pants balances on the ball of one foot as their other leg kicks up into the air with flexed feet. They lay back slightly so their back arches in the position while their hands gently bend from the elbow to frame the front of their face. The dancer's body weaves through blue floor-to-ceiling yarn that foregrounds the photo. They are situated in a studio with dramatic red lighting, black flooring, and black foldable chiars.