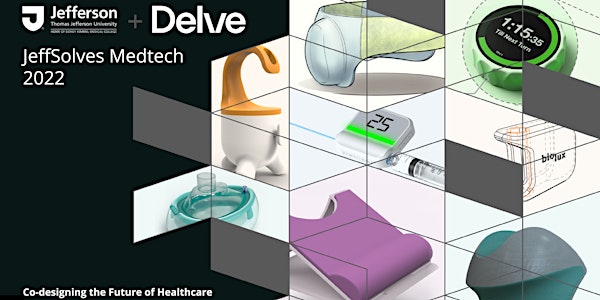 DesignPhiladelphia - JeffSolves MedTech Incubator Pitches 2022
Join us as 3 teams of Jefferson Design and Medical students present their work in creating 3 solutions co-designed with Jefferson nurses!
About this event
The next generation of medical technology!
This year, 13 medicine and industrial design students from Thomas Jefferson University have worked together, conducting in-depth user research and problem identification together with Jefferson nurses at sites around Jefferson Health. They have translated those insights into commercially-viable innovations via an intensive product development immersion with experts from Thomas Jefferson University, Jefferson Health, and Delve. Now, these three multidisciplinary teams present their medical design innovations–the newest products to come out of JeffSolves MedTech, now in its 7th year.
Agenda:
12:00 - 12:10: Get Settled and Welcome!
12:10 - 12:25: Team 1 Presentation and Q&A
12:25 - 12:40: Team 2 Presentation and Q&A
12:40 - 12:55: Team 3 Presentation and Q&A
12:55 - 1:00: Closing Remarks and Thank You
Projects:
Motivity
Joseph Braverman - Industrial Design
Maitri Doshi - Industrial Design
David Gordon - Medicine
Rachel Monane - Medicine
NursePod
Sam DeMatte - Medicine
Jessica Dragonetti - Medicine
Nate Godshall - Industrial Design
Kalvin Matischak - Industrial Design
Acclivity
Haley DeMartin - Medicine
Albert "Andy" Huang - Medicine
Paarth Jain - Medicine
Julia Ponzek - Industrial Design
Ethan White - Industrial Design
JeffSolves MedTech is a design and development collaboration between Thomas Jefferson University and Delve.
This event is part of the 2022 DesignPhiladelphia Festival.