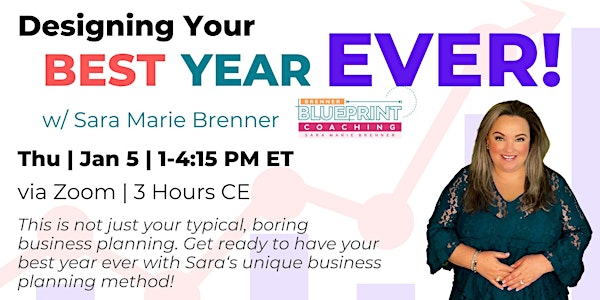 Designing Your BEST YEAR EVER! - Business Planning for Real Estate Agents
Real estate agents: Design your BEST YEAR EVER for 2023! Discover Sara Marie Brenner's unique business planning method in this 3 hr CE!
About this event
This is not your ordinary, boring business planning…NO! You'll discover how to have your BEST YEAR EVER in 2023 with Sara Marie Brenner's unique business planning approach!
Tired of the same old way of creating a business plan? Then this event is for YOU!
This is an active workshop! You'll walk away from the 3 hours or CE (for Ohio real estate licensees) with how much you need to earn to live, how much you need to earn to thrive, your goals broken down in a new way you likely haven't done before, the tactics and strategies you need, what deadlines to set, and how to continually reevaluate. You'll have your 2023 business plan framework done by the end of class! Plus, we'll discuss how to keep the MINDSET going to be able to keep crushing it through the difficult days.
Don't miss it! Your business will thank you!
This class is free for Crane & Pearl Realty agents, and $10 for other attendees to help defray CE registration costs. The recording and live virtual event are available in a bundle for $34. CE is available for Ohio licensees only, and only if you attend live (virtually).
Sara Marie Brenner, MBA is a Broker/REALTOR® licensed in Ohio.