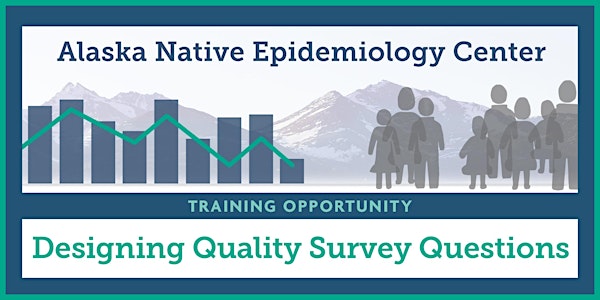 Designing Quality Survey Questions, March 14 & 16 or April 26 & 28, 2022
Designing Quality Survey Questions with Sheila B. Robinson, Ed.D Custom Professional Learning, LLC
About this event
Designing Quality Survey Questions
The workshops will focus on survey design, will be interactive, will include breaks for participants, and digital handouts will be provided for participants.
Training Dates:
The Designing Quality Survey Questions will be offered twice.
March 14 & 16, 2022, 10:00 AM - 1:30 PM (AKST) SOLD OUT
April 26 & 28, 2022, 10:00 Am - 1:30 PM (AKST) SPOTS STILL AVAILABLE
Learning objectives:
As a result of participation, workshop participants will be able to:
Understand why a rigorous, intentional question design process is key to an effective survey
Understand the cognitive processes involved in answering survey questions and their implications for question design
Identify common problems with survey questions and ways to address them
Craft high quality open and closed-ended survey questions with appropriate response options
Employ the facilitators' checklist to ensure the development of high-quality questions.
Priority registration will be given to Alaska Tribal Health System staff and/or Alaska Native/American Indian individuals. Individuals that do not meet those criteria are encouraged to contact the Alaska Native Epidemiology Center (ANEC) at anepicenter@anthc.org and request to be placed on a waitlist. Shortly before the week of the training if space is available ANEC will contact individuals directly via Eventbrite who are on the waitlist to notify if there is availability.