Description
Please join us for the inaugural Designing in Digital Health, a webinar series exploring the future of healthcare.
It's sponsored and produced by the folks at Involution Studios and Sproutel, who have teamed up to curate 3 short presentations about key insights and learnings from the field.
Tune in to watch online: watch.designingindigitalhealth.com
"Patient Experts, Digital Technology, and the Maker Movement" — Joyce Lee, MD, MPH, Doctor as Designer
"Care Plans: A Path to Driving Better Outcomes" — Juhan Sonin, Director, Involution Studios
"Digital Health in Pediatrics" — Joel Schwartz, CTO, Sproutel
ABOUT OUR SPEAKERS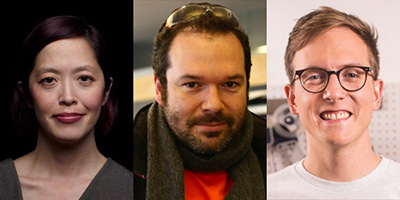 Joyce Lee

Dr. Joyce Lee, "Doctor as Designer" is an Associate Professor at the University of Michigan Medical School and School of Public Health. She conducts clinical and outcomes research focused on children with obesity and diabetes, leads local and national quality improvement initiatives focused on individuals with type 1 diabetes, provides clinical care for children with diabetes at Mott Children's Hospital, and applies the methods of design and participatory design through her work with healthdesignby.us.
She has over 80 peer-reviewed publications, is the recipient of multiple NIH grants and serves as the Social Media/Web Editor for the peer-reviewed journal JAMA Pediatrics. You can follow Joyce on Twitter at @joyclee and find out more about her at doctorasdesigner.com.

Juhan Sonin
Juhan specializes in software design and system engineering. He operates, and is the Director of, Involution Studios, a UX firm designing the future of healthcare. He has worked at Apple, National Center for Supercomputing Applications, Massachusetts Institute of Technology (MIT), and MITRE. Juhan co-founded Invo Boston in 2009 and is a graduate of the University of Illinois at Urbana-Champaign. He currently lectures at MIT. Follow Juhan on Twitter at @jsonin.
Joel Schwartz
Joel Schwartz is a technologist focused on improving patient experiences with enhanced comfort, education, and joy. Joel is the CTO of Sproutel, a patient-centered design and technology company that created Jerry the Bear, an interactive companion for kids with type 1 diabetes. Joel concentrated in engineering at Brown University, and when unplugged you can find him fly fishing.
OUR SPONSORS