Description
XO Group and WIP are excited to host a night of conversation on how to create products in a way that is inclusive to the greatest number of people possible - regardless of gender, gender identity, physical abilities, religion, body size, sexual orientation or age
It's becoming clearer and clearer that the knowledge base, exposure and biases of those building products can determine user experiences. How can we, as product leaders, create products without letting our biases impact the user experience, alienate certain groups or even worse, amplify negative biases that already impact our world today?
During this event, we'll hear from product leaders coming from a diverse set of backgrounds on their experiences using principles of inclusive design using real-world examples, and best practices for businesses on how to implement them.
Agenda
This event is primarily for women product managers and leaders as a space for our community to get together, though our male allies are also welcome!
Speakers
Regine Gilbert, Gilbert Consulting Group
Regine is a user experience designer, educator, and international public speaker with over 10 years of experience working in the technology arena. In 2017, Regine founded Gilbert Consulting Group, Inc., a Design Consultancy in New York City. She has a strong belief in making the world a more accessible place—one that starts and ends with the user. Regine is an Adjunct Professor at NYU Tandon School of Engineering, teaching User Experience Design to students in the Integrated Digital Media Program. In addition, she teaches the part time User Experience Design course at General Assembly. Some of the companies Regine has had the pleasure of working for include Disney, JP Morgan, Four Seasons Hotel and Resorts, Ralph Lauren, Columbia University and Vitamin Shoppe.

Meagan Palatino, Instagram
Meagan has been working in the NYC tech scene since 2010. Passionate about bringing great products to life while building high-functioning teams, her experience ranges from early stage startups to large publicly traded companies. Currently, she's on the Product Team at Instagram New York building products for a global population of users.

Zuley Clarke, Sightworthy
Zuley is the co-founder and COO of Sightworthy. She is an entrepreneur, UX researcher, and product designer with over a decade of experience. Prior to co-founding Sightworthy, she led the UX efforts at places like Shutterstock, The Economist, and Showtime where she successfully established a practice of product research. She received a master's degree in Digital Media from Georgia Tech, and earned a bachelor's degree in mechanical engineering from Carnegie Mellon.



Emma Schwartz, Axios

Emma (She/Her) is the VP of Product at Axios Media where she oversees the development of all digital products, there she is the co-chair of the LGBTQIA employee resource group, and the Diversity & Inclusion group. A former startup founder, Emma draws on her personal experience in entrepreneurship, business leadership and product strategy to help organizations use creativity, innovation, and collaboration to create blueprints for tackling problems of all sizes. For over a decade Emma has served as an advisor for startups and SMBs at the intersection of tech and gender equity. As a consultant for Argo Collective, an organization that builds inclusion in innovative companies, Emma continues the vital work of innovative problem solving to improve safety and create thriving workplaces for all identities.
Lisa Del Monte, Audible (Amazon)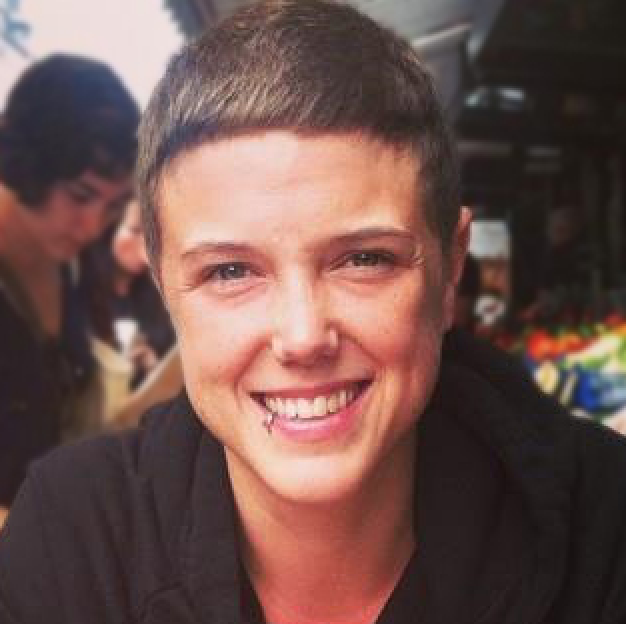 Lisa, a Senior User Experience Designer at Audible, plays an integral part in raising the bar on inclusive design not only within her team but throughout the broader organization. Her passion and focus for accessibility have grown from her relationship with her grandfather who suffered from cerebellar atrophy. Recently Lisa volunteered with the New York Amateur Computer Club, presenting Senior Citizens the fundamentals of web accessibility and how it affects their day-to-day life.
Shilpi Roongta, The Knot (XO Group) - Moderator
Shilpi Roongta is a Product Manager at The Knot, an XO Group, Inc. brand. She creates experiences that help couples confidently navigate the difficult and stressful journey of wedding planning. Prior to The Knot, Shilpi was a Product Manager serving house hunters at Compass. Shilpi has a BA in Finance and Marketing from Northeastern University. As a co-lead of XO's Women in Tech affinity group and internal advocate for diversity awareness, she is excited to bring together local product leaders together to discuss and share learnings about building inclusive products and experiences.
Hosted By
Women in Product is a highly-engaged community of women builders and leaders. Join our community and New York Chapter or sign up for our newsletter for monthly events, networking opportunities, and much more!
About XO Group
Through our family of brands—The Knot, The Nest, The Bump, GigMasters and How He Asked—we inspire, inform and cheer on our community as they move through life's most amazing (and stressful!) milestones. From the proposal, to creating a home and starting a family together, we're there for every step of the journey.