Description
How do you Design for AI?
Designing Agentive Technology provides both a conceptual grounding and practical advice to unlock agentive technology's massive potential. This presentation will show you the best practices and reasoning behind how to design for AI.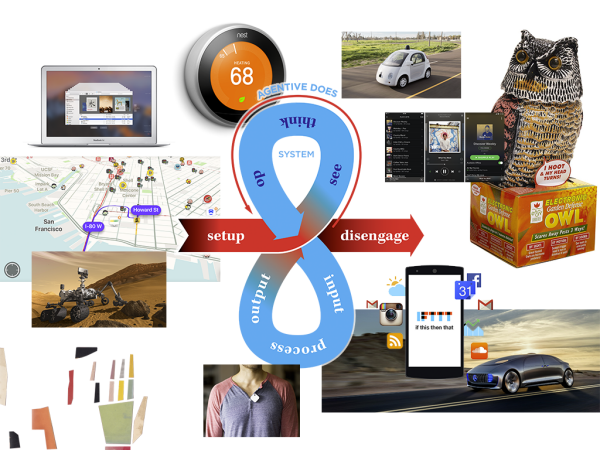 Agenda:
6:00 : Checkin & Networking over drinks
6:30 : Welcome Remarks, Interaction Design in 2018 Review and 2019 Preview
6:40 : Chris Noessel on "Designing for Agentive Technology"
7:30 : Suyash Joshi (Artist Performance) "Magic of AI"
7:45 : Close and Networking
Presentation Description:
Think of a hammer. Think of a steam shovel. Think of a computer. Each of these is a tool a person can use to get things done. But using a tool isn't the only way to do things. In the age of narrow artificial intelligence, we can hand things off to an agent and have it do the thing. Designing a tool for you to use is really different than designing the AI that does the work for you. And if you only know how to design hammers, or even just computers, well, you're behind. Come hear Chris Noessel introduce these new kinds of technologies, discuss what they can mean for your users, and share the models by which you can design for them. Catch up…to agentive tech.
Speaker Bio:
Christopher is one of the Senior Designers for Watson Customer Engagement with IBM. He also teaches, speaks about, and evangelizes design internationally. His spidey-sense goes off semi-randomly, leading him to investigate and speak about a range of things from interactive narrative to ethnographic user research, interaction design to generative randomness, and designing for the future.
He is co-author of Make It So: Interaction Design Lessons from Science Fiction (Rosenfeld Media, 2012), co-author of About Face: The Essentials of Interaction Design, 4th Edition (Wiley, 2015), keeper of the blog scifiinterfaces.com, and author of Designing Agentive Technology: AI That Works for People (Rosenfeld Media, 2017). He is on the advisory board of the ASU-OTI AI Policy Futures initiative. He is currently contemplating books about meaning machines and interfaces that improve their users
Sponsor Information:

A huge thanks for to our amazing sponsor - Mapbox for hosting Us and providing Drinks!

Code of Conduct : https://www.mapbox.com/events/code-of-conduct/

- ADA-compliant entrance and restrooms.
- All-gender restroom available inside our office.
- Both alcoholic and non-alcoholic beverages will be provided.
- NDA will have to be signed at the door as per Mapbox's policy.