Designing Downtown NOW: Real Tactics & Tools to Enhance Your Businesses & D...
Description
Designing Downtown NOW:
Real Tactics and Tools to Enhance Your Businesses and Districts
NJ Downtown Revitalization and Management Institute
July 25, 2012 - 9:00 AM - 4:00PM
Atlantic City Convention Center
Room 302
Atlantic City , NJ
3.75 AICP CM Credits (for full day attendance) through support of NJAPA
Looking to take action over the next 3-12 months to make real changes to your business/building appearance that will increase commerce and property value? Wanting to enhance the perception of your district in the short term by taking direct actions to turn tough places into bright spots of positive economic and social activity? Want to do this all without spending a ton of money while building partnerships and more buy-in for your district and its businesses?
If YES, this workshop is for you!
Cutting-edge experts and practitioners from around the country will be right here in New Jersey - click here to see their who they are.
Registration Starts at 8:00 AM
Morning Agenda:
Welcome & Introductions
Hon. Mayor Lorenzo T. Langford, City of Atlantic City
Kenneth Calemmo, MSAC Board President
Pamela Fields, MSAC Execuitve Director
Jef Buehler, MSNJ & Improvement District Programs, NJDCA
Program
Tom McGilloway, ASLA - www.mahanrykiel.com
9:15 - 10:30 AM, Room 302
Topic: Urban Businesses and Storefronts: Small Enhancements - Big Difference
Leigh Minor Nagy - www.minorbirdstyle.com
Ben Muldrow - www.arnetmuldrow.com
10:45 AM - Noon, Room 302
Topic: You Are How You Look: Five Ways to Dramatically Shift Your Business Image for Under $1000
Lunch+
Resource 'Crash Courses':
12:00 - 1:15 PM, Rooms 301/302
Topic: The Atlantic City Tourism District
Susan Ney Thompson, Deputy Executive Director, NJCRDA
Topic: Live Where You Work
Ed Collins, NJHMFA
Afternoon Agenda:
Mike Lydon, CNU-A - www.streetplans.org
Aurash Khawarzad - www.Changeadministration.org; www.DoTankBrooklyn.org
1:15 PM - 2:45 PM, Room 302
Topic #1: Tactical Urbanism - What is it, How does it work, and How do you Apply it in your District ?
3:00 - 4:00 PM, Room 302
Topic #2: Tactical Urbanism - Community-Based Interactive Workshop and Collaboration
Sponsors: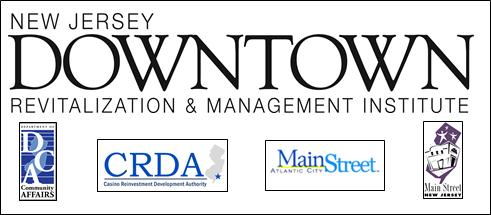 Promotional Partners:

Organizer of Designing Downtown NOW: Real Tactics & Tools to Enhance Your Businesses & Districts
Est. in 1989, the NJDCA's Office of Main Street New Jersey & Improvement District Programs has been providing technical assistance and training to more than 140 traditional downtowns and business districts. Visit www.mainstreetnewjersey.com for more information about this National Main Street Center-affiliated program located in the State of New Jersey's Department of Community Affairs.