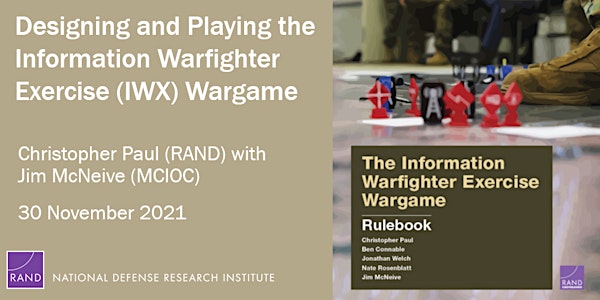 Designing and Playing the Information Warfighter Exercise (IWX) Wargame
Christopher Paul (RAND) and Jim McNeive (MCIOC) will discuss their experiences designing, playtesting, and running the IWC wargame.
About this event
About this event
The Information Warfighter Exercise (IWX) is typically hosted twice per year by the Marine Corps Information Operation Center (MCIOC). The focus of IWX is on training and educating Marines (and other participants) on how to affect decisions and behaviors of relevant actors through instruction and practice related to the planning of several aspects of Marine Corps operations in the information environment (OIE). The culmination of the exercise is now a three-day wargame using rules jointly developed by RAND and MCIOC.
RAND recently published The Information Warfighter Exercise Wargame: Rulebook (https://www.rand.org/pubs/tools/TLA495-1.html) and various supporting materials. These are the rules structuring the wargame that takes place as part of MCIOC's IWX, but are designed to be exportable to other exercise contexts.
In this seminar we will cover a range of topics related to the IWX wargame and its development, including:
• The learning objectives motivating the wargame
• Various design considerations
• The basic structure, flow, and play of the game
• Various game aids and materials
• How actions within the game are adjudicated
• The game's narration and storyline functions
• Observations from playtesting and from actual play experience
• A preview of a forthcoming supplement which extends the rules, originally designed for tactical-level scenarios during conflict, to cover operational-level planning for a competition-focused scenario.
Bio
Dr. Christopher Paul is a Senior Social Scientist at the RAND Corporation, where he is the principal investigator for a number of defense and security related research projects. He also teaches in the Pardee RAND Graduate School. Prior to joining RAND full-time in July of 2002, he worked at RAND as adjunct staff for six years. He spent academic year 2001-02 on the UCLA statistics faculty.
During the course of his more than two decades in policy and defense research, Paul has employed a range of methods including comparative historical and case study approaches, quantitative analysis, evaluation research, expert elicitation, and analytic wargaming. He is a also a hobby wargamer. His current and recent research efforts include analyses supporting operations in the information environment, security cooperation, counterinsurgency, irregular/unconventional warfare, and operations in cyberspace.
Paul has authored or co-authored dozens of reports and journal articles. Recent RAND reports with some relevance to this seminar include RR-2997-USMC, Opportunities for Including the Information Environment in U.S. Marine Corps Wargames, RR-2489-OSD, Improving C2 and Situational Awareness for Operations in and Through the Information Environment, RR-1925/1-A, Lessons from Others for Future U.S. Army Operations in and Through the Information Environment, and RR-1166-1, Dominating Duffer's Domain: Lessons for the U.S. Marine Corps Information Operations Practitioner.
Paul holds a PhD, MA, and BA in sociology, all from the University of California at Los Angeles.
Mr. Jim McNeive is the Deputy Operations Officer at MCIOC.
McNeive is a graduate of The Citadel (1980) and George Washington University (1989). He was commissioned in 1980 into the United States Marine Corps, becoming an infantry officer upon completion of The Basic School and the Infantry Officer Course. He served for 24 years, retiring in 2004 at the rank of Lieutenant Colonel.
McNeive's Fleet Marine Force (FMF) tours included Third Battalion First Marines, First Battalion Eighth Marines, Third Battalion Sixth Marines, Eighth Marines Regiment, Second Marine Expeditionary Brigade, and Second Marine Expeditionary Force.
Non-FMF tours included Marine Barracks Panama, Education Command, as it became Training and Education Command, Amphibious Warfare School (student), Headquarters Battalion Headquarters Marine Corps, and the On-Site Inspection Agency as it became Defense Threat Reduction Agency.
Combat tours included 1991 Operation Desert Storm where he was the Eighth Marine Assistance Operations Officer and in 2003 where he was the Second Marine Expeditionary Brigade Information Operation Officer.
Upon retirement, he was hired by JB Management, a defense contracting company, to work with the Army's First Information Operations Command (Land), Fort Belvoir Virginia, as the lead Information Operations Planner for its Iraq Reachback Team.
In 2009, he was hired by MCIOC and was initially assigned as the head of the Regional Reachback Element (GS13). In 2013 Mr. McNeive accepted the position as the MCIOC's deputy operations officer (GS14).
Mr. McNeive has over 22 continuous years working in the field now known as Operations in the Information Environment.
Organizer of Designing and Playing the Information Warfighter Exercise (IWX) Wargame