Sales Have Ended
Ticket sales have ended
Thank you for your interest. Ticket sales for this event have ended. To receive information on future workshops, please send an email to workshops@agroforestry.org.
Sales Have Ended
Ticket sales have ended
Thank you for your interest. Ticket sales for this event have ended. To receive information on future workshops, please send an email to workshops@agroforestry.org.
Participants will learn strategies for reaching their production, risk management, and conservation goals with agroforestry.
About this Event
Agroforestry systems have been cultivated throughout the Pacific Islands for extremely long periods of time. There is growing interest in modern agroforestry systems as a response to climate change and for other benefits such as food security, farm diversification, increased income, risk management, and soil and water conservation. Workshop participants will learn the latest strategies for reaching their goals in agroforestry. Hands-on activities during the workshop will give participants experience in the planning process from open land to managing an agroforest at any scale.
Participants will:
Gain experience planning an agroforest from scratch
Learn how to customize an agroforest to the site and production/conservation goals
Discover and apply fundamental design principles
Develop a project budget and management plan
Learn about resources and tools for successful outcomes
Receive an agroforestry planning workbook
The workshop is part of a November-December 2019 workshop series presented in Guam, Saipan, Pohnpei, Marshall Islands, and Hawaii by a team of experienced Hawaii-based agroforestry professionals. Presenters at the Kauai workshop include Craig Elevitch, Neil Logan, Sophia Bowart, and Paul Massey, who will share their unique set of skills and knowledge in traditional agroforestry, ethnobotany, systems engineering, organic agriculture, and economic analysis acquired over decades of study and field experience.
Workshop agenda (subject to revision)
Day 1: Saturday, Dec. 14
7:30–8:30 am Registration
8:30–8:45 Opening
8:45–9:15 Hawaiian indigenous land management philosophy and practice—Timothy Reis
9:15–9:45 Agroforestry design process Part 1: Project assessment and site preparation
9:45–10:15 Participant exercise
10:15–10:30 Morning break
10:30–11:00 Agroforestry design process Part 2: Species selection and spacing
11:00–11:30 Participant exercise
11:30–12:00 The Kauai Food Forest community agroforestry experiment—Paul Massey
12:00-12:45 pm Lunch
12:45–1:15 Common challenges and pitfalls of agroforestry
1:15–2:00 Agroforestry design process Part 3: Scheduling, labor and yield projections, economic analysis
2:00–2:45 Participant exercise
2:45–3:00 Afternoon break
3:00–3:30 Agroforestry design tool demonstration
3:30–3:45 Group discussion, Q&A
3:45–4:00 pm Closing
Day 2: Sunday, Dec. 15
8:00–8:30 Meet at field site—Kauai Food Forest
9:00–11:00 Outplanting of small agroforest
11:00–11:45 Group discussion—A way forward for agroforestry
11:45–12:00 Closing
Registration
Advanced registration is required, as space is limited. The workshop cost is $75 per person plus Eventbrite registration processing fees. Registration includes a vegetarian lunch on the first day of the workshop.
Workshop location
The first day of the workshop will be held at the Kapa'a Hongwanji Hall, 4-1170 Kuhio Hwy, Kapaa, HI 96746. The second day will be held at Kaua'i Food Forest in Kalihiwai (directions at kauaifoodforest.org).
Some items to bring
The second day of the workshop will take place at the Kauai Food Forest. Participants should be prepared to work outside for hands-on experience. Please bring a hat, rain jacket, sturdy shoes, long pants, mosquito repellent, water, and anything else you might need.
To cut down on waste, we ask that participants bring water bottles for their water needs which you can refill at the workshop as needed.
We look forward to a very full and rewarding workshop. For additional information, email workshops@agroforestry.org
Sponsors and co-organizers
This workshop is supported in part by the National Institute of Food and Agriculture, U.S. Department of Agriculture, under award number 2015-38640-23779 through the Western Sustainable Agriculture Research and Education program under subaward number EW16-008. USDA is an equal opportunity employer and service provider.
The workshop is presented by Permanent Agriculture Resources, Regenerations Botanical Garden, and the Kauaʻi Food Forest with support from Agroforestry Net, FARM Center, Hawaii Homegrown Food Network, Olohana Foundation, and the Global Biodiversity Heritage Council.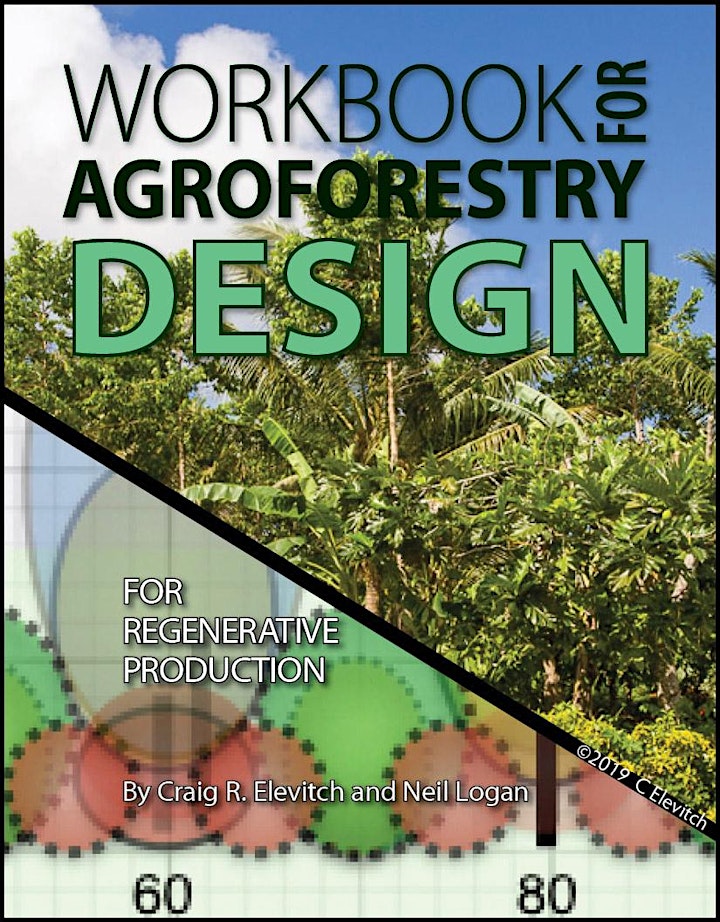 Presenters
Craig Elevitch, PhD has been an educator in agroforestry since 1993. For over 25 years, Craig has been living, teaching and writing about agroforestry. His internationally recognized publications and workshops have guided thousands in becoming more proficient in regenerative food production, agroforestry, and reforestation. In addition to working directly with dozens of farmers, he has facilitated over 150 agroforestry workshops in the Pacific, with over 7,000 producers and resource professionals participating since 1993. His agroforestry publications have garnered millions of downloads since 2000. These include Agroforestry Guides for Pacific Islands (2000), Traditional Trees of Pacific Islands (2006), Specialty Crops for Pacific Islands (2011), Agroforestry Landscapes for Pacific Islands (2015), and Agroforestry Design for Regenerative Production (2020), all of which promote diverse agricultural systems that are environmentally and ecologically regenerative.
Neil Logan is an agricultural innovator, drawing inspiration from agro-successional restoration, ethnobotany, mycology, permaculture, and numerous other fields. For the past 18 years, Neil has developed practical strategies, inspired by the work of Ernst Götsch, whom he first studied with in 2001. Together with his wife Sophia Bowart, he has been refining practical strategies for diverse agricultural production systems that can recover the costs of establishment within a few years. Neil has worked on projects in many different ecosystems around the globe, including in Hawaii, Arizona, Colorado, Florida, Peru, Bolivia, Brazil, New Zealand, and Canada. He is currently co-managing Mohala Lehua Farm and FARM Center and authoring several publications about agroforestry and Kiawe (Prosopis limensis) in Hawaii. Neil is a dynamic orator, teaching agroforestry, mycology, permaculture, horticulture, and herbalism. His capacity to impart the big picture context as well as practical perspectives to diverse audiences is one of his greatest strengths.
Sophia Bowart had a dream of transforming an open pasture into a food-producing regenerative ecosystem. She leveraged her background in non-profit development and sustainable business management to pioneer Mohala Lehua Farm in Hawi, Hawaii in 2006. Today, Mohala Lehua is still a rare example of regeneration of degraded pasture lands in Hawaii. Together with her husband Neil Logan, she has authored and presented on sustainable sandalwood agroforestry systems demonstrated at their farm. Sophia has worked to promote the Buy Local/Eat Local Campaign and the Hawaii Alliance for a Local Living Economy (HALE). Her passions for the economics of sustainable agriculture have inspired her to co-found FARM Center, which is dedicated to the recovery and vitalization of our planet's varied forest ecosystems, by protecting healthy watersheds and cultivating biological and cultural diversity. She has a knack for processing raw products from the farm into delicious and nutritious fare.
Paul Massey is co-founder and director of Regenerations Botanical Garden, and serves as manager of the Kaua`i Food Forest, a 2-acre multistory agroforestry demonstration and education site located in the ahupuaʻa of Kalihiwai. Paul helped to initiate the Kauaʻi Food Forest project in 2010, which features over 200 multipurpose plant species and varieties, and displays agroforestry management strategies evolved over the seven years since the establishment of the first plantings in 2012. Since 2013, Paul has hosted ʻIn the Garden on the Farmʻ, a weekly program on regenerative agriculture on Kauaʻi Community Radio. In addition to his nonprofit pursuits, Paul is an ISA Certified Arborist® and offers his expertise in consultation and installation services for agroforestry projects to the residential and commercial markets.